Sports car or family saloon? Phil Huff finds out if the 4 Series Gran Coupe is all things to all drivers…
The BMW 3 Series remains a firm favourite in the UK, but there are plenty of buyers that want a little more style and presence. For them, the 4 Series exists, taking the quality and precision of the 3 but adding in a swoopy two-door coupe body and some more sporting pretensions.
Then there's the Gran Coupe, a car that carries the presence of the 4 Series but combines that with the level headedness of the 3 Series. Is this the best of both worlds.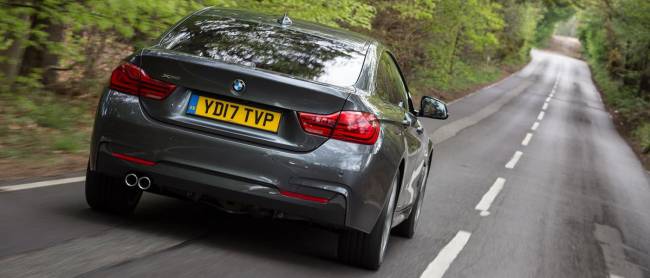 It's certainly a distinctive car, the extended roofline creating a dramatic silhouette that's somewhere between coupe and hatchback, but that's probably not enough on its own to justify the £3,750 price increase over the regular saloon.
BMW has countered that by loading the Gran Coupe with equipment, meaning even the entry-level models come fitted with dual-zone climate control, cruise control, leather upholstery parking sensors all round, and xenon headlights. Take this 440i model, with its M Sport moniker, and you'll be figuring out what all the buttons do for months.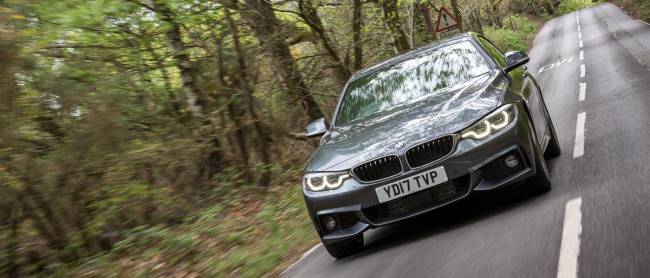 Those buttons are set into a dashboard that is all but identical to that found in the 3 Series, and it's an interior that can feel very gloomy if specced in black. There's also some perceived quality issues – the handbrake, rear cup holders and door handle surrounds are all formed from hard, cheap feeling plastic – but overall there's no doubting that the ergonomics are top notch and the build quality is up with the best.
Despite the added practicality, the rear seats isn't a place to fit three adults, unless you don't like the person in the middle. They'll be short of head, leg and shoulder room, bt stick to two-up and life is more comfortable one you're past the protruding wheel arches. The rear bench sweeps slightly inward, producing a pleasant lounge effect for those in the back. Even farther back is a good sized boot that, once the rear seats are folded down, can squeeze in 1,300 litres of things you keep in a BMW boot – just 200 litres short of what you can find in a 3 Series Touring.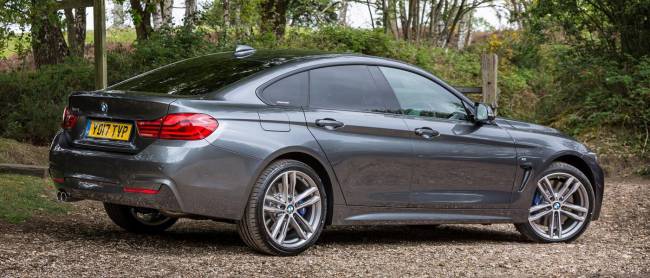 The Gran Coupe is, then, a practical and stylish alternative to the 3 Series. It's well equipped and priced reasonably in comparison to the standard model. It's even economical when delivered as a 420d, that model capable of more than 70mpg in the right circumstances,and generating low enough CO2 emissions to keep company car drivers happy.
These aren't the right circumstances though, so I've got the 440i, a straight-six petrol powered behemoth that pumps out 322bhp of power, and some open road. This thing is phenomenal in its own way, a reminder that BMW might still be able to claim that it makes the Ultimate Driving Machine. Turn into a corner, once you've recovered your eyeballs from the back of your head, and the car feels alive, the direct steering communicating with your hands in a way that few modern cars can manage. Every adjustment makes a distinct difference, with no delay or vagueness, allowing you to concentrate on the apex ahead and the road beyond that.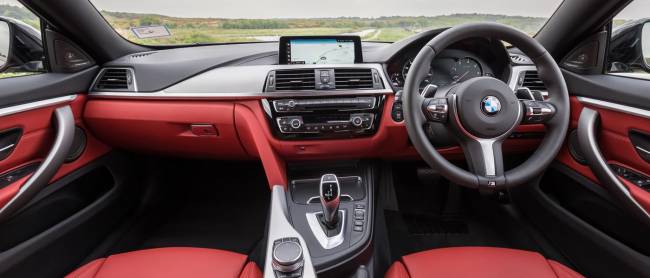 Adaptive suspension allows you to extract the most from the car, but when it's time to relax it can be switched to comfort mode and all but some irritating ridges in town are swatted away. The gearbox works well then, swapping cogs with barely a hesitation, but it's not so good when making swifter progress, changing gear at inopportune moments, or sometimes not bothering at all. Manual paddles behind the steering wheel make it all worthwhile, though.
It's easy to see why so many buyers are moving to the Gran Coupe, as it really is the best of both worlds. There's some stiff competition from Audi with its A5, and that has a classier interior as well as a price tag that undercuts the BMW by a few hundred pounds.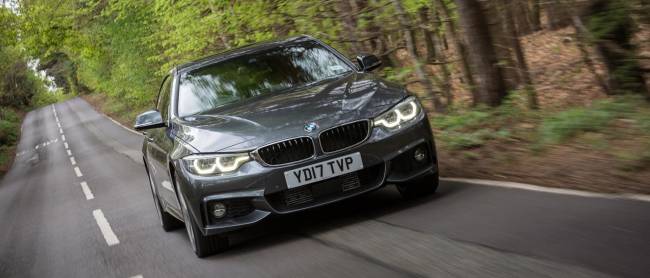 The BMW has the dynamic edge though, which is an important consideration when buying what is a sporting model. The Coupe might be a little bit sharper thanks to its lower weight, and the 3 Series in undoubtedly cheaper, but the Gran Coupe walks a fine line between the two that I simply wasn't expecting.
---
Motoring powered by FrontSeatDriver.co.uk.