BMW makes a car for every market, but Phil Huff finds out if this is one niche that really needs filling…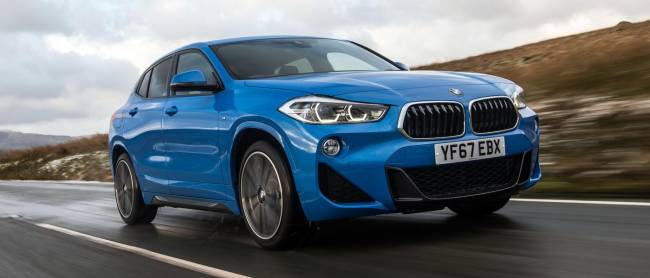 Anybody looking at the BMW model list will have noticed a gap in the range. There's 1 to 7 in the car range, and X1 to X6 (with X7 coming soon) in the SUV range – but the X2 is missing. Or at least it was. Never one to let a niche go unfilled, there's now an X1-sized pseudo-SUV with sporting overtones to fill that gap.
It's instantly recognisable as a BMW, but there's been a subtle shift away from the photocopier-based design work that pervades the manufacturer at the moment. There are still those famous kidney grilles on the front, but they're mounted upside down so they're wider at the bottom. A strong swage line flows along the side of the car while the window line rises up to create that infamous kink, this time using the entire rear door and C-pillar rather than just a bit of window frame.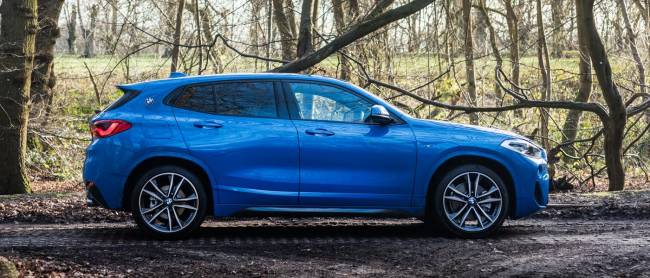 And then there's the BMW roundel slapped onto that C-pillar. While a badge on the front and back is normal, adding an extra one on the side seems like overkill, but it's actually a rather smart bit of styling. That said, if you look closely you can't help but notice it's not on straight. I'm sure the precise angle of the badge is the result of months of very serious meetings in Munich but, well, it's still not straight.
Angled badge aside, the X2 looks fantastic, that swage line separating the functional, serious SUV side of things on the bottom half from the emotional, performance oriented top half. It's not particularly big, just a tiny bit shorter and lower than the X1 on which it's based, and appears suitably svelte, lending the car an aggressive stance.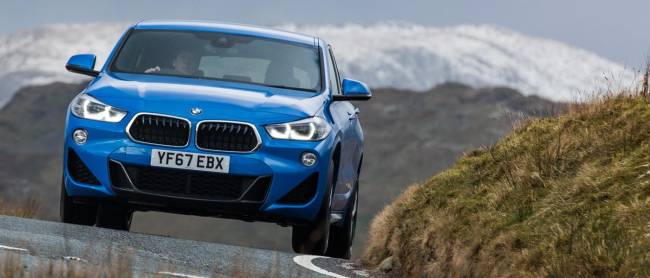 The sporting pretension is backed up by suspension that's lower and stiffer, supporting a body that's 10% more rigid than the X1. Modified suspension geometry and dampers add an extra degree of firmness which translates to increased agility. The M Sport car tested here rides on optional adaptive suspension, but at just £150 it's an option box worth ticking.
Doing so allows you to adapt how the X2 reacts to you and the road. In Sport mode it's very firm, offering an uncompromisingly sporting experience that encourages swift progress, but it's Comfort mode that works best – this relaxes the suspension and allows it to absorb most of the bumps in the road, while the throttle pedal becomes less sensitive. Combined with a wonderfully smooth eight-speed automatic gearbox, it makes for a relaxing driving environment. There's even four-wheel drive to backup that SUV stance but, while BMW assure me that the car is capable of some serious mud-plugging, a damp polo field will probably suffice for most.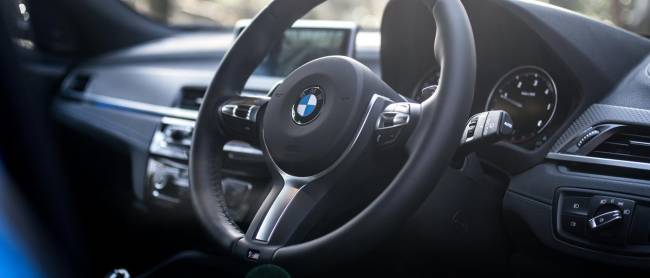 You'll be powered by a 2.0-litre diesel engine that sees service across virtually the entire BMW range. It's a strong engine, the 187bhp enough to power the X2 to 62mph in 7.7 seconds, and returns decent economy with it. Lab testing says 58.9mpg is possible, while reasonably low CO2 emissions of 126g/km keeps company car tax competitive.
In xDrive20d spec as tested here, it's competent, predictable and not particularly exciting to drive, which is as you might expect from any SUV. Grip levels are high though, and well weighted steering makes sweeping roads more fun they could be, although the wheel provides some strong physical resistance and self-centering was aggressive – this may be down to the M Sport Steering option fitted to the test car, but there wasn't a car available without it to compare.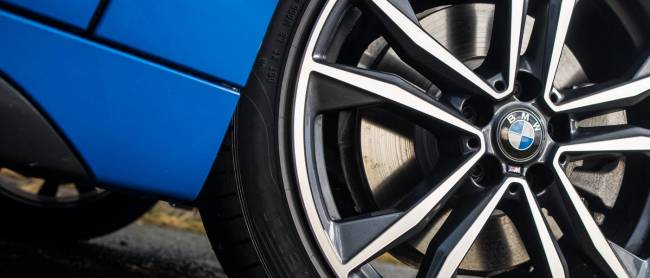 A lower power engine is available, in front-wheel drive if you don't fancy the extra security of all-wheel-drive. There's also a petrol engine that's a bit quicker but a bit thirstier, and a more powerful diesel engine coming soon.
If you do want something that blurs the lines between hatchback, coupe and SUV, as the X2 does so well, you'll have to pay for it. This model is a significant £37,530, but low depreciation will keep PCP and leasing costs low. There's also plenty of equipment for your money, with all models getting an electric boot lid, automatic emergency braking, climate control and satellite navigation. Higher models get bigger wheels, LED headlights and Alcantara or leather trimmed seats with contrast stitching. M Sport gets the sportier suspension as tested here, while M Sport X gets all of that and some rugged body cladding and roof rails.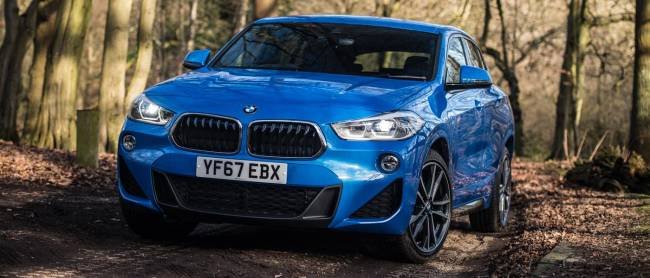 It's still a lot of money for something that, by its very nature, is a compromise. A Volkswagen Golf R offers performance and practicality for less money, while BMW's own six-cylinder M140i is in reach for pure driving thrills. It's all irrelevant though, as the X2 will be driven by buyers who want the style and image the car provides, and compromises be damned. It's a market that includes the Audi Q3, Mercedes GLA and Range Rover Evoque, but the BMW X2 tops them all.
---
Motoring powered by FrontSeatDriver.co.uk.