Citroen has thrown out the rule book for the C4 Cactus. Can they combine innovative features and a bold design effectively, despite a bargain price?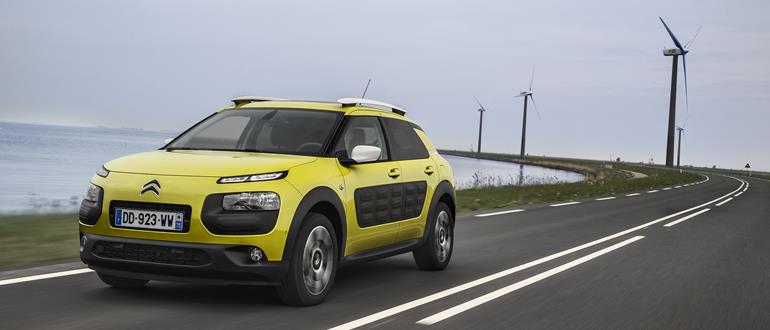 Citroen C4 Cactus Flair PureTech 110 S&S
Price
£16,690
Top speed
117 mph
0-62 mph
10.4 sec
Combined fuel economy
60.1 mpg
Road test economy
N/A
CO2 emissions
107 g/km
VED band
B / £20
Insurance group
16A
Engine
1.2 litre turbo petrol
Power
109 bhp (110 PS)
Torque
151 ft-lb (205 Nm)
Weight
1020 kg
What is it?
Ordinary is something that Citroen historically doesn't do well. The original 2CV was so good they kept it in production for 42 years. The DS could drive along quite happily even after you'd removed one of the wheels. The SM had a Maserati engine up front, while the AX probably weighed less than I do.
But then it all started going a little awry in the 90s, with bland model after bland model hitting the market, until we ended up with the current C-range of cars; the ordinary C1 compact, the bland C3 family hatch, the entirely anonymous C5 saloon.
With the C4 Cactus though, Citroen has found its mojo once more. It's firmly ignored the conventional rules for car design, and come up with a sensible-sized family hatchback that is unlike anything else on the road.
Thin LED blades sit high on the bonnet, above more conventional headlights that almost hide within large plastic housings. A highly curved leading bonnet edge sits atop a virtually grille-less front end, while at the back there's an almost retro-style plastic panel that runs the width of the car. A floating roof with roof rails tops off a sleek glasshouse, with a thick C-pillar lending a strong look to the car.
And there's bubblewrap stuck to the side.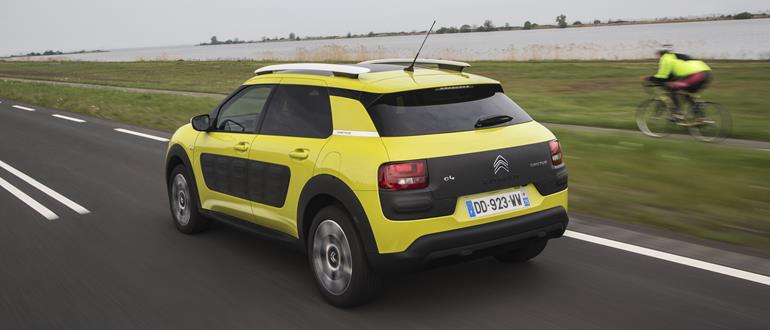 What's it like?
There's been clever thinking on keeping costs down as, with a price tag starting just south of £13,000, some corners have had to be cut. You won't find any grab handles, for example. Generally unused, especially as this isn't a car for throwing around the Col de Vence at speed, losing those saves a few pounds.
The plastics get a bit hard and scratchy below knee level, but you never touch and rarely see those areas so Citroen gets away with it. The rear windows don't wind down, instead popping out a little on a hinge that saves the need for an expensive motor. It also saves 11kg on the scales.
Where Citroen could save money, but shouldn't, everything works remarkably well. The dashboard is low and wide due to a roof-mounted passenger airbag that frees up the space in front of the seat, giving a wide view ahead and making the cabin feel particularly airy.
An optional panoramic roof adds to that sensation, but there's no blind for it. Again, this is intentional, as the glass is specially treated to reflect heat. Crucially, it actually works; on a hot and sunny day I never felt I needed to close a blind, despite the lack of follicles covering the top of my head.
All this clever thinking results in a price tag that will make Ford Focus buyers weep, while bringing the weight of this hatchback-crossover down to just 965kg. This, in turn, means economy and CO2 emissions are excellent.
Even the 1.2-litre three-cylinder turbocharged PureTech engine I tested produces just 105g/km of CO2, despite its 108bhp output, and will officially return some 60.1mpg. Performance is good enough too, with the 0-62 sprint taking a relaxed 10.4 seconds, but that's quicker than the more powerful 1.6-litre engined C4 hatchback that weighs around 200kg more.
That all counts for nothing though if the car just doesn't work on the road. Fortunately the news here is good too. Eschewing the trend for ever firmer suspension and go-kart-like handling, Citroen has gone back to its roots and produced a car that simply wafts over road imperfections.
The occasional sharp ridge from raised ironworks or sudden potholes can upset it a little, with a sudden thunk making itself felt in the cabin, but it's generally a remarkably comfortable place to spend some time.
Introduce it to some bendy bits of road and it's less happy, with plenty of body roll and understeer appearing sooner than you might expect, but it's no worse than some of its more traditional crossover rivals, none of which are entertaining to drive. Keep within the cars limits and it's well balanced, smooth and easy to drive.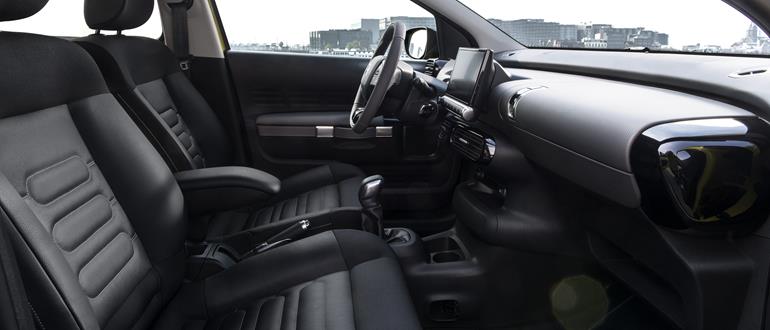 Is it practical?
The Cactus is smaller than it looks, around 20cm shorter than a Ford Focus, but inside there's a very spacious environment, made to feel bigger by that airy design. There's certainly plenty of space for teenagers in the back of the car, and the boot is on a par with anything else in the sector.
The 'AirBump' panel on the side is a thermoplastic polyurethane that took the firm three years to develop. Containing air pockets that protect the underlying metal, it's possible to slam doors and trolleys in to the car without leaving a mark, something I greatly enjoyed testing out.
However, whilst an excellent feature, the fact they don't extend far enough to cover the trailing edge of the rear door is a disappointment.
If you're after the ultimate in economy, the BlueHDi 100 model is the one to go for, capable of returning 91.1mpg and leaving you with no car tax to pay thanks to its 82g/km of CO2 emissions. However, that comes at a premium of around £800 over the excellent PureTech 110 tested here. Unless you're covering a lot of miles, save the money and enjoy the relaxed refinement of the petrol unit.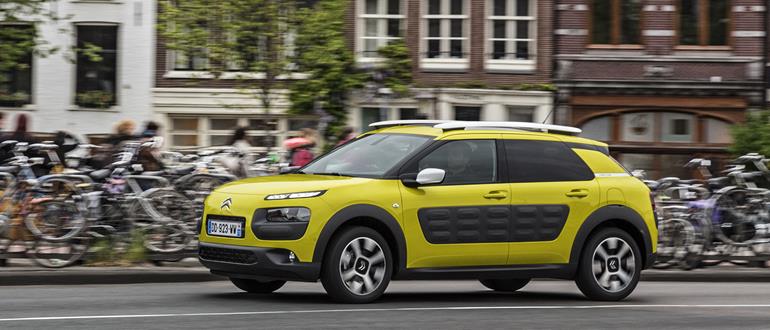 Should I buy one?
My test model was painted in bright yellow and was about as subtle as an earthquake, but even the plain old grey cars driven by my motoring colleagues were getting a lot of attention. The C4 Cactus is a car that makes you, and everyone around you, feel good, even if the styling is divisive.
Citroen potentially has a resounding success on its hands. It's good value, well thought through, lightweight, spacious, economical and stylish. If you're after something offering all that, and are happy to skip race-car like handling, then there's no reason why the C4 Cactus can't do exactly what you want.