Finally, is this a car worthy of the DS badge? Phil Huff finds out…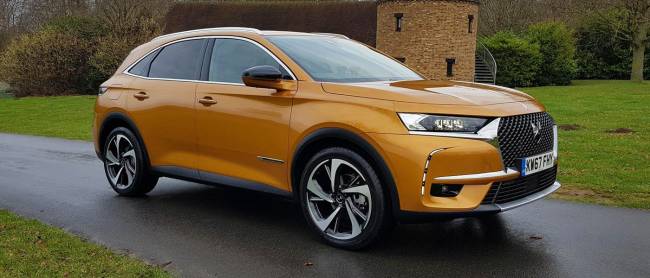 Yet another SUV. Without even looking at the car, you'd probably assume there's a 2.0-litre diesel engine, it's probably only front-wheel drive thereby excluding proper off-road use, and that there'll be a comfortable ride that's probably not quite as good as an old-fashioned estate car might provide.
Truth be told, you'd actually be right, but there's more to it than that. DS, a luxury spin-off from Citroen. Yes, the cars used to wear Citroen badges, but now DS is a brand in its own right, with its own showrooms and its own premium ambitions. Yes, there's more money to be made in luxury motoring, but there's a belief behind the move that makes itself felt in the 7 Crossback.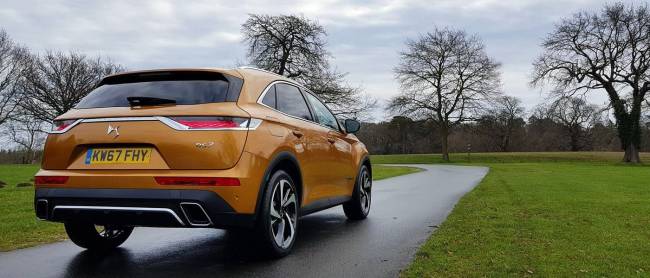 Step up to the car and it's not quite as big as you imagine, but the front end is magnificent. It exudes quality and panache, almost bringing Paris alive on the streets of Cambridge. Move further back and the DS 7 fades away to be somewhat more anonymous, but it's far from ugly. Some wonderful 3D detailing in the lights at the rear stand out, while you could make something of a show with the front LED lights – they spin and twist at startup, creating a light show that hammers home the message that this really is a premium car.
That's reinforced inside, with this Ultra Prestige model being swathed in a watch strap design Nappa leather. There's polished metalwork around the cabin, knurled into intricate shapes with a recurring diamond motif, and a huge 12-inch touchscreen infotainment centre proudly positioned in the centre. It's a designer boutique hotel in automotive form, looking fabulous and distinctive, but with perhaps a few flaws. While the screen works well, for example, the bold temperature displays either side misleads you into thinking you can easily adjust the cabin temperature. You can't, and have to navigate through the menus to get to the right screen. And, as stylish as that BRM analogue clock that sits proud at the top of the dashboard is, it's impossible to read while moving and jars slightly with the modernist ambience.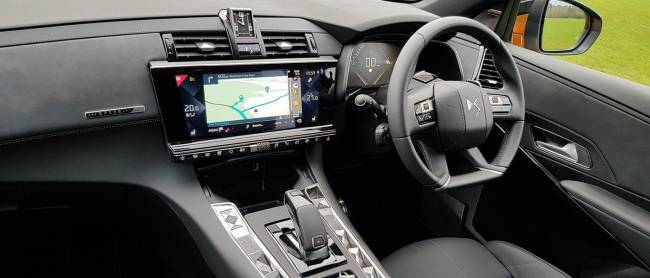 It's a minor detail though, and you'd soon get used to navigating the menus, even if physical buttons would be quicker and safer. Ignore it, and marvel at the beautiful digital instrument panel. It's another 12-inch screen, and presents everything you need to know in a stylish diamond form, with displays scrolling, panning and zooming in and out as you fiddle with the settings. It sounds distracting, but it all works very well once you've found the right combination of dials and gauges for you. After 10 minutes sat on the driveway changing settings, you'll find the one you want and enjoy the balance between design and usability.
Splash out an extra grand or so and there's a night-vision display there, too. It looks ahead at all times, picking up heat signatures and using computer wizardry to highlight pedestrians and cyclists that you may not have seen. After a drive in the dark, I can conclusively say it works. Yes, I'd have spotted the cyclist riding along without lights eventually, but being alerted to their presence long before they're in my field of view makes safe progress easier.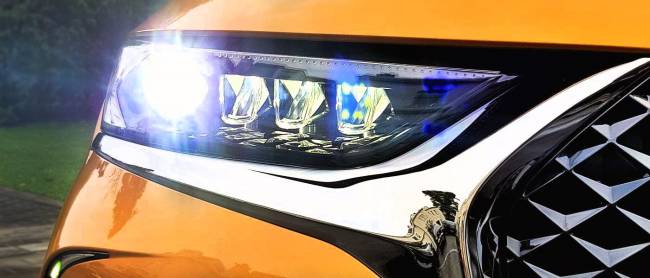 That's one of very few optional extras, but then the Ultra Prestige model is north of £43,000, so you'd expect it to come well equipped. There's parking sensors, a reversing camera, wireless charging for your phone, electric, ventilated and massaging front seats, a panoramic sunroof, a Focal audio system and adaptive cruise control, to list just a few standard items.
It's not the largest, most practical or most entertaining SUV you'll ever see, but that's not really the point with the DS. On-the-limit handling is unlikely to be high on your list of demands if you're considering a fashion-led piece like the 7 Crossback, but the car is perfectly capable and utterly predictable at speed. Ride quality is good, if not quite superb, and the engine provides sufficient performance that stops short of being exciting. It's an SUV, and does the job of being an SUV to an entirely acceptable level.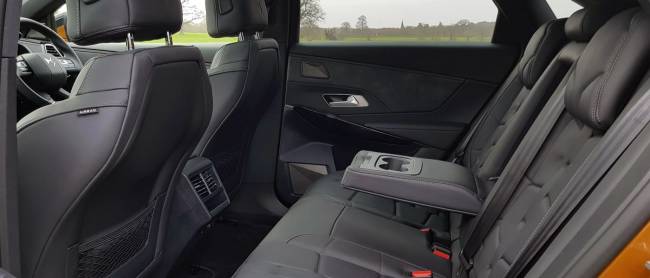 It just does it all with spades of style. And, despite the slightly scary £43,580 price tag, it does it at a lower cost than some of its similarly equipped rivals. The competition out there is incredibly tough, with the excellent Volvo XC40 winning plenty of praise (including from me) and the Jaguar E-Pace pushing a style focussed alternative. There's also the German trio of the X1, Q3 and GLA, all very capable. This feels like DS trying to find its place in that melee and, whilst it's not objectively the very best option out there, it's good enough and immensely likeable.
---
Motoring powered by FrontSeatDriver.co.uk.