A pale imitation of the Mazda MX-5, or even better than the real thing? Phil Huff finds out…
It's been more than ten years since Fiat made a proper sports car. Back in 2005, the Barchetta was a left-field choice – a left-hand drive, front-wheel drive two-seater based on the Punto family hatchback.
This time Fiat has taken a more traditional route in some areas. The 124 takes design cues from its achingly pretty namesake from the 1960s, and wraps the surprisingly effective bodyshell over a proper chassis that has an engine at the front that sends the power to the rear.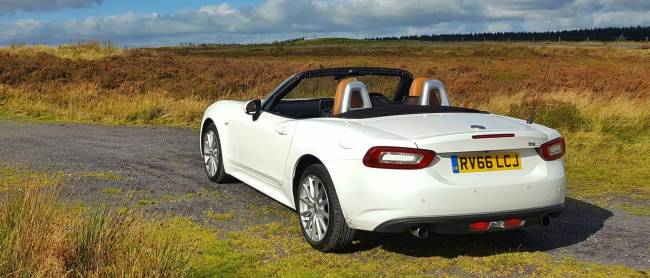 Where the Italians haven't followed form is in using the Mazda MX-5 as a starting point. This is, equally, no bad thing. The MX-5 is widely respected as an effective and engaging sports model, and surely Fiat can't mess with a winning formula. Can they?
Replacing the engine with their own 1.4-litre turbocharged unit, Fiat's version is slightly larger and slightly more powerful than the MX-5 it shares so much with.
It's none the worse for it, either. The 124 encourages you to find an open road where, roof down, you can revel in the flexibility of the engine, extracting as much from it as you can through the six-speed manual gearbox. There is a bit of a delay from standstill as you wait for the turbo to catch up, but once it's spinning it's easy to keep the car singing.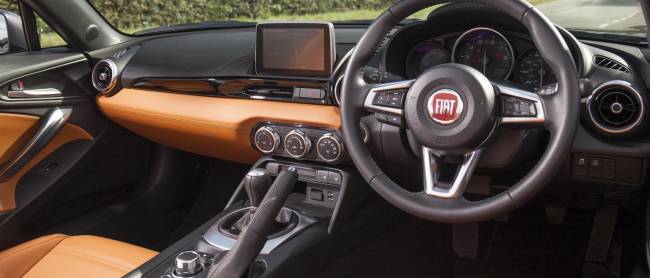 The suspension soaks up imperfections wonderfully, leaving the car riding better than you would expect any focussed sports car to ride, but the flip side is that there is a lot of body roll to contend with. Not as much as you might find on a family hatchback, obviously, but enough to put pressure on the tyres and make powerslides a possibility. Sadly, only the hot Abarth version get a limited slip differential, so the 124 will just throw the power to an unloaded wheel rather than allow a smoky burnout. Which is probably the more responsible thing to do.
Away from enthusiastic driving, the Spider is an easy car to drive. Visibility is good, even with the roof up, and the engine calms down from frenetic to refined once it's just bimbling around. Long overhangs and a wide body mean it's a tad tricky to manouvere in tight spaces, but there's a reversing camera on the mid and top spec models.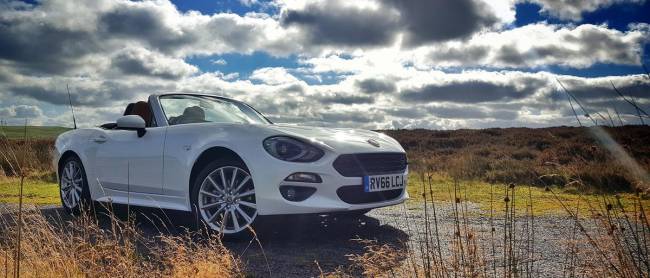 It's not really a practical car to use though, as the cabin is best described as cosy. There's nowhere to put a phone or wallet, while the cupholders require a degree of contortionism that I just can't manage. It's all very comfortable though, especially in Lusso specification. This trim level comes with a DAB radio, satellite navigation, heated leather seats and climate control, amongst other luxuries.
It's also comfortable to run, not requiring supercar levels of money to be spent. A starting price of £19,545 is perfectly reasonable, although the extra three grand for the Lusso model is money well spent. CO2 emissions are a tad high, and economy is a tad low, but no worse than any of its competitors, and you're not looking at one of these as a planet saving eco car.
Instead you're looking at what is, arguably, the finest affordable and useable sportscar on the market. It's even better than the MX-5.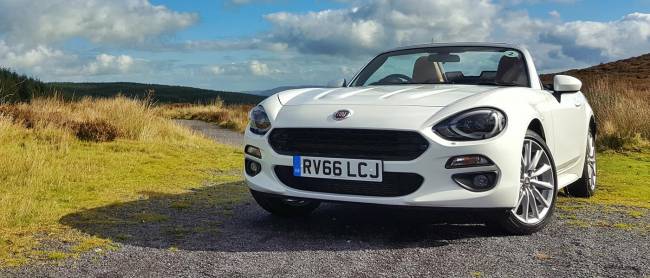 ---
Motoring powered by FrontSeatDriver.co.uk.