The latest fast Ford has arrived, but is the new Focus ST too much for one man to handle?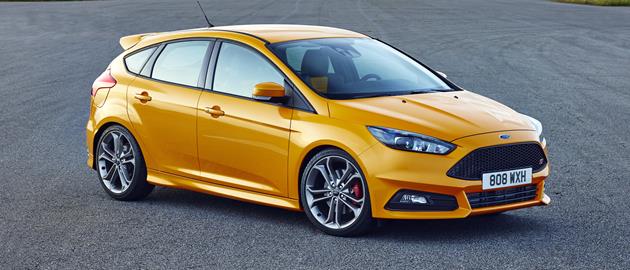 Ford Focus ST-2 EcoBoost 5dr
Price
£23,095
Top speed
154 mph
0-62 mph
6.5 seconds
Combined fuel economy
41.5 mpg
CO2 emissions
159 g/km
VED band
G / £180
Insurance group
36A
Engine
2.0-litre turbo petrol
Power
250 PS (247 bhp)
Torque
360 Nm (266 ft-lb)
Weight
1,437 kg
What is it?
The ST badge has been glued to the back of many a Ford, each indicating that the car is a proper hot-hatch. The Focus ST has always been a rather effervescent option when compared to its more relaxed rivals such as the Volkswagen Golf GTi.
The new Focus ST continues that trend, eschewing the refinement offered elsewhere for sheer tyre smoking entertainment.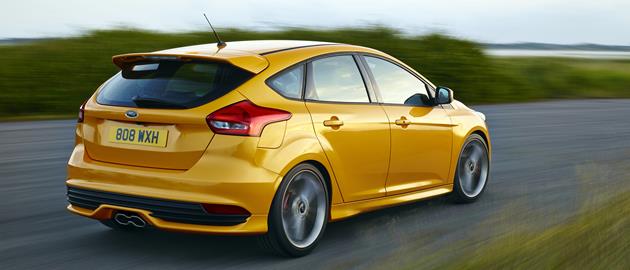 What's it like?
It starts on the outside with a bodykit that includes a large rear spoiler, an upper and lower diffuser, centrally mounted exhausts, new front bumper and grille and side skirts. Painted in 'Tangerine Scream', the ST looks like it's on a mission to acquire an ASBO as quickly as possible.
Inside there are a few changes to remind you that you're in the sporty model, including Recaro seats up front and a bank of extra dials placed on top of the dashboard. A flat-bottomed steering wheel and ST specific dials, pedals and gear lever finish off the effect.
When you fire up the engine things get, if you'll excuse the pun, more focussed. The 2.0-litre engine pumps out an impressive 250PS, but that's combined with a strong torque figure of 360Nm, so the car rockets off the line. The 0-62mph dash is completed in just 6.1 seconds, but the car feels significantly quicker than the raw figures suggest thanks to potent in-gear acceleration.
Plant your foot down in first, second or even third gear and the computers and differentials have to work hard to keep things contained. Pulling away from junctions frequently ends up being a noisy affair as rubber is laid down on to the tarmac before the car steps in and calms things down. Once it's all gathered up, it builds speed rather more quickly than you might be expecting, with third gear being enough to reach very illegal speeds.
Show it a corner and the stiff suspension, custom Michelin tyres and fast steering combine to make turning in to the apex of a bend an almost telepathic process. It's intuitive, with few corrections needed once you've chosen your course, at least until you power out of the turn.
It's a hugely entertaining car to drive, with a positive instability that makes it a breeze to dart from point to point, short shifting when required to keep some of that torque away from the front wheels.
However, reach the motorway and the Focus' uncompromised outlook on driving entertainment lets the side down, the stiff but beautifully damped suspension making it an irritation as the long undulations of the road make themselves felt every single time. It never fully settles, always encouraging you to pull off the three-lane and take to the country lanes.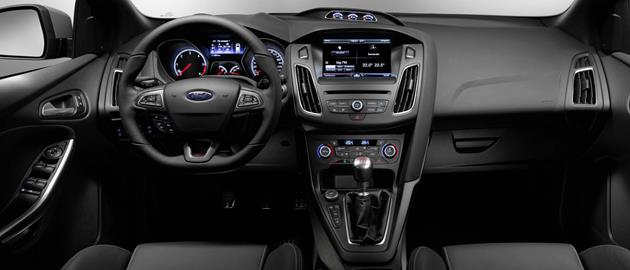 Is it practical?
Cover up the ST badge and what's left is a conventional Ford Focus, which means you get reasonable but not class-leading space in the rear seats, and room in the boot to store 316 litres of stuff. That's quite a bit less than you'll find in a Golf, Leon or Astra.
A headline figure of 41.5mpg looks good for economy, but you'll never see that if you drive it like you're meant to. A CO2 figure of 159g/km means you'll also be facing an annual car tax bill of £180, while company car drivers will be landed with a 24% BIK figure for their tax bill.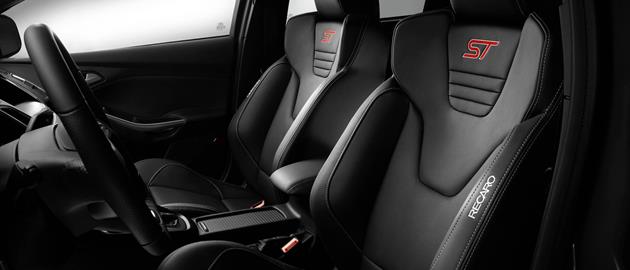 Should I buy one?
It's when you hit the twisty roads that the Focus ST rewards you, encouraging you to push faster, push harder at every turn, holding you tightly in place with those sports seats, giving you the confidence to behave really quite badly before looking after you if you get things slightly wrong.
For all its flaws, the Focus ST will be a car you want to take out at the weekend. A car that leaves you sweating, but smiling. And that's what makes a hot hatch.