A part-time seven seater MPV that's good to drive and not too expensive? Ford might just have filled a very specific niche…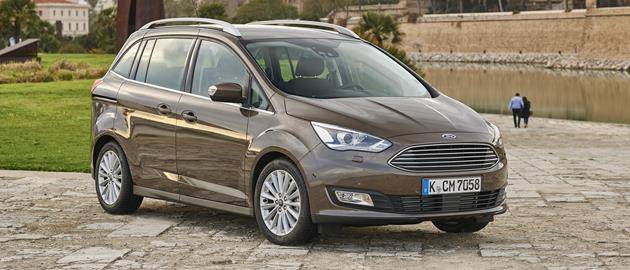 Model Tested: Ford Grand C-Max Titanium 2.0 TDCi
Price
£22,222
Top speed
125 mph
0-62 mph
9.8 seconds
Official economy
61.4 mpg
CO2 emissions
119 g/km
Car tax
C / £30 per year
Insurance
24E
Engine
2.0-litre turbo diesel
Power
150 PS (148 bhp)
Torque
370 Nm (273 ft-lb)
Weight
1,577 kg
What is it?
Ford's C-Max is a five-seater MPV. The Grand C-Max is, as the name suggests, a bigger version of that car.
That means you now get seven seats instead of five and, well, that's about it. It retains all the nice bits of the C-Max though, with plenty of storage space, a practical interior and a wide choice of engines, along with a driving experience that leans a little more towards sporty than many of its competitors.
A mid-life facelift that sees a revised nose and a heavily reengineered interior means it's time to take a fresh look at Ford's mid-range people mover.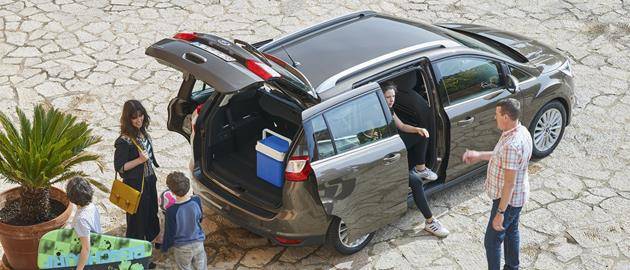 What's it like?
Cosmetically it's a little, er, awkward. A high roofline and an extended wheelbase leave it looking far less sleek than either the smaller C-Max or the more upmarket S-Max, while the sliding rear doors look a little like an afterthought.
However, step inside and all is forgiven. There's a real sense of quality now that was lacking previously, with the materials used feeling solid and hardwearing. A huge touch screen sits at the top of the centre console, looking after your entertainment, sat-nav and other bits and pieces. Ford's excellent voice control system is also in place, meaning you can simply bark at the car that you're hungry and it'll direct you to the nearest restaurant.
It's loaded with kit too, at least in the popular Titanium spec tested here, so you'll get endless buttons to press. There's tyre pressure monitors, DAB radio, heated windscreen, automatic wipers and lights, dual-zone climate control, cruise control and all manner of other toys.
The 2.0-litre diesel engine fitted to our car provides 160PS of power and an impressive 370Nm of torque, so performance is best described as brisk, with a 0-62mph time of under ten seconds. Power delivery is smooth and linear too, while the gearbox shifts smoothly. Thrust it in to some corners and there's a lot of body roll, but more grip than you have any right to expect.
The steering is also sharp and responsive, especially so for an MPV, so it's a car you can enjoy when you're on your own.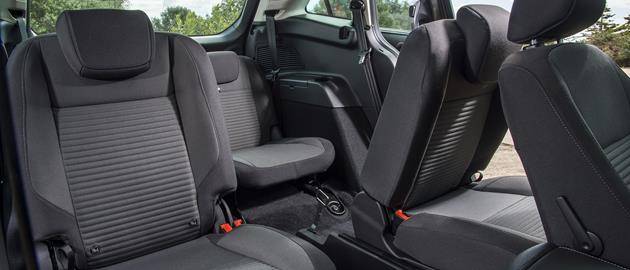 Is it practical?
For the most part, yes. The very rear most seats are best kept for kids or circus performers, while boot space is embarrassingly small when all seven seats are in place. Fold them all down and you get a van-like 1,715 litres of space in the back.
There are also 20 or so storage pockets, cubbies or nets dotted around the cabin, so there really is a place for everything. The centre row of three seats can also squeeze in and become two seats with more shoulder room and a handy central table.
Car tax won't worry you too much either, as CO2 emissions of just 119g/km mean you'll face a bill of £30 per year. A promised fuel economy figure of 61.4mpg is a tad optimistic, but it'll still be a reasonably frugal option.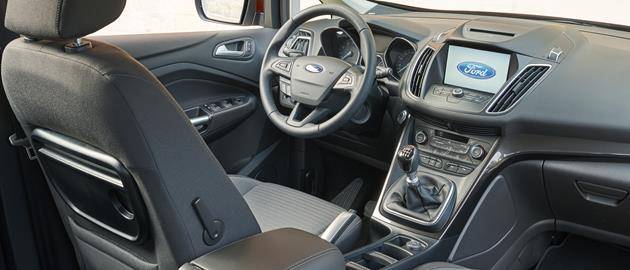 Should I buy one?
For those that want a sharp-driving seven-seater then the Grand C-Max is right up there with the best. The best is the S-Max, also a Ford, but that's around £3,000 or so extra. There's also the new Galaxy that we'll be driving next month, but that's a bigger and more traditional MPV, so may be too much motor.
If you rarely need seven seats, then the Grand C-Max is a nice compromise of size, space and performance. It might be worth looking at the smaller 1.5-litre diesel engine to save some money on both the car and fuel bills, but the 2.0-litre is a smart match for a smart car.