It's been delayed for a couple of years, but is Ford's most important model worth the wait? I get behind the wheel and find out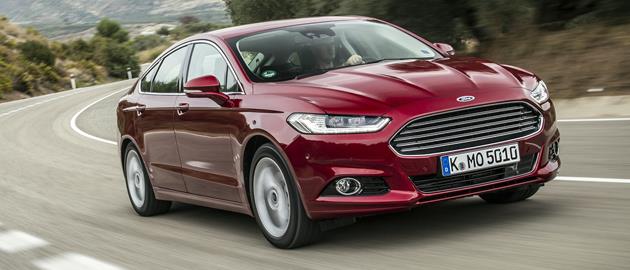 What is it?
Ford Mondeo 1.6 TDCi Titanium
Price
£22,995
Top speed
119 mph
0-62 mph
12.1 seconds
Combined fuel economy
78.5 mpg
Road test economy
N/A
CO2 emissions
94 g/km
VED band
A / £0
Insurance group
17E
Engine
1.6-litre turbo diesel
Power
113 bhp (115 PS)
Torque
199 ft-lb (270 Nm)
Weight
1,494 kg
It's the car we've all been waiting for. No, really. Ford has been making the new Mondeo for a few years in America, where it sells as the Fusion, but it's not making it over to the UK until early next year.
The Mondeo we'll see won't be just a straight copy of the US version though, with some heavy modifications made to appeal to us Brits.
That means there'll be a five-door hatchback and estate, with the saloon being relegated to one single model, the forthcoming part-petrol, part-electric hybrid.
The changes also mean we'll get a range of engines, including a tiny 1.0-litre petrol and a super-frugal 1.6-litre diesel with low tax bills.
Apart from the Aston Martin-esque grille, it does look similar to the outgoing model, but there's been enough changes under the skin for Ford to consider this a new car. There's extra-strength steel and new suspension, that combine to make things smoother, and there'll even be adaptive dampers for the UK market if you want to switch things to 'unnecessarily sporty'.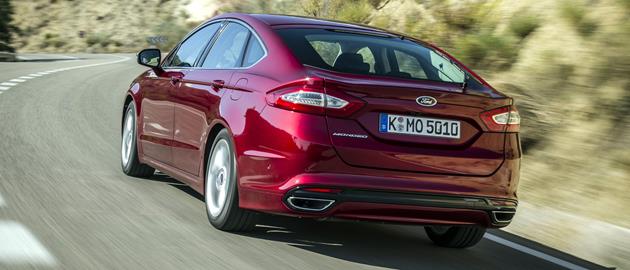 What's it like?
At first glance, the Mondeo is a pretty car. Big, but pretty. No longer does it have the faint whiff of mini-cab about it, almost getting away with a premium look to rival the likes of BMW and Audi.
Step inside and it's a quantum leap from Mondeo's of old. You now find an eight-inch touch screen mounted high up on the centre console, powered by Ford's SYNC2 system that integrates stereo, sat-nav, voice control and bluetooth, amongst other things, in to one unit.
The system actually works, too. Tell the car you're hungry and it'll find local restaurants and direct you to them. Ask it to play Meat Loaf and, if it's available, Bat Out of Hell will blast through the impressive Sony stereo system.
Around the screen there's a uncluttered dash design that throws away the US's touch-panel controls for actual buttons and knobs for important bits like heating and volume controls.
On the open road there's been some significant changes made. Where the Mondeo was once a sharp-edged car that enjoyed being driven quite hard, Ford has realised that they really spend most of their time pounding the motorways. That means comfort has come to the fore, and it's a refined and smooth riding car now. Show it some bendy bits and it'll still cope, but the firm suspension and rock-steady body control has given way to something a little less involving, as has the tactile steering – that's now been replaced with electric power steering that robs the car of some of its feel.
The 178bhp 2.0-litre diesel model tested settles down to a remarkably hushed rumble when cruising, adding to the sense of refinement, but there's still plenty of torque available to wheelspin your way out of a junction with ease. The traction control computer could be working overtime if you've a heavy right foot.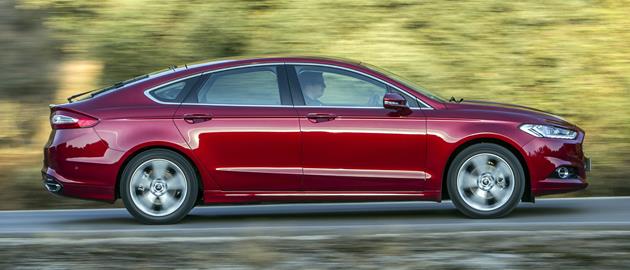 Is it practical?
The Mondeo has always been a spacious proposition, and the new model doesn't change that. Accommodating adults in the back of the car is no problem at all, so squeezing in some children won't concern you.
Go for the estate model and the higher roofline makes it an even more comfortable affair, but you'll be perfectly happy with either variant.
The same goes for boot space, which is an significant 525 litres if you don't specify a spare wheel. Fold down the seats in the estate and that increases to a cavernous 1,630 litres – that's more than you'll get from a Volvo estate.
The 2.0-litre diesel doesn't offer the best option in terms of economy or tax, returning an official 64.2mpg with CO2 emissions of 115g/km. That means a car tax bill of £30 per year. Opt for the smaller, but still very capable, 1.6-litre ECOnetic diesel and emissions drop to 94g/km of CO2, with economy of 78.5mpg and a tax bill of precisely zero.
A full five stars were given in the EuroNCAP crash safety tests. Interestingly, the rear seats can be specified with airbags inside the seat belts themselves, reducing load on a passenger by 80% in the event of an accident.
However, there's a word of caution with that technology; while ISOFIX is standard across the range, non-ISOFIX child seats are not compatible with the seatbelt airbags, and there's no way of turning them off. That's something to take note of when specifying your new Mondeo.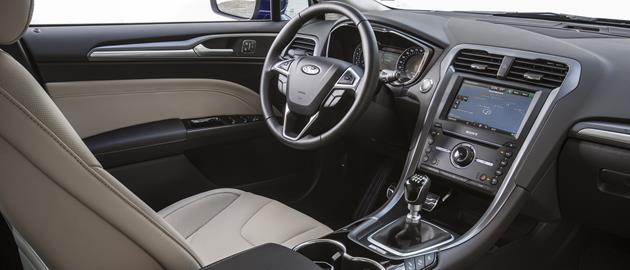 Should I buy one?
The new Mondeo is very much like the old Mondeo, but more Mondeoy. That's a very good thing, as the new car is more comfortable, more spacious, better equipped and more frugal.
In fact the level of composure and comfort on offer is by far its most compelling feature. After a long day driving up and down the A1, you'll feel relaxed and alert, which is something that can't be said of all of its rivals.
The fact it will still handle the fun roads is encouraging, even if the smiles aren't quite as big as they once were.
For now, it's as good as a large hatchback gets.