It's taken 50 years to get here, but is Ford's muscle car a case of Shock and Awe or shockingly poor?
What is it?
Ford Mustang Coupe 5.0 V8
Price
£32,995
Top speed
155 mph
0-62 mph
4.8 seconds
Official economy
20.9 mpg
CO2 emissions
299 g/km
VED band
M / £505
Engine
5.0-litre V8 petrol
Power
420 PS (415 bhp)
Torque
530 Nm (391 ft-lb)
Weight
1,720 kg
It's a Mustang. It would be tempting to leave it at that, as the name speaks for itself thanks to its glorious history. Think Bullitt. Think Gone in Sixty Seconds. Even think Charlie's Angels if you really have to.
After 50 years Ford has decided we're now ready to cope with the muscle on offer. It has made one concession to European austerity though, fitting a relatively sensible 2.3-litre four-cylinder engine under the bonnet.
There's little point to a muscle car without muscle though, so fortunately there's the option of a very un-PC five-litre V8. This sits inside a shell designed by Brit Moray Callum, a shell that is devastatingly effective. It harks back to the classic Mustang's of old, with small design cues everywhere you look, but remains a clean and modern interpretation of archetypal Americana.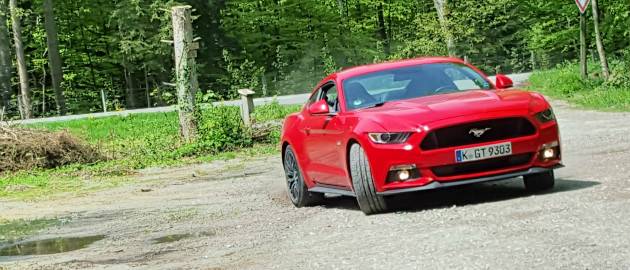 What's it like?
Slip inside and you'll find vintage Mustang touches; there's the deep-set instruments, a dished three-spoke steering wheel and retro-inspired toggle switches for the driving systems. However, there is also an eight-inch touch-screen stuck incongruously in the middle, along with switchgear that we've seen in the Focus and Mondeo.
Don't look too closely at the quality either. Yes, something has to give when you're charging less than £33k for a hot-rod of this size, but the leather on the doors felt like somebody's idea of what leather should feel like if it's only been described to them using predictive text on a mobile phone. Equally, the plastic panel pretending to be aluminium looked good but felt awful.
None of that matters though. Really, it doesn't. Press the start button, listen to the V8 rumble menacingly, and you soon realise why. This car is all about the experience, not the detail.
With 415bhp available, it gets to 62mph in roughly the same time it takes to read this sentence. With launch control fitted as standard, it'll do it again and again, all day long. An electronic line-lock, again fitted as standard, even allows you to perform a perfect smokey burnout. Just to warm the tyres up, you understand.
Hit the open road and there's a pleasant surprise awaiting. Compliant suspension makes corners possible, even enjoyable, without the ride being too firm. Crossing a country in an afternoon is possible such is the balance between comfort and ability, while the back end can be sent sliding out at will, easily controllable and always looking dramatic.
Turn things up to ten tenths and it falls apart a little, with the suspension unable to cope with what's being thrown at it, but who drives a muscle car like that anyway?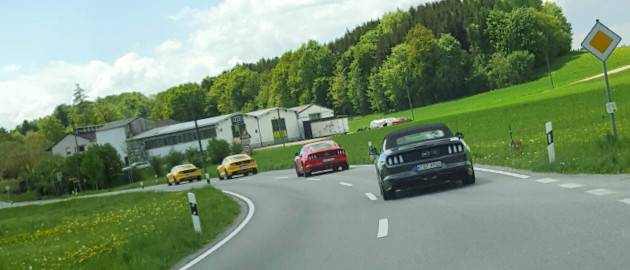 Is it practical?
No. Actually, there is a degree of practicality, but not much. There are rear seats, but they're impossible to get in to and, assuming somebody does get in there, they're tiny and they may never be able to get out again.
The boot is a good size though, able to take a couple of sets of golf clubs, so a European tour for two adults should be a doddle.
Of course, there's the fuel bill to think about. Officially the V8 will manage 20.9mpg, but single figures are equally possible. A couple of days reasonably enthusiastic driving saw the computer displaying 12.7mpg as an average, so shares in Shell are essential.
High CO2 emissions also mean you'll face a hefty tax bill. Car tax is an almost reasonable £505 a year, but the first year adds £695 to that. Company car drivers will be staring at a BIK burden of 37% but, thanks to the low list price, that might not hurt as much as you might expect.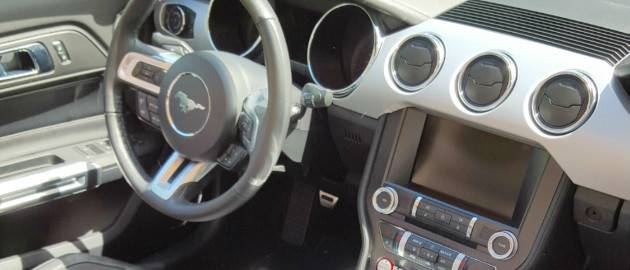 Should I buy one?
If you're trying to rationalise the Mustang, then no.
There is no case to answer if you're comparing it to its rivals – or whatever counts as a rival, as there's nothing directly comparable. BMW's 428i coupe handles better but lacks the power of the Mustang. Audi's A5 can only be bought with a diesel engine at this price, the S5 being out of reach. The only similar model on sale in the Vauxhall VXR8, but that's £54,000.
The Mustang has always been an emotional purchase. It's a case of heart over head every time, as there is always something that's faster, or cheaper, or more economical, or more spacious.
Looking at it sensibly, it's a three-star car, maybe four. But it's wrapped up in five stars of history, myth, freedom and appeal. Look after your heart.