Honda has taken the best selling SUV on earth and made it better. Is it time to get excited about the CR-V?
Honda CR-V EX i-DTEC 160 Auto 4WD
Price
£34,120
Top speed
122 mph
0-62 mph
10.2 seconds
Official economy
53.3 mpg
CO2 emissions
139 g/km
VED band
E / £130
Insurance group
27E
Engine
1.6-litre turbo diesel
Power
160 PS (158 bhp)
Torque
360 Nm (266 lb-ft)
Weight
1,724 kg
What is it?
Honda has some exciting new models coming this year, including the Civic Type-R and the new NSX, but first there's the facelifted CR-V.
This midsize SUV has had quite a significant makeover, with the key part being new engine and gearbox options. Gone is the old 2.2-litre diesel engine and in its place is a new version of Honda's excellent 1.6-litre diesel. If that sounds a little small for such a big car, 160PS of power and 360Nm of torque is promised.
A six-speed manual gearbox is standard, but if you like larger numbers then the optional automatic now comes with nine (yes, nine) gears.
Some minor cosmetic tweaks, new infotainments systems, a bucket of safety toys and some changes to the chassis and suspension round out most of the changes.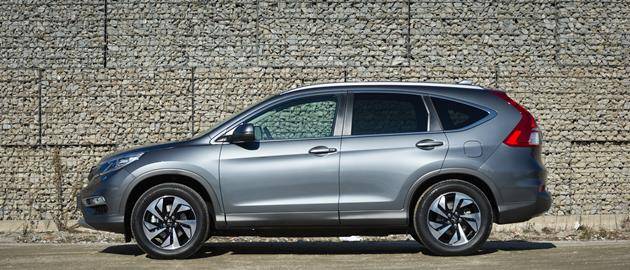 What's it like?
The CR-V isn't a car that will leave you feeling all fizzy. Hailing from a country renowned for their conservatism, the CR-V doesn't surprise in any way.
don't think that's a bad thing though, as it does ordinary driving exceptionally well. That new engine produces more useable power than you might give it credit for and, when combined with that nine-speed automatic gearbox, makes progress refined and smooth.
Show it some corners and the big Honda just reacts as if it's all a little inconvenient. Yes, there's enough grip to make it round most curves, but there's no sense of enjoyment or involvement, so you're better off sitting back and relaxing. Point it towards a motorway and it couldn't be happier, smoothing out the bumps and keeping the outside world at bay thanks to improved soundproofing and insulation.
You'll be kept happy too, with supremely comfortable seats and enough toys to keep anybody occupied. A seven-inch touch screen allows you to take control of the infotainment system using Honda's Connect system, which also allows you to 'mirror' your own smartphone. That means you can use compatible apps on your phone directly from the car's screen, as well as access any music on there.
Elsewhere there's climate control and cruise control across the entire range, while parking sensor, auto wipers and lights and leather trim gets added on higher models. Go to the top EX model and there's a powered tailgate and large panoramic roof added to the mix.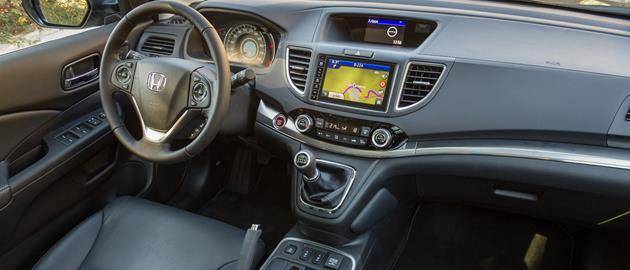 Is it practical?
Very much so. Starting right at the back of the car, the boot can accommodate a huge 589 litres of stuff, which is more than many estate cars, while the seats fold down to leave an entirely flat floor – the largest flat floor available anywhere, it's claimed.
With the seats up there's enough room for three kids on the rear bench, while there's more than enough room for two adults. As there's no transmission tunnel in the middle, there's also room for everybody's feet.
While the purchase price is perhaps a little high, running costs should be low on the CR-V, especially with this new diesel engine. The more powerful uprated unit in the top=spec model produces 139g/km of CO2, which means a car tax bill of £130 a year, and promises to return 53.3mpg. Sacrifice a little speed and stick with the less powerful option (which is still just about man enough to lug the car around) and that drops to £30 a year and 64.2mpg.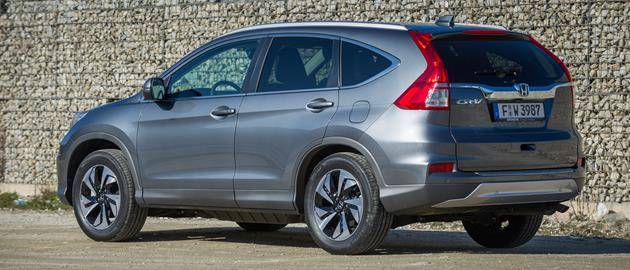 Should I buy one?
The CR-V was the best-selling SUV in the world last year, and the revised model just adds to its appeal. Lighter, slightly more agile, more refined and better equipped than ever before, it's an extremely competent all-rounder.
It lacks the driving appeal of BMW's X3 or the badge cachet of the Audi Q5, something that's important when you start reaching price tags of circa £35,000. Save a bit of money and forego the four-wheel drive option and the value on offer rises, making it a strong rival to the likes of the Nissan X-Trail.
Just don't get too excited about the prospect of owning one and you'll get along fine.