Honda's revised Jazz plays a new tune. Phil Huff finds out if it hits he right note…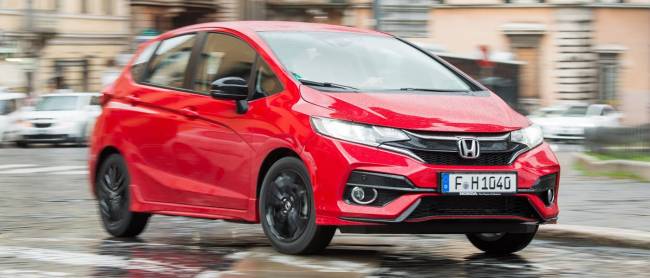 The Honda Jazz is an odd car, or rather it's odd how it's perceived by customers. Over in America it's the mainstay of the youth, an entry to independence that's affordable for all. Over here it's bought almost exclusively by retired folk after something practical and manageable.
Honda has revised the Jazz and added a little excitement to attract the attention of the European youth market, which means there's a 'Sport' designation on some models, bringing with it gloss black alloy wheels and, importantly, a new 1.5-litre petrol engine.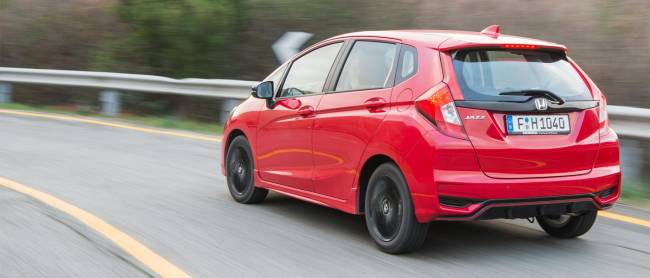 Touching on the Sport element first, it's pleasing to see there's 128bhp available from that new engine. It's partnered to a wonderfully slick six-speed manual gearbox that allows you to extract every bit of power and match the 0-62mph time of 8.7 second that Honda claims. Only you really won't want to; at anything beyond a steady run, the engine emits a racket that's particularly loud and particularly unpleasant. Even when cruising at motorway speeds it's constantly droning, with the sixth gear not being long enough to drop the engine revs to a more relaxing level.
Find some entertaining roads and the Jazz just about makes a decent fist of things, but there's quite a lot of body roll and the steering is largely devoid of feel. It rides nicely though, the independent suspension up front absorbing the usual potholes and cracks without an issue. It makes for a nice car to be a passenger in, but it falls short of the Sport tag.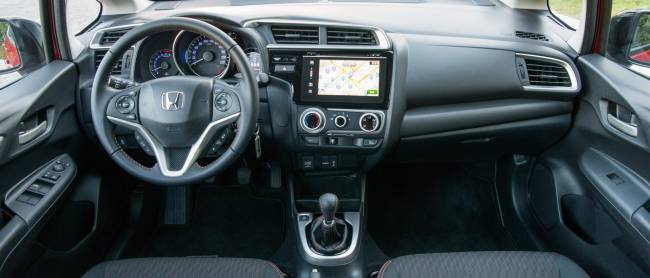 Ignore that badge and the Jazz starts to redeem itself nicely. The car may be a little under four metres long, but it seems to squeeze the insides of a much larger car in that body shell. Even the rear seats, so often a compromised area in small cars, is cavernous, with enough legroom for all even when sat behind a taller driver. The upright shape means there's plenty of headroom all round, too. Go further back and the boot is measured at 354 litres, a space larger than you'll find in a Ford Fiesta.
Practicality is extended further with Honda's 'Magic Seats' that fold, flip and move to create all manner of configurations. It's possible to squeeze in an adult bike with a child seat in place, or a couple of golf bags, and even transporting a new TV while keeping it upright is possible. It's not quite van like, but the completely flat load area, and tall, flat sides makes it easy to accommodate difficult loads.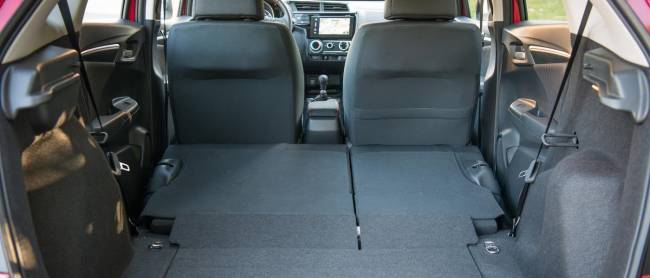 The driver gets a practical environment too, with door pockets, a couple of cupholders and random oddment space dotted around. Beware though – the cubby hole under the centre console is exactly the same size as a Samsung Galaxy S8 phone, and once it's in it's nearly impossible to get out again! Above the Galaxy swallowing hole is a seven-inch infotainment touchscreen that houses the DAB radio, smartphone mirroring system such as Android Auto, and satellite navigation. It's not a particularly modern system, with some dated graphics, but it works well enough. Pleasingly there are old-fashioned rotary knobs for the heating and ventilation.
While the Jazz isn't the last word in driving dynamics, despite the Sport tag on this model, it's no worse than myriad rivals. Sure, the Fiesta and SEAT Ibiza might be more entertaining, but nothing this side of a larger estate car can offer the same level of practicality and flexibility as the Honda. The revised styling of the nose and tail keep the car looking fresh, and Honda's reputation for reliability will add to the appeal, but all of those benefits are available on the cheaper, smaller engined models.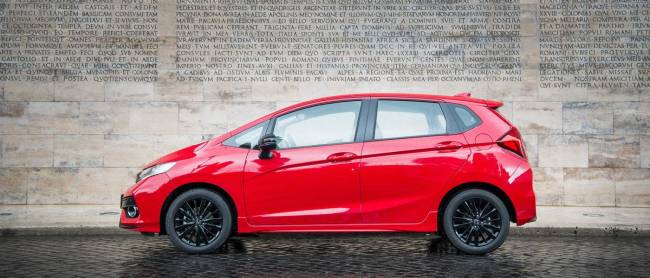 ---
Motoring powered by FrontSeatDriver.co.uk.