Pace and grace abound, but can Jaguar's smallest SUV also provide space? Phil Huff finds out…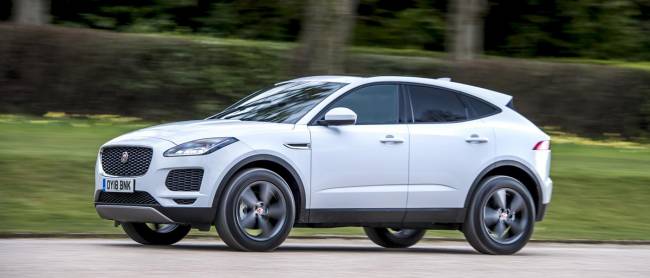 You might have thought that Jaguar could have resisted the trend to build an SUV, especially as its kinsfolk at Land Rover do such a good job of it. As the market moves inexorably towards bigger and bolder models you've got to eventually follow the money, and that's where 2016's Jaguar F-Pace came in. Two years later, a smaller, cheaper E-Pace is now available.
Cheap is relative, of course, and it's possible to spend more than £50,000 on an E-Pace R-Dynamic HSE with a 300 horsepower engine, a car that's only a couple of centimetres lengthier than a Nissan Qashqai. At the other end of the E-Pace scale is the D150, a model with half the power that's as simple as Jaguar gets – there's no off-road friendly all-wheel drive and there's no automatic gearbox. There is one rung lower than this 'S' spec test car, allowing E-Pace ownership to start at just £28,545, but with little more than a smattering of extra equipment and an extra inch on the wheels, there's little to choose between them.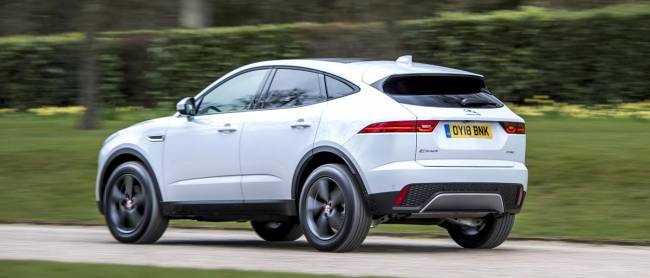 Powered by Jaguar's two-litre Ingenium diesel engine, there's a reasonably healthy 148bhp and an impressive 380Nm of torque – it's the latter that really gives the car some shove and, with a six-speed manual gearbox, leaves the E-Pace feeling sprightlier than you might imagine. The figures don't back up that sensation, with 0-62mph taking a relaxed 10.1 seconds, but in-gear acceleration is strong thanks to all that torque. The ability to decide for yourself whether to use low-down grunt or change gears furiously to keep the revs high makes for a more engaging experience, too.
Smaller wheels on the car means taller tyres which smooth out imperfections in the road, while reasonably compliant suspension looks after the big stuff, resulting is a remarkably comfortable car. It's light years ahead of the stiffly sprung, big wheeled performance versions of the E-Pace. It's not at the expense of handling prowess either, with the compact Jag having some excellent body control and sharp responses from the steering, making it as agile as anything else in its class. It's a supremely well judged balance between comfort and handling, getting almost the very best out of both sides of the coin.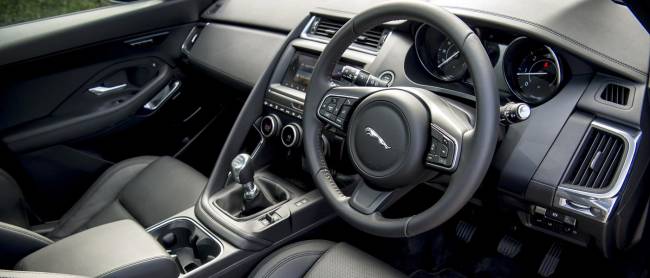 The front-wheel drive limitations of the E-Pace show up eventually, but long after most drivers would have given up. More powerful models come with all-wheel drive, offering better traction and a slightly more balanced feel through the corners, but it's not a necessary upgrade.
It's a shame the engine isn't quite as refined as the rest of the car. It rattles around at idle, and maintains a distinct rumble even at motorways speeds. At least wind noise is kept at bay thanks to a slippery shape, while tyre noise is audible but unobtrusive.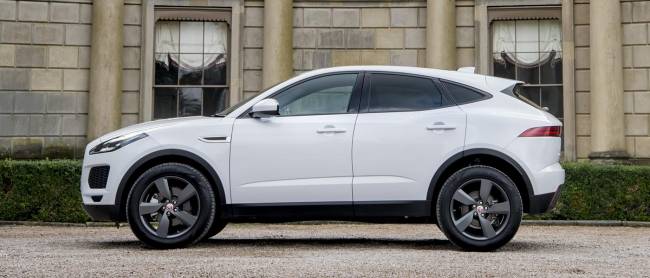 The cabin is also a little lower rent than you might hope for. It looks good, but spend some time in there and you start noticing the soft dashboard cover, the plastics around the steering column and the row of buttons below the infotainment screen that clearly aren't a match for anything from the Volvo XC40 or BMW X2, two obvious rivals. The infotainment system looks good but it's slow to respond, the navigation system is dated, and there's no way of controlling anything without having to prod at the feedback-free touchscreen. Disappointingly, there's also no sign of Android Auto or Apple CarPlay.
It does play the part of SUV well enough though, with front seats that are comfortable and roomy, with plenty of headroom, while the rear seats are acceptable; a pair of adults will fit, and won't mind even a long journey, but there's not much room to spare. The boot is a good size though, and easily accessible. Able to swallow 577 litres of luggage, that's substantially larger than either the Volvo or BMW.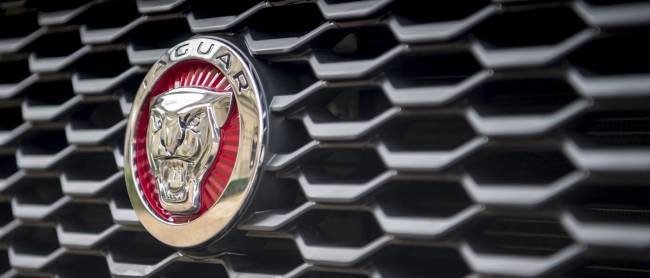 And kudos to Jaguar, it has made one of the safest cars in its class. Even this entry level E-Pace comes fitted with automatic emergency braking, lane keeping assist, a driver alertness monitor and a speed limiter. It's all wrapped up in a body that scored the maximum five-stars in EuroNCAP safety testing.
At around £32,000, this E-Pace is still pretty expensive, but no more so than its rivals. It's not got the overt sportiness of the BMW X2, or the Swedish-cool luxury of the Volvo XC40, but strikes a fine balance between the two, especially in this sensible D150 specification. In fact this lower level model is arguably better than the costlier options within the range. Less really is more.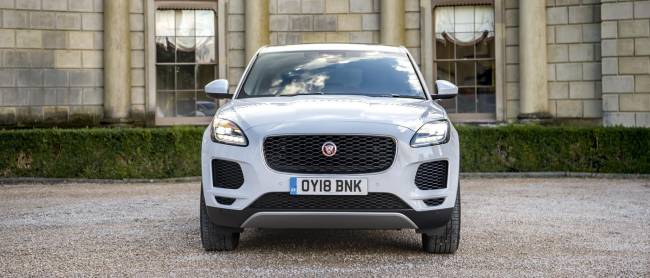 ---
Motoring powered by FrontSeatDriver.co.uk.