Kia wants to move from safe and sensible to daring and desirable, but is a large SUV the best place to start? I drive the new Sorento and find out…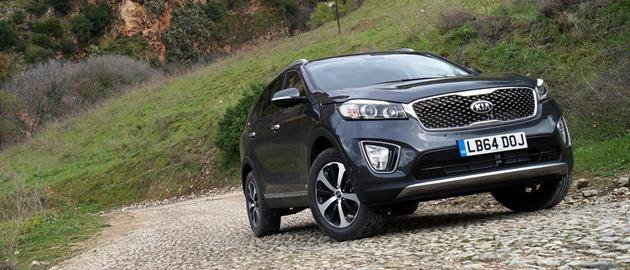 Kia Sorento KX-2 2.2 CRDi
Price
£31,995
Top speed
124 mph
0-62 mph
9.0 seconds
Official economy
46.3 mpg
CO2 emissions
161 g/km
VED band
G / £180
Insurance group
25
Engine
2.2-litre turbo diesel
Power
200 PS (197 bhp)
Torque
422 Nm (311 ft-lb)
Weight
1,932 kg
What is it?
This is Kia's first step in moving from offering good quality and good value cars to something that has a premium feel and a bit of desirability. In their own words, Kia aims to "match and surpass not only customer expectations but also the world's best car manufacturers for engineering, technology, refinement and quality."
However you wrap it up, that's one hell of a target.
Meeting that goal starts now, with the third generation Sorento. Originally a workhorse 4×4, it evolved in to a solid SUV for its second generation, but now it's gone softer and more luxurious, squarely aiming at the likes of value options such as the Hyundai Santa Fe, mainstream models such as the Nissan X-Trail and even the more premium models such as Land Rover's new Discovery Sport.
Of course, being a Kia, it still retains some semblance of value. On this occasion that means you get more space, along with seven seats as standard. It retains its four-wheel drive capability too.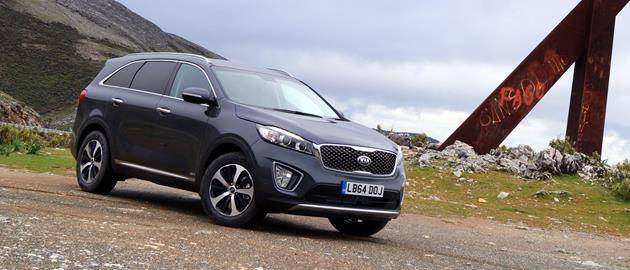 What's it like?
It's really rather attractive. Penned by Peter Schreyer, one-time design supremo at Audi, it combines some bold features with an altogether softer style that mask its bulk.
Under the skin there's a fast-acting clutch-based four-wheel drive system borrowed from the Sportage, which allows torque to be split 50/50 at up to 25mph. At all other times it works on demand, sending power where it's most needed. There's also a torque vectoring system that brakes individual wheels to maintain control too, meaning it looks like it's still got off-road capabilities. However, the switch to deign over function means there's not much in the way of approach and breakover angles, so you won't be tackling the Darian Gap in this.
Stay on the tarmac and the punchy 2.2-litre diesel engine looks after you well. With nearly 200bhp available and 441Nm of torque, the Sorento moves with all the alacrity you'll need, with a smooth six-speed manual gearbox making it easy to keep the engine revs in their sweet spot.
The 0-60mph sprint takes 9.0 seconds, which is long enough to prepare you for the driving characteristics – steady and secure, if not engaging or exciting. There is, ultimately, plenty of grip available, but you'll never feel the urge to explore the outer limits of its capabilities.
Inside represents a big step forward for Kia, with an interior that would not look out of place in any of its German rivals. Soft touch materials abound, highlighted by satin-finished brightwork that add an air of luxury to the cabin, while everything feels remarkably solid. An eight-inch touch screen dominates the centre stack, controlling all the infotainment and sat-nav options. Happily, there are also physical buttons to control frequently used items such as the stereo volume and temperature controls.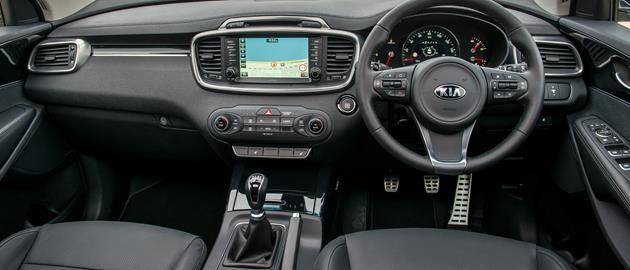 Is it practical?
Starting at the back of the car, there's a disappointingly small boot – that is until you realise there are seven seats in the Sorento. Fold the two rearmost seats down, something that takes one flick of the wrist, and you're left with a cavernous area that will swallow 605 litres of luggage. Fold the centre row down and load the boot to the roof and there's an enormous 1,662 litres available. If that's not enough, you can tow a braked trailer or caravan of up to 2,500kg.
The centre row of seats has Isofix mounting points for your child seats, ensuring an extra level of safety, as do the three-point seatbelts fitted to all seven seats. A Euro NCAP five-star rating backs up Kia's quality claims, and the slew of safety kit will keep you working out acronyms for some time: there's ABS, EBD, BAS, ESS, ESC, VSM, LDW and BSD, amongst others, as well as six airbags, a speed limiter, adaptive smart cruise control and rear cross traffic alarm.
The diesel engine on the KX-2 manual returns 46.3mpg, at least officially, making it surprisingly frugal. A CO2 figure of 161g/km means you'll be facing a car tax bill of £180 per year, or a company car tax BIK burden of 30%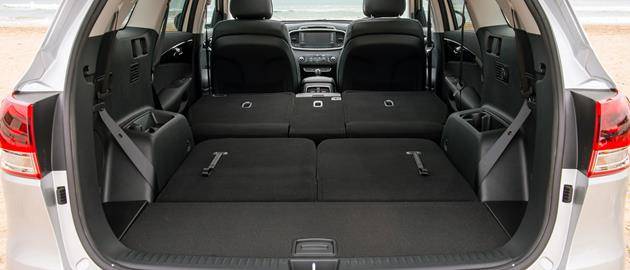 Should I buy one?
The new Sorento is a big gamble for Kia. In KX-2 spec as tested here it's a not inconsiderable £31,995, while the top level KX-4 spec, with its automatic gearbox, adds a further £9,000 to that price, taking it perilously close to BMW X5 territory.
However, while the prices are steep at the top of the range, the KX-2 offers a particularly compelling sweet spot. Spacious enough for all but the most demanding of families, loaded with equipment, easy to drive, comfortable on long journeys and reasonably frugal to run (at least by SUV standards), the asking price suddenly becomes more reasonable.
Kia has nearly achieved their goals, and has certainly done enough to worry the likes of Nissan and Hyundai. BMW and Audi might have to wait until the fourth generation Sorento, but what they've got now is nearly as good for quite a lot less money.