The NX is the first midsize SUV from Toyota's luxury offshoot, years after the competition entered the fray. Is it too late for Lexus?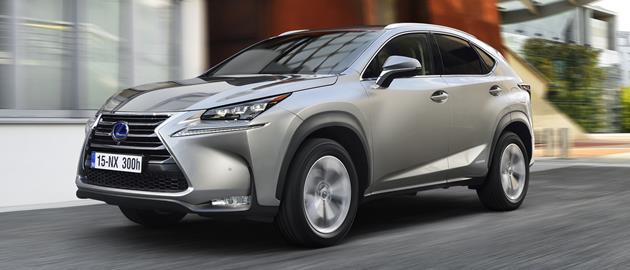 Lexus NX 300h F Sport
Price
£36,995
Top speed
112 mph
0-62 mph
9.2 sec
Combined fuel economy
54.3 mpg
Road test economy
N/A
CO2 emissions
121 g/km
VED band
D / £110
Insurance group
32E
Engine
2.5-litre petrol and electric motor
Power
193 bhp (195 PS)
Weight
1,905 kg
What is it?
There's been an explosion of small premium SUVs in recent years, from the Range Rover Evoque and Audi Q5 to the BMW X3 and Volvo XC60. They're a few years late perhaps, but finally Lexus are joining the party with a sharply sculptured SUV of their own.
Available as a hybrid only, for now, the NX comes with a 2.5-litre petrol engine a an electric motor in a segment that's dominated by the diesel. This seems counter-intuitive, but the eco benefits mean you'll be facing a lower tax bill and keeping petrol-engine refinement.
There's four-wheel drive on offer in all but the entry level model, although this is no off-roader. A damp car park at the races won't defeat it, but Kilimanjaro will.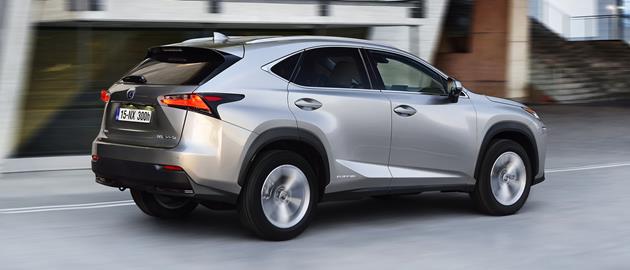 What's it like?
It's certainly bold. There are so many sharp lines and acute creases that it looks sharper than a samurai sword, and certainly stands clear in a market full of me-too designs. Whether you like it is down to personal taste, but it makes a statement.
The theme continues inside, with a multi-layered dashboard that's full of buttons, screens and touchpads. There's even a vanity mirror hidden away in a cubby hole, just in case you want to stop and check your make up.
The buttons can be a little overwhelming though. During my time with the car I found more than 90 separate switches, dials and buttons, but the ones you use frequently are laid out clearly enough.
Turning the key, you're rewarded with silence. The hybrid engine lets you pull away in pure electric mode, but that doesn't last long. Feather the throttle incredibly gently and you might make two miles, but the petrol engine will kick in eventually.
At that point you've got 195bhp to play with, and a dial that has Sport+ written on it. Ignore it, as it seemingly doesn't do anything – throttle response is relaxed at best, while the drone from the engine isn't a pleasant sound to be listening to. Even worse is the false engine sound fed through the speakers, as it fails to keep time with the engine, leading to a horrendous mismatch.
At least once you're cruising the din dissipates to a very refined distant rumble, with any remaining engine noise well insulated from the cabin.
There's plenty of grip, but the ride quality isn't great. The firm dampers on the F Sport model tested thump and crash over every imperfection but, as is common with Lexus cars, if you eschew the F Sport and stick to the normal models you'll find things are a lot more relaxed.
While sitting back and letting the adaptive cruise control do its thing you can take in the wealth of technology on offer, from DAB radio to wireless smartphone charging and a Mark Levinson stereo that sounds magnificent, but models with all the toys cost a huge amount.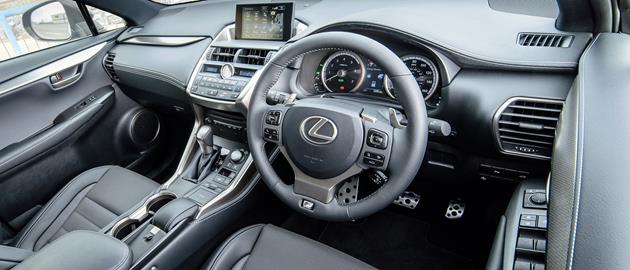 Is it practical?
There's plenty of room up front, with some extremely comfortable and supportive seats, but rear passengers will find headroom a little tight. The back seats are raised up slightly, to offer a better view down the road, but that impacts space above, something that's highlighted even more if you take the sunroof option.
The boot is as spacious as anything else in the class, matching the BMW X3's 550-litres exactly, and edging ahead of the Audi Q5 and Volvo XC60. The rear seats fold down, and return, electrically making finding space for large loads incredibly easy.
The bootlid is powered, but it's painfully slow. Standing in the rain while waiting for the boot lid to open will get tiresome very quickly, and if you try to hurry it along manually it panics and starts closing again.
In the cabin there's plenty of storage options, although it doesn't appear that way to start with. Shallow door pockets look like they won't take much, but large bottles are kept in there securely and there's plenty of cupholders.
The hybrid engine promises good fuel economy, with Lexus promising 54.3mpg officially, without affecting performance too much. The benchmark 0-62mph dash comes up in 9.2 seconds.
For company car drivers the tax benefits are significant, with a BIK burden of just 16%, giving a tax bill saving of hundreds of pounds. for private buyers the car tax bill will be £110 year, thanks to the 121g/km of CO2 emissions.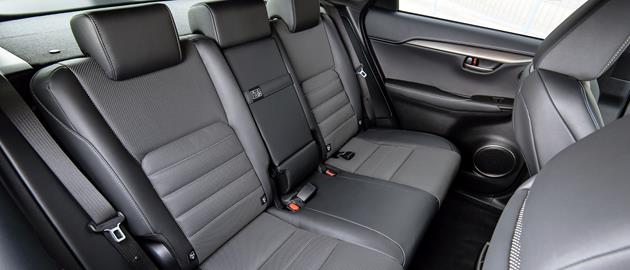 Should I buy one?
The NX has a great deal going for it, especially if you're a company car driver who fancies an SUV. It look fantastic, if you like lots of straight lines, and there's plenty of space inside, along with all sorts of technology to keep you entertained.
But in F Sport guise it's all for very little, as the ride quality kills off the car. yes, it looks even sharper with the big wheels and styling tweaks, but it's left just too compromised to really be a viable option.
It's the F Sport that attracts all the attention in a world of M-Power BMWs and RS Audis. While the latter two also suffer from rock-hard ride, there's performance options to back up the badging.
Sacrifice the look-at-me options and take the NX in an ordinary specification, with its softer suspension and taller tyres, and it becomes a very likeable car. That, and the abundance of Tokyo-tech, means it's worth a look.