Twenty five years after it was first introduced, Mazda is going back to basics for the new MX-5. Is the iconic roadster still the car it once was?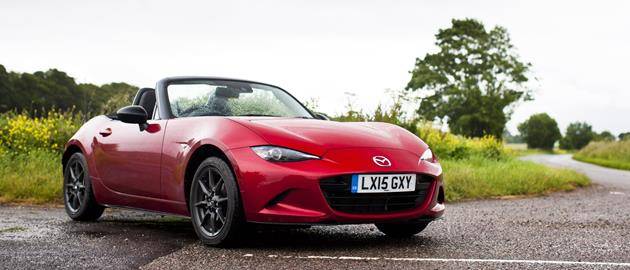 Model Tested: Mazda MX-5 Sport Nav 1.5
Price
£22,445
Top speed
127 mph
0-62 mph
8.3 seconds
Official fuel economy
47.1 mpg
CO2 emissions
139 g/km
Car tax band
E / £130
Insurance group
26E
Engine
1.5-litre petrol
Power
131 PS (129 bhp)
Torque
150 Nm (111 ft lb)
Weight
1,050 kg
What is it?
This is the fourth generation of Mazda's now ubiquitous MX-5. Taking the car back to its 1990s roots by eschewing the growing trend for more power, the new model is small, light and nimble.
Importantly, it's powered by a 1.5-litre engine that produces just 129bhp. If that doesn't sound like a recipe for fun, then there's a more powerful 2.0-litre version available for another £600 or so, but don't jump ahead and think that'll be the better option…
What you get on the 1.5 engined model is a tame version of the car, while the more powerful Sport model not only gets a bigger engine, but also acquires a limited slip differential, strut brace and sports-tuned suspension and Bilstein dampers.
But I'm in Scotland, driving it across delightful roads policed with a zero-tolerance to speeding, so it's the 1.5 I spent most time with.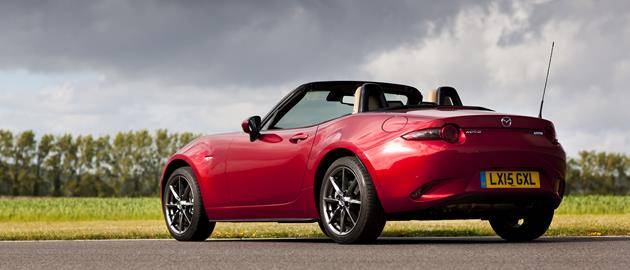 What's it like?
It's certainly a big change from the old model. The third generation was very much an evolution of the second generation, itself an obvious stretch from the first. This new model throws out all the design cues and brings in Mazda's successful Kodo design, all sharp edges and swoopy curves, intended to create a sensation of movement even when stationary.
The end result is that it's not quite as pure in styling as the original, but looks a whole lot more aggressive. It also attracts attention, with the people of Inverness taking a keen interest in the car.
Inside it's very much the modern Mazda. There's a clear instrument panel ahead, circular air vents either side, and an infotainment screen that looks a little like an afterthought. It works well, but some design quirks leave it looking a tad untidy at times.
All if forgiven once you hit the road though. The car is light to use, with a short gearshift, which makes it easy to live with in urban environments, but leave the city and the engine can be worked right up to its 7,000rpm redline. Keep the revs high and the engine sings, as the car comes alive. With just 129bhp, it's never overwhelmingly powerful – you'll struggle to slide the back end out without extreme provocation – but that just allows you to extract the most from the car.
The steering is light but has a fair bit of feel, allowing you to place the car accurately. As you're throwing it around, you'll also notice the ride quality really is very good.
It's all so effortless, and so much fun. Forget your 200mph supercars –the fun really happens right here, at around 40mph. Honestly, it's such an engaging piece of engineering that any road becomes a pleasure to drive, roof up or down.
If that's too overwhelmingly positive, there are niggles. The pedals are offset to the right by a surprising amount, and the steering wheel doesn't adjust for reach. Opt for the 2.0-litre model and the ride quality suffers a fair amount, although you do get a livelier car. Swings and roundabouts.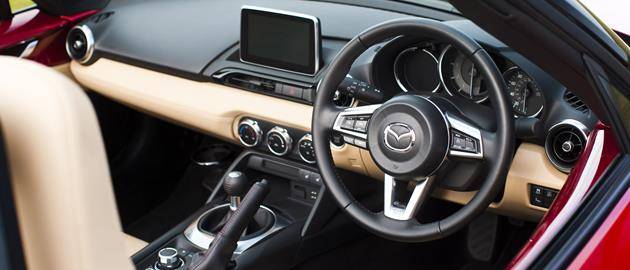 Is it practical?
There are only two seats, and the passenger seat doesn't have an Isofix attachment, so let's just go with no for now.
There isn't much boot space to speak of, either – the 130 litres of space available is less than you'll find in a Fiat 500.
However, it's a reasonably priced option that is also surprisingly frugal. The range starts at £18,495, just £4,500 up from the price it launched at 25 years ago. It's got more fuel efficient since then, with my model returning well over 40mpg despite the enthusiastic driving. Officially 47.1mpg is achievable, with a CO2 figure of 139g/km leaving you with a car tax bill of £130 a year.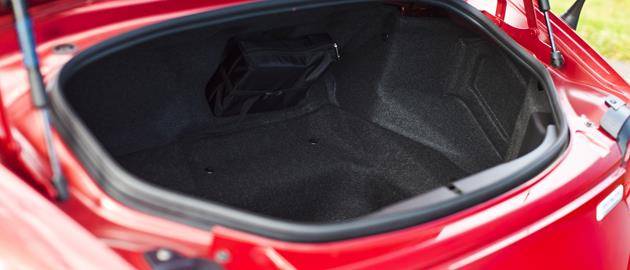 Should I buy one?
Yes. Unreservedly yes. The 1.5 lacks the punch of the 2.0-litre, but it's beautifully balanced and provides smiles at pretty much any speed and on any road.
Yes, the stiffer, faster, more powerful option will suit you better if you're heading out for frequent track days, but for everyday use this MX-5 will provide you with a lot more fun than you'll get out of virtually any other car.
It makes you smile, whether you're winding your way through the highlands or queuing through traffic to get to Waitrose, and that makes it a near perfect car.
Apart from the lack of rear seats and boot.