Who needs a Tesla now, asks Phil Huff…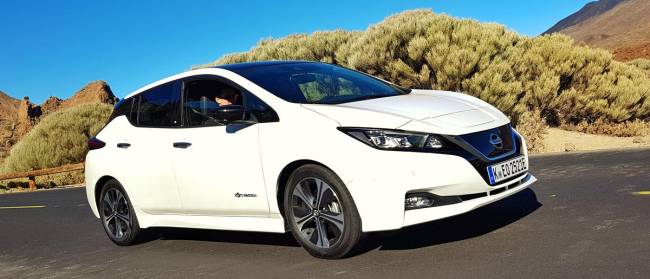 Glance at it, and you'd never be able to tell there's no engine inside the Leaf. It's the latest pure-electric car from and promises more of everything – more range, more speed, more style, more refinement, more equipment and more fun. Crucially, though, it's all going to be for less money.
Range anxiety is still a problem for many, but Nissan has addressed that as best they can without compromising the car too much. The official range is 258 miles, measured using the new WLTP method. Without getting too technical, it's a new economy test that all cars will have to adhere to soon, and is a far better representation of real-world driving than the hopelessly optimistic system we have in place now.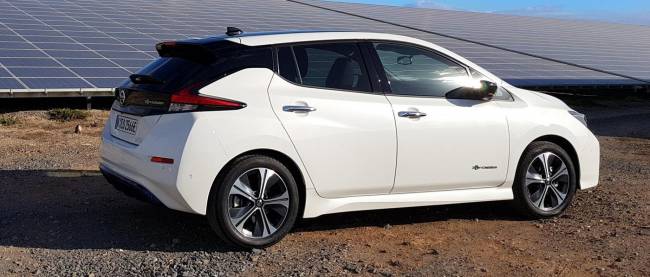 I took the car around some demanding mountainous roads, climbing 10,000 feet as I went, before descending the other side and covering some motorway miles back to base. All told I covered around 100 miles on this simple test, some of those miles a tad more enthusiastically than the average Leaf driver might, and the computer said I'd still got a good 40 miles left. Under normal circumstances and normal driving, it seems to me that 200 miles might be a perfectly reasonable target.
All models are compatible with 50kW CHADEMO charging points, which allows for charging from the low battery warning level to 80% in 40 minutes. There's also a 6.6kW charger built into the car for home charging, although resorting to a three-pin plug could take a whole day to charge the car. Nissan will install a free home charger for buyers for more convenient plugging in, and sensible 7 hour charge times.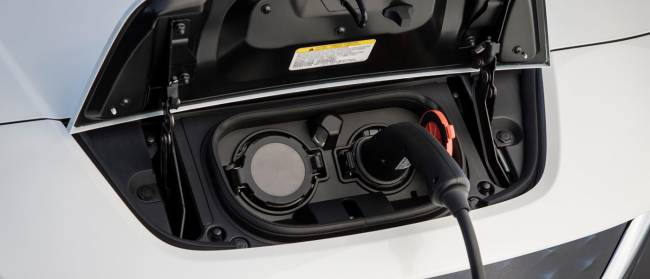 There's 320Nm of torque (or about the same as you'll find in a decent 2.0-litre diesel car) which will accelerate the Leaf to 62mph in a sprightly 7.9 seconds, but it runs out of puff soon after that. It means urban environments are zippy, and there's no issue with joining a motorway, but high speed runs aren't its forte.
In reality, neither is the twisty stuff. Nissan has made significant changes to the chassis and suspension, but it's all tuned very much towards comfort and economy, as you would expect. The flip side is that it's impressively smooth over seemingly any road surface, although there's always a small jiggle on low speed rough stuff.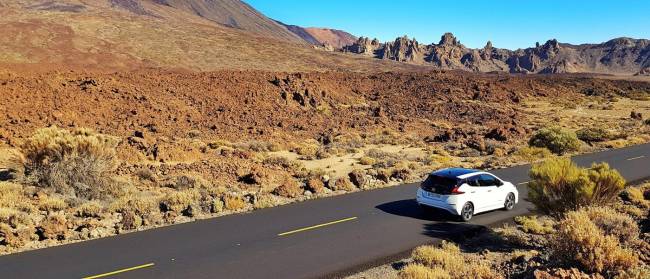 In many ways, how the car drives is arguably secondary to the technology it brings to the market, and there's plenty of it. There's 67% more energy in the 40kWh battery pack than previously, despite it taking up no more room, and there's the new 'e-Pedal' to help extract the most from it. By switching on the e-Pedal, the accelerator becomes both a means of gaining speed, and a means of controlling braking, by collecting kinetic energy as the car decelerates. It'll brake reasonably firmly using nothing but the electric motor, and even come to a complete stop. It takes some explaining, and some getting used to, but the system works and makes most driving a breeze. And there's no need to worry, as there's still a proper brake pedal.
As a family car, it works well enough. There's five seats, although really you'll want to leave it at four, and there's not that much headroom for those in the back, but the boot is larger than you'll find in a Volkswagen Golf and there's plenty of equipment to keep everybody occupied. All four passengers get heated seats, while a seven-inch infotainment touch screen with Apple CarPlay and Android Auto integration, climate control, automatic headlights and high beam and, on this Tekna model, a Bose stereo system with boot-mounted subwoofer. A smartphone app, NissanConnectEV, can be used for remote management of the Leaf, for example to heat up the interior and clear the windows on a frosty morning without stepping foot outside of the house.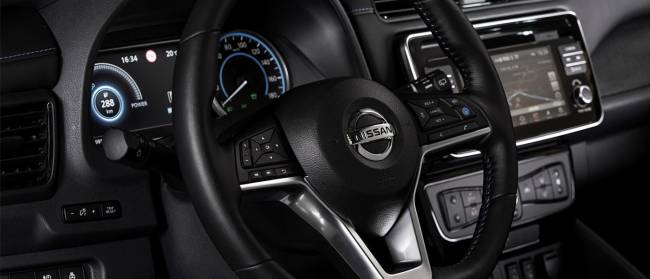 It's wrapped up in a little of a mixed bag in terms of design, especially inside. It's all a little grey and sombre, and there's a haphazard arrangement of buttons around the car, including 18 on the steering wheel alone. That infotainment system looks modern and shiny, but it's not always particularly easy to use and the sat-nav is years behind the best. While I'm complaining, the steering wheel doesn't adjust for reach, making it difficult for some to find a comfortable seating position.
It's not perfect, but there's a lot of positives around the LEaf. It costs quite a bit to get them though, with this model coming in at more than £27,000, and that's after the government has put in a cheque for £4,500. Still, car tax is zero, company drivers will be pleased by a 9% benefit in kind rate, and electricity is still an awful lot cheaper than petrol.
It's as good as an electric car gets right now, and might just be good enough to finally kick off an electric revolution.
---
Motoring powered by FrontSeatDriver.co.uk.