There are more entertaining cars out there, finds Phil Huff, but few are quite as capable as Skoda's baby SUV…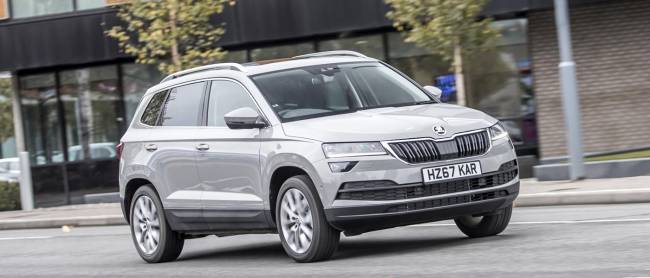 The weather in January can be a pain when testing cars. With low temperatures and damp conditions, the particularly hot hatch I've had has been almost entirely useless, sliding and skipping around like a baby gazelle on an ice rink. What I needed was something incredibly sensible, safe and secure.
Which is exactly what the Skoda Karoq is. The Czech brands new mid-size SUV is taking a sensible, no-frills approach to stealing a share of the booming SUV market with styling that's crisp if unadventurous. There's a strong family resemblance to the larger Kodiaq (that's no bad thing) with some nice touches such as crisp LED lights and a windowline that sweeps upwards at the rear of the car.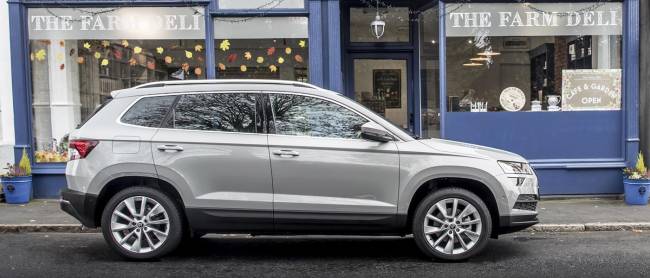 It hints at a some sporting intention, but don't be fooled; despite having a 2.0-litre turbocharged diesel engine under the bonnet, and a respectable 0-62mph time of 8.7 seconds, the Karoq is just about as far from sporting as it's possible to get. It's relaxing and easy to drive, thanks to 340Nm of torque that's available from just 1,750rpm. That grunt makes it flexible, with even accidental third gear starts possible, and contributes greatly to an official economy figure of 56.5mpg. After a day's driving, the onboard computer showed 46mpg, but which is a pretty good result for one with such a heavy right foot.
Most Karoqs will undoubtedly be sold with just two wheel drive, but this one has all four wheels driven which adds a degree of security on these slippy roads, something that was immediately apparent in the muddier sections of Lincolnshire. It's the for surefootedness, rather than agile handling, which is true of the suspension too. Set up to be target more comfortable than many of its rivals, it misses out on the sportier springs found on the likes of the SEAT Areca, but that means it absorbs the worst that UK roads can throw at it with ease.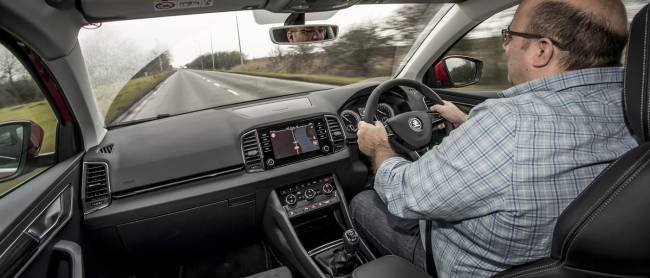 A drive mode selector allows a choice of Comfort, Eco and, amusingly, Sport, none of which really changes anything substantial. Bring the 4×4 model, they're also an off-road setting that suggests some mud-plugging might be possible, but a waterlogged pub car park was as thorough a test as I could manage.
You can't avoid carrying the extra weight of the four wheel drive system around with the 2.0-litre model as it's standard equipment, but pleasingly it doesn't effect practicality at all – the boot still takes 479 litres of cargo, which extends to a cavernous 1,810 litres with the rear seats folded down. That's more space than is available in the larger Volvo XC60, and you can't completely remove the rear seats on the Swede as you can in the Karoq.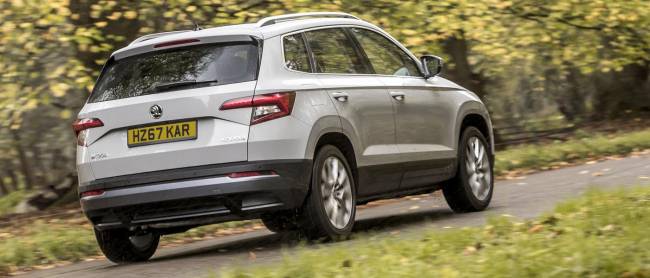 There's plenty of space in the cabin too, with good amounts of head and legroom for all, although three abreast in the rear seats would be cosy.
The dashboard is typically Skoda. It's all laid out well, built finely, and constructed out of plastics that aren't quite as nice to touch as you'd like. There's an eight-inch infotainment screen that controls most functions, although finding the right option can be difficult. The buttons that slide in and out of view also makes it slightly harder than it could be to find the right area to prod, meaning your eyes are diverted a little longer than necessary.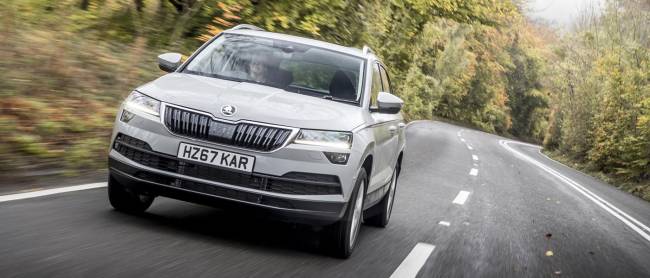 Still, this SE L model comes loaded with satellite navigation, Apple CarPlay and Android Auto, in-car wifi and heated front seats. An array of safety equipment is joined also by Skoda's 'simply clever' touches, such as a built-in ice scraper, umbrella and bottle holders.
The Karoq then is smart, if unexciting, and more than refined enough to please most drivers. It does a remarkably good job of being a car, and leaves so little to complain about. What is wrong ends up being so insignificant that it barely warrants mention, and you're left with nothing more than the lack of verve, excitement or emotion. The Karoq is, somehow, greater than the sum of its parts. I doubt if there's a more sensible car on sale.
---
Motoring powered by FrontSeatDriver.co.uk.