It's got four doors and four seats, but is the fortwo's big brother a Smart choice?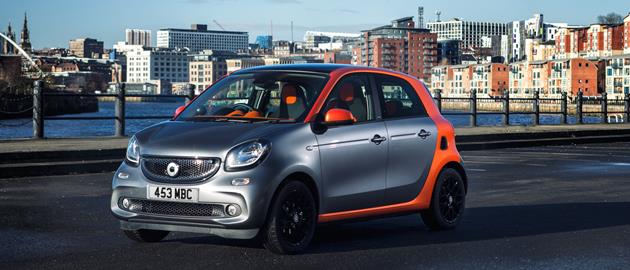 Smart forfour prime Premium Plus 90 hp
Price
£14,205
Top speed
102 mph
0-62 mph
11.2 seconds
Combined fuel economy
65.7
CO2 emissions
99 g/km
VED band
A / £0
Insurance group
9E
Engine
0.9-litre turbo petrol
Power
90 PS (89 bhp)
Torque
135 Nm (100 ft-lb)
Weight
995 kg
What is it?
The Smart fortwo exists because it's tiny. Being just two-thirds of the length of a SEAT Ibiza means it can squeeze in to practically any space. It's therefore an ideal city car, but its appeal is limited by it being a strict two-seater.
Fortunately that's no longer the case, thanks to the addition of an extra 80cm of bodywork, two more doors and two more seats. Together this adds up to the forfour, the fortwo's bigger brother.
All that costs just £500 more than its smaller sibling, but it does put it up against some formidable competition in the form of the Skoda Citigo, Hyundai i10 and Renault Twingo.
The Twingo is a key rival, as Mercedes (Smart's owner) entered in to a joint venture with Renault meaning a lot of the oily bits underneath the skin are shared.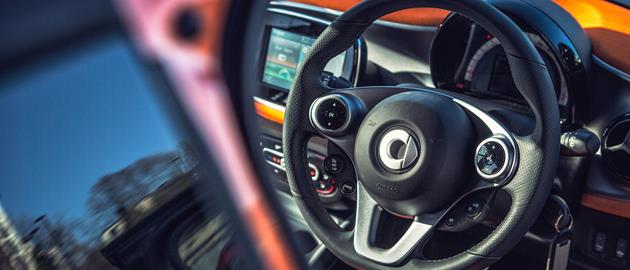 What's it like?
Really quite good. It's incredibly easy to drive; having the engine at the rear means that the steering doesn't need much assistance, so remains light with very little unnatural electrical help. There's good visibility all round and an optional rear-view camera make it a breeze to guide through city streets, the forfour whizzing around in such a way that you can't help but smile at.
A turning circle of just 8.65 metres means it can spin round on virtually any road, and almost as tight as London taxi. Three-point turns or multiple maneuverings in to parking spaces will be things of the past.
Head out of the city and the ride is generally pretty good, although bums that arrive in quick succession can upset it a little. Roadholding is plenty good enough for the kind of car it is, but if you're expecting the rear-engined layout to translate to a spirited drive then you'll be disappointed. This is no mini-911.
Power on the entry-level model is from a 1.0-litre engine that produces 71PS. This works fine in the smaller fortwo, but the forfour needs a little more poke so the 0.9-litre turbocharged option is the one to go for.
With that you'll get 90PS and a 0-62mph time of 11.2 seconds. It's frugal too, with official figures suggesting that 65.7mpg is achievable. CO2 emissions for all models are below 100g/km too, so there won't be any car tax to pay.
Any money saved there could be spent on ticking the options list, but the forfour comes well equipped as standard. Every model receives climate control, DAB stereo, Bluetooth connectivity, alloy wheels, cruise control and multi-function steering wheel. There's textured fabrics across the dashboard too, a leather steering wheel and comfortable yet stylish seats to add to the grown up feel.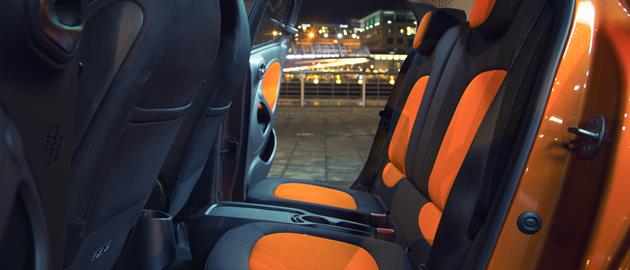 Is it practical?
For such a small car, there's a surprising amount of space. Even the back seats, accessed through doors that open to 85 degrees, provide enough room for two adults, and both rears seats come with Isofix attachments..
Despite having an engine hidden beneath it, there's a useable boot, although the 185 litres of space on offer doesn't compare too favourably with its more conventional rivals. There's no extra storage under the bonnet either, but you'll find there's no end to the storage options in the cabin. Fold all the seats down and you can even squeeze a Billy bookcase in from IKEA, if you really want to.
Your passengers will all be kept quite safe too, thanks to a long list of three letter safety equipment as well as five airbags, brake assist, crosswind assist (to prevent the slimline forfour being blown off-course), a speed limiter and tyre pressure monitoring. In crash testing, Euro NCAP gave the car four stars out of five.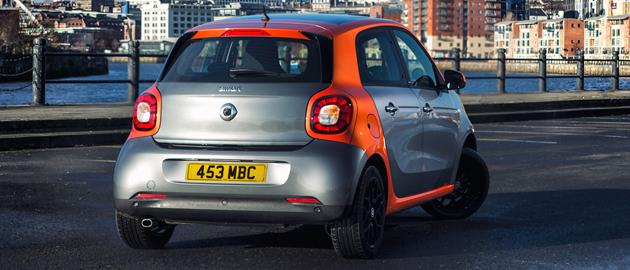 Should I buy one?
On the face of it, the forfour is exceptionally good value at just £495 more than the fortwo. However, when the fortwo starts at an eye-watering £11,125 it begins to look like a rather expensive option, especially when its rivals pack in more space and offer greater flexibility.
That they do that at a lower price also doesn't help, with the Hyundai i10 being a full £2,000 cheaper. That makes it tricky to recommend the forfour if you're after simple city transport. At that point there are indeed better options.
However, it can just about hold its own if you look at the forfour as a fashion accessor. At that point it's competitive against fashion-led rivals such as the Fiat 500 and Vauxhall Adam, and it's far more practical than the former and far nicer than the latter.