The new Suzuki Jimny looks like a half-size Land Rover. Phil Huff finds out if tiny is terrific…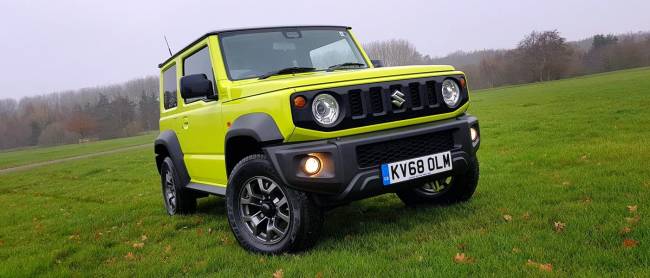 It's taken twenty years for Suzuki to replace the last generation Jimny, a car that's been rolling around UK roads since 1998. It's always been a much-loved model, but there's only so long you can keep the same car on sale. It's tempting to say the new model has some big shoes to fill but the Jimny, despite its rough and tough style, is actually a tiny little thing.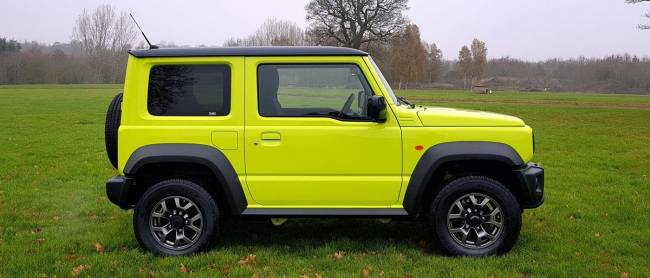 It's somewhat ironic that this all-new Jimny takes on a retro style, considering the age of the car it replaces, but the end result is magnificent. The dinky little Suzuki is full of attitude, reminding you of the Mercedes G-Class – a car that starts at more than £140,000 – but pulling off a friendly feeling rather than being overtly intimidating. It's like a Matchbox version of a full-size off-roader.
Don't let its diminutive dimensions fool you into thinking it's all show and no go. There's a traditional ladder chassis under that squared off body shell, along with rigid axles linked to coil springs, and a proper four-wheel drive system with a mud-plugging low-range option. Add in a bunch of technology such as hill descent control, automatic brake support, and hill hold, and the Jimny will go almost anywhere once the tarmac runs out. Certainly a boggy off-road course in Northamptonshire, one I wouldn't want to tackle in many modern SUVs, proved inconsequential.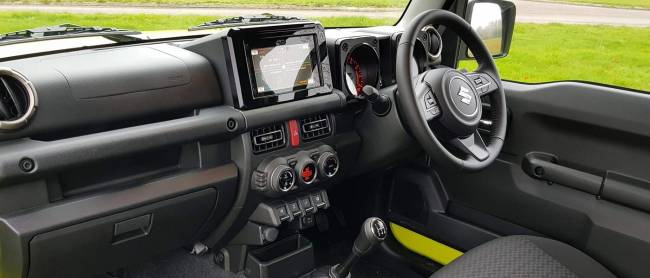 On road behaviour is acceptable, too. The car only measures 3.6-metres in length, which is a good 40cm shorter than a Ford Fiesta, so it's impressively nimble. There's a lot of turning of the steering wheel, which helps accuracy off-road, but get used to that and it'll nip into virtually any gap without issue. It rides quite well too, thanks to soft suspension with lots of travel, and even copes with motorways without complaint, once you've selected two-wheel drive. Granted, it's not the last word in refinement (the engine, a 1.5-litre petrol unit that has enough power to pull the Jimny to 62mph, feels rough and dated already) and fast corners are something to tolerate rather than enjoy, but the Jimny was never designed to set lap records.
It also won't set any accommodation records, as that dinky exterior translates to an equally dinky interior. There's enough room up front, as long as you don't want to use your elbows for anything, and you can squeeze two adults in the back, but nobody is going to want to face a cross continent journey in the Jimny. The boot is embarrassingly small, but fold down those rear seats and you end up with a truly utilitarian two-seater truck.
There's even a decent smattering of equipment to keep you occupied, from a DAB radio to air conditioning, and even a CD player. Step up to the top grade as tested here and there's also alloy wheels, tinted rear glass, climate control, navigation and, crucially, heated seats. You'll also be able to plug your phone in and use Android Auto or Apple CarPlay, should you wish.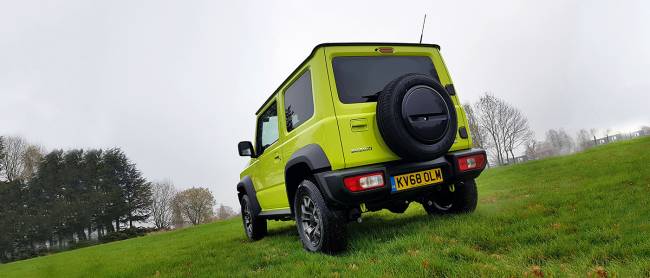 It's all wrapped up in plastics that, if I'm being kind, could be described as wipe-clean. There are no soft-touch materials here, just solid, reliable and tough covers for everything from the doors to the seats. If you want plush luxury, you'll need to look elsewhere.
And that, in an odd way, is what makes the Jimny so appealing. It doesn't care what you think, and makes no effort to appeal to the thousands of SUV buyers who tick every box on the options list. There's a degree of honesty about the car that allows you to forgive all of its shortcomings, even revel in them. In a world of anodyne me-too cars, this Suzuki has real character by the bucket load, and that's to be celebrated.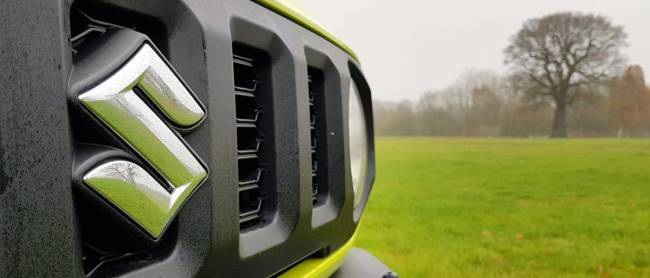 ---
Motoring powered by FrontSeatDriver.co.uk.