Suzuki is bringing back the Vitara after a 16 year absence. Is it worth the wait?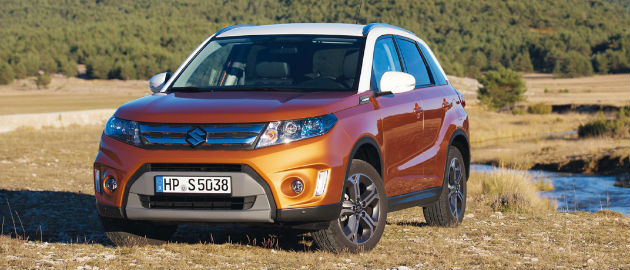 Suzuki Vitara 1.6 DDiS SZ5 ALLGRIP
Price
£21,299
Top speed
112 mph
0-62 mph
11.4 seconds
Official economy
67.2 mpg
CO2 emissions
111 g/km
VED band
C / £30
Engine
1.6-litre turbo diesel
Power
120 PS (118 bhp)
Torque
320 Nm (236 ft-lb)
Weight
1,295 kg
What is it?
This is Suzuki's global compact SUV. Originally introduced in 1988, it's always been regarded as stylish option for city-dwelling urban off-roader. With the last generation remaining on sale for more than 20 years, albeit tweaked and touched up throughout its life, it's high time a new model was made available.
Which brings us to the new Vitara. Replacing both the compact Vitara and larger Grand Vitara, the new model brings the benefits of a four-wheel drive and rugged raised suspension to a modern chassis with high-tech aids. That means Suzuki's Allgrip system is in place, which allows the drivetrain to operate in four different modes, from sports driving to serious off-roading.
There's also a smattering of personalisation options, from bold roof colours to blacked out windows and pillars, with a rugged pack also adding skid plates front and rear along with extra plastic cladding.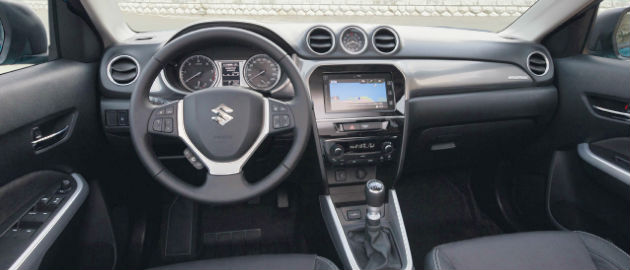 What's it like?
As you step inside there's a sense of split personality. The basic design work is quite stylish, especially the trio of roundels that house two air vents and a large clock. Beyond that it's all a bit grey, but there's coloured trim available as an option that lifts the interior ambience.
However, it doesn't lift the quality of the plastics that remain hard and scratchy. Solid and hard wearing perhaps, but it's not an attractive look and falls short of its rivals offerings.
There's better news in the new seven-inch touchscreen, which is a huge step forward, with solid satellite navigation and DAB radio included in the mix on the model tested. Mirrorlink capability adds the option to hook up your smartphone and operate it via the display.
Out on the road the diesel engine pulls well, the 320Nm of torque available feeling enough to tug the Vitara along whether it's fully loaded or even towing. It can be sound a tad rattly at times, but it always feels smooth and is more flexible than many other small diesel engines, especially when combined with a smooth-shifting six-speed gearbox.
The ride was perhaps a little firm, but that paid dividends when it came to corners, the Vitara being sharp and agile enough to cope with most things you'll throw at it. It's not a sports car, but compares favourably to the likes of the Peugeot 2008 and Nissan Juke.
Venture off-road and the Allgrip system tries hard to keep you under control, preventing the car getting stuck in the mixed conditions I put it through. Even leaving a wheel or two floating in the air won't stop it, but I imagine the Darien Gap might.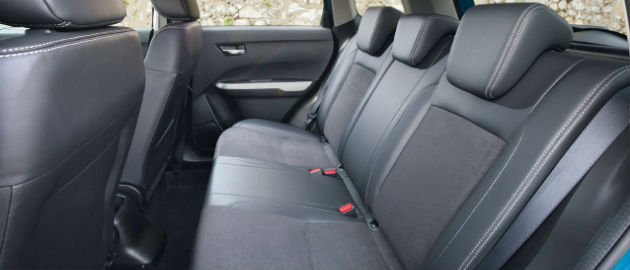 Is it practical?
The Vitara's midfield size means it's not the class leader in terms of space, but there's enough room for adults up front, bar the odd elbow rub. In the rear the news is similarly good, with plenty of space for two large adults or three children.
There's Isofix fittings for two seats in the rear, with three child seat tether anchorages. Further back the boot will hold 375 litres of goodies, which is slightly more than you'll find in a Nissan Juke or Fiat 500X, but slightly less than that provided by a Renault Captur or Skoda Yeti.
You'll find all sorts of equipment to keep you safe on the road, from stability control and hill hold assist, to seven airbags and, on higher spec models, automatic emergency braking.
The impressive 1.6-litre diesel engine will also help keep costs down, with a promised 67.2mpg for the Allgrip models. That results in a CO2 figure of 111g/km, so you'll be paying £30 a year in car tax. Forego the four-wheel drive and that drops even further.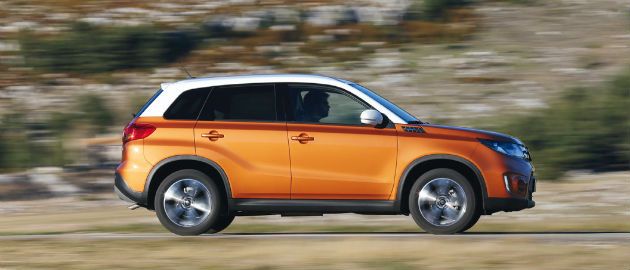 Should I buy one?
There's a lot of love for Suzuki, who seem to come across as the plucky underdog. However, they keep building consistently good cars at consistently good prices. The Vitara is no different, matching up to the expectations built from testing the Swift and S-Cross.
That it's not quite the most practical or most efficient compact SUV doesn't matter a great deal, as it's close enough to make little difference. With the neat personalisation touches it's also possible to end up with something quite stylish that stands out from its relatively straight laced competitors.
With serious off-road capability on the Allgrip models, it's also a strong option for those living in areas that get a tad more snow and ice than the rest of the country.
With prices starting at under £14,000 it also offers strong value for money, enough to overlook some of its shortcomings. It's not hard to make a solid case for the Vitara.