The Golf GTI is still going strong after 40 years, but does it deserve its place at the top? Phil Huff takes the wheel and finds out…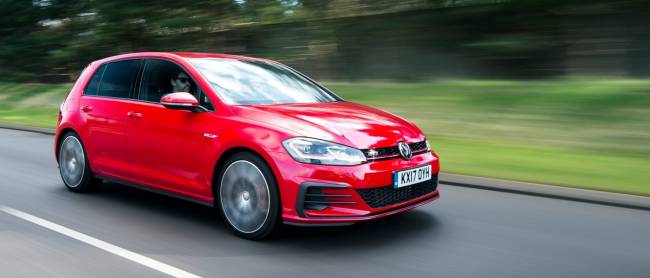 Forty years is a long time to stay at the top, but the Volkswagen Golf GTI has always been there, or thereabouts. There's always been the promise of performance mixed with everyday practicality, wrapped in a classless design that is at home in Chesterton as it is in Chelsea.
This seventh generation model has been around a little while now, so Volkswagen has fiddled around the edges a little, added some new technology and, arguably most importantly, boosted the power a little.
If you're expecting a hard-as-nails Honda Civic Type R rival, something that can conquer the Nurburgring in under seven minutes, then look away now. The Golf R and its Clubsport sibling can have a stab at that, but the GTI remains an everyday hot hatch. That means power is provided by a sensible 2.0-litre petrol engine that produces 227bhp, enough to propel the Golf from standstill to near-motorway speeds in 6.4 seconds.
It does that using just the front wheels, the four-wheel drive option reserved for the hotter R model, but it's none the worse for it. The car shares the same basic chassis as the rest of the Golf range, but there's a quicker steering ratio and some suspension upgrades. There's a bit of scrabbling from the front wheels if too much power is put down on a corner, but it's generally well-behaved.
Switch directions quickly and the bulk of the Golf makes itself felt, the car lurching a little as the tyres strain to keep 1.4 tonnes of metal in check, but for the most part composed and unruffled. The twin-clutch automatic gearbox swaps rations quickly and smoothly, keeping the engine spinning when required, but it removes a layer of interaction that the six-speed manual gearbox provides. Electronic interference also takes some of the raw edge away, the stability control remaining switched on no matter what buttons are pressed. That's probably a smart move on the A14, but less interesting on a track day at Snetterton. For those requiring something just a little more lively, the Performance edition comes with another 15bhp and, crucially, a trick differential that reigns in some of the exuberance at the front wheels, enabling a driver to extract a little more from the car.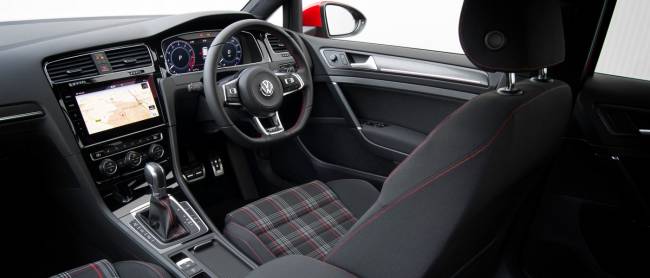 The fact that there's a Performance option is a reminder of what the GTI is really about. It's not about hurling around country roads on the limit, but about accessible performance that won't scare anybody off the road. It's about being able to take that overtaking move with the air conditioning on and the radio tuned in to Ken Bruce. Most of the time it's not a GTI, but just a Golf, and Volkswagen hasn't forgotten that.
That means there's a new (and large) infotainment screen with satellite navigation, a boot that's around 20% bigger than that in the Ford Focus, adaptive cruise control, parking sensors and some funky checked Jacara cloth seats with height adjustment, ensuring the Golf GTI is as easy and comfortable to drive as a Golf. This test model had the optional adaptive dampers fitted, which allows the driver to switch between stiff 'sporty' suspension and a softer, more comfortable setup, the latter allowing the car to glide cross broken road surfaces with barely a shudder, let alone anything as uncouth as a judder.
It's even pretty cheap to run – relatively – with an official economy figure of 44.8mpg. Yes, that was set in a lab environment by some very serious engineers, but it's still pretty impressive for a hot hatch. It's not even too bad for a regular petrol-powered hatchback without the GTI frippery.
Finding fault is near impossible, Some rivals are quicker, some are more dramatic, and some are cheaper, but the latest Golf GTI tops them all.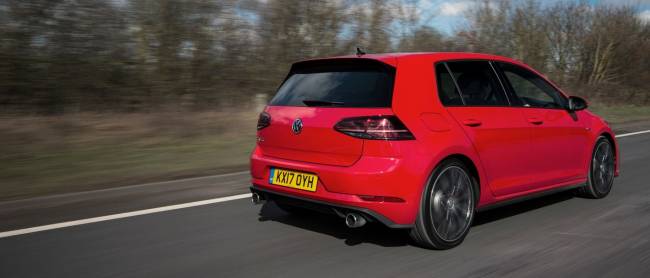 ---
Motoring powered by FrontSeatDriver.co.uk.