The latest Volkswagen Passat finds itself up against impressive models from Ford and BMW. Is the new model good enough to take the fight?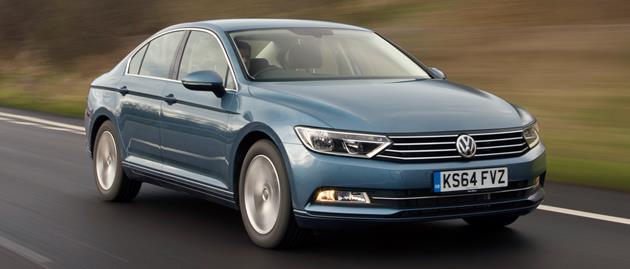 What is it?
Volkswagen Passat SE Business 2.0 TDI
Price
£25,155
Top speed
136 mph
0-62 mph
8.7 seconds
Combined fuel economy
70.6 mpg
Road test economy
N/A
CO2 emissions
106 g/km
VED band
B / £20
Insurance group
TBA
Engine
2.0-litre turbo diesel
Power
150 PS (148 bhp)
Torque
340 Nm (251 ft-lb)
Weight
1,475 kg
Tasked with taking on the new, but very delayed, Ford Mondeo as well as more premium targets from the like of BMW and big brother Audi, the new Volkswagen Passat is a large saloon (or estate) that treads a line that is undeniably effective, if perhaps a little too straight laced.
You're taken by its size initially, seemingly longer and sleeker than others of its ilk. Careful styling hides its bulk well, but the fact is that it's actually a tiny bit shorter than the outgoing model. It pulls of elegant, imposing and opulent with ease.
Quality oozes out of every grille slat, vent and opening in the new Volkswagen Passat, the eighth generation of the model to have graced the world's roads.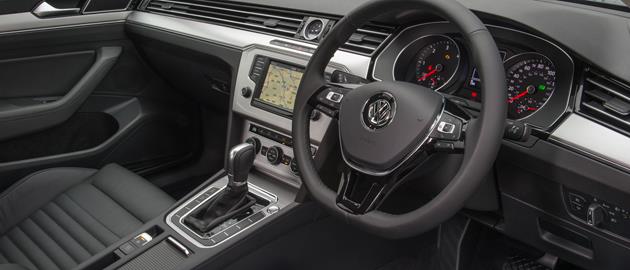 What's it like?
As you open the door to step inside, expectations are obviously high. Fortunately the interior designers at Volkswagen have been working double shifts as there's a clear step forward from the outgoing model. Air vents merge with a wide horizontal styling line that leads to a 6.5-inch touch screen panel complete with sat-nav. Carry on to the right and a neat and business-like instrument binnacle sits in front of the driver, who'll be relaxing on broad and soft seats that adjust seemingly endlessly.
It's a classy environment, with a clear and almost clinical layout that quietly reinforces the sensation of quality.
There's an equipment list on this SE Business spec model that includes adaptive cruise control, parking sensors front and rear and a sat-nav system that brings with it Google Maps-esque 'rubber band' rerouting – simply plot a route, then drag the line around if you want to go a different way.
That might be useful if you fancy a quick blast across country, but the Passat is not the right car for that. It's not in the least bit sporty, instead aiming squarely for relaxing, predictable and reassuring.
Press the loud pedal hard and the 2.0-litre diesel engine rumbles into life, delivering all of its 150 horses in a linear and unassuming manner. The turbo doesn't so much kick in as quietly wanders into the engine bay requests a smidge more power. But smoothly, please.
A slick six-speed gearbox allows you to access that power as best you can, the car accelerating quickly enough, but never enough to push you back into the seat, and then, once you arrive at a corner, it turns and goes round.
There's plenty of body roll, but it grips and never lets dynamic cornering get in the way of comfort. There's virtually no feel through the steering wheel, which requires very little effort at low speeds but does weigh up nicely once making progress, but the stable chassis allows you to place the car exactly where you want on the road.
The lack of sporting pretensions are obvious as you head down a motorway, the soft suspension simply absorbing any imperfections in the road and letting you arrive at your destination entirely unruffled. This is what the Passat does best.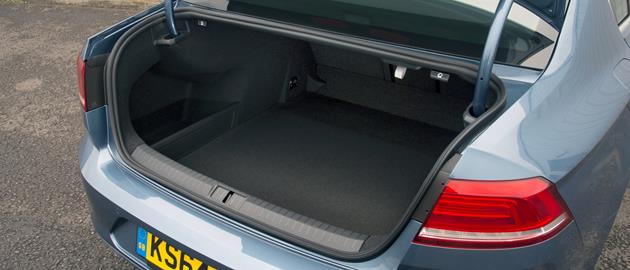 Is it practical?
This will make a perfectly acceptable family car, with plenty of space in the rear of the cabin for all but the tallest of people, while an enormous boot will swallow most loads. Opt for the estate and you'll be hard pushed to find something more cavernous.
Of course there are ISOFIX points in the rear, with plenty of cubby holes and storage to accommodate almost all detritus you might find in a family car.
From a safety point of view, you'll find pre-crash systems that brake automatically, a post-crash safety system and misfuelling prevention. Unique rear lights shine with a horizontal band of red until you press the brake pedal, when it switches to vertical slashes, a system Volkswagen say will help prevent shunts.
It's also reasonably frugal, with the 2.0-litre diesel returning 70.6mpg (in theory) and emitting just 106g/km of CO2. With low maintenance and insurance costs, it's an attractive proposition to businesses and user-choosers. Car tax of just £20 per year will appeal to private buyers, too.
Of course, if you fancy petrol then… actually, no. Thanks to almost imperceptible levels of sales, the petrol engine option has been removed. It's diesel, or nothing. Well, at least until the electric version turns up later in the year.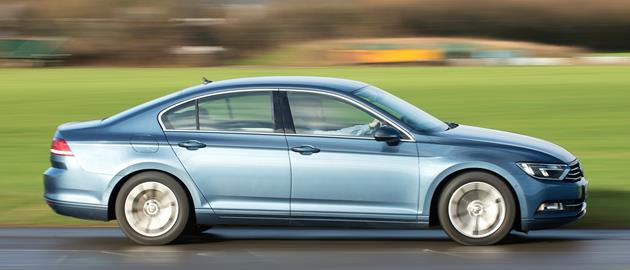 Should I buy one?
The Passat is a good all-rounder, with nothing serious taking points away. It's not as engaging to drive as the new Ford Mondeo, but it does feel more premium and rides exceptionally well.
The only thing the Passat lacks, beyond a petrol engine, is a bit of flair. Not every journey is a two-hour schlep down the motorway, and something to leave a smile on the face after a few corners wouldn't go amiss, but then Volkswagen would run the risk of spoiling the sumptuous levels of comfort on offer.
If that's what you're after, the ever-so-slightly dull but exceptionally worthy Passat could be the perfect car.