Is it possible to have too much of a good thing? Phil Huff finds out…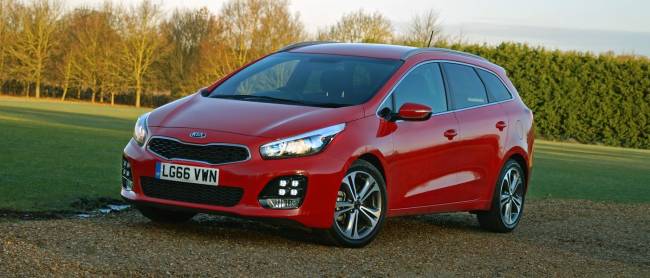 You know something is good when you're struggling to find anything wrong with it. The Kia Cee'd is a bit like that.
Over the last 1,130 miles it's been an incredibly easy car to live with, which is potentially going to make for some really boring reviews – time to get the video camera out for the next one, perhaps? It's been so easy that finding flaws has proven to be one of the trickiest tasks I've faced.
There's a relatively little 1.6-litre diesel engine under that bonnet, so perhaps it's not very quick? Well no, it's not very quick, but it's more than capable of keeping up with all but the most enthusiastically driven traffic. And, on the rare occasion where I come over all Top Gun and feel the need for speed, the 300Nm of torque propels the car towards the horizon at a surprisingly brisk pace.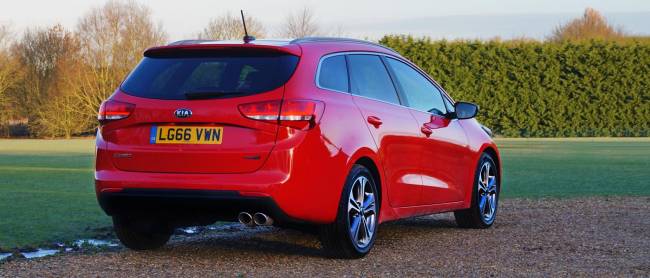 Does the performance come at the expense of economy? No, not really. Kia's official economy figures always seem to be extraordinarily high, but an average thus far of 45.07mpg is pretty good, especially considering the Cee'd Sportswagon has spent a lot of its time bodging around urban environments. On a high-speed motorway run, mid-50s is perfectly achievable.
As it's the GT-Line, it must be uncomfortable? Again, no. The GT-Line spec looks like it's the 'hot hatch' model, albeit in wagon form, with its ice-cube running lights, darkened rear windows and tailgate spoiler, but the reality is that this is just a standard car dressed up to look pretty. It looks so good, I don't even have to follow that with 'for a Kia'.
Is the handling below par, considering it's not a real hot hatch? Once again, no it's not. You're unlikely to want to go out and set lap records at the Nurburgring with the Cee'd, but there's plenty of grip for all but the likes of Lewis Hamilton or Matt Neal.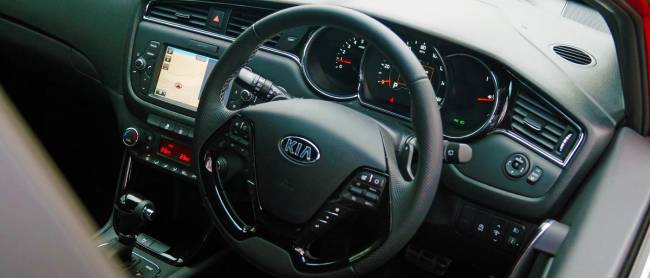 See? It really is a struggle to find criticism. Is it practical enough? Yes, it's an mid-size estate car that seats five and has a decent boot. It's not necessarily the very best in class in terms of space, but it's right up there without any issues. Likewise the ride quality; it's not exactly a magic carpet ride across the rough roads of Britain, but it's far more comfortable than many similar models.
It's only 1,130 miles into its life so far, but nothing has gone wrong. Even if it did, there's a seven-year warranty to cover almost anything that could go wrong. Seven years! I had a pet dog for less time than that!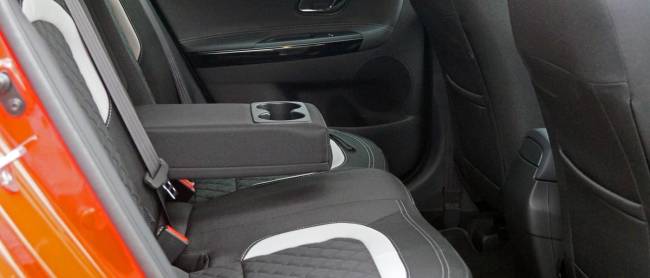 If you'll allow me to get really picky about things, I don't really like the gear knob. Yes, it's got to that level. It's a bit low down and has a horrible shiny plastic egg at the end of the stick that would have looked dated in the 80s. The car also takes half a second too long to unlock, leading to tugging at the door handle twice instead of once. And the infotainment screen is a bit bright at night, although you can turn it off entirely.
And that's it. That's all I've found wrong in a couple of months of motoring. It's not the most exciting car in the world, but I think that me and the Kia Cee'd Sportswagon are going to get along fine.
Model Tested: Kia Cee'd Sportswagon GT-Line 1.6 CRDi 134bhp DCT ISG
Month: December 2016
Official fuel economy: 67.3 mpg
Miles: 525 miles (1,130 total)
Road test economy: 45.5 mpg
Price: £23,430
Engine: 1.6-litre turbo diesel
Top speed: 122 mph
CO2 emissions: 109 g/km
0-62 mph: 10.5 seconds
Car tax band: B / £20 per year
Power: 136 PS (134 bhp)
Insurance group: 14
Torque: 300 Nm (221 ft lb)
Kerb weight: 1,550 kg
The Good
The Bad
Looks hot
Dated gear knob
Practical estate bit
Bright infotainment display
Ice cube lights
A bit slow to unlock
---
Motoring powered by FrontSeatDriver.co.uk.