Think a Jag is an old man's car? Jaguar wants to prove you wrong…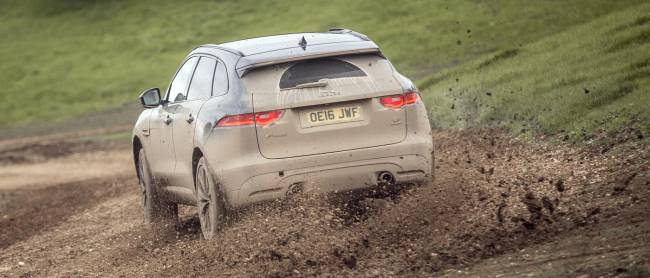 My stepfather has a Jaguar XKR with which he's very pleased. It's his third Jag after another XKR and an S-Type. With the utmost of respect to my stepfather, I don't think he's exactly Jaguar's target market these days. For his many undoubted good qualities, he's neither rich enough to unthinkingly splash out on a new Jag every couple of years nor young and cool enough to bestow an aura of just-enough-hipster trendiness and unforced affluence.
With this sort of demographic change afoot, Jaguar has this summer been taking itself on a tour of the world to spread the good word. The Art of Performance Tour offers the public the chance to sample the F-Pace on public roads before experiencing what it can do off-road both at (very) high and (very) low-speed. I went along to Cholmondely Castle on a chilly Friday afternoon to see what it's all about.
The event started with the inevitable drivers' briefing. It might seem patronising to remind people that tripling the speed limit on unfamiliar roads in an unfamiliar car would be a dumb thing to do, but there's no harm in making the point that the cars we were to drive would be tracker-equipped.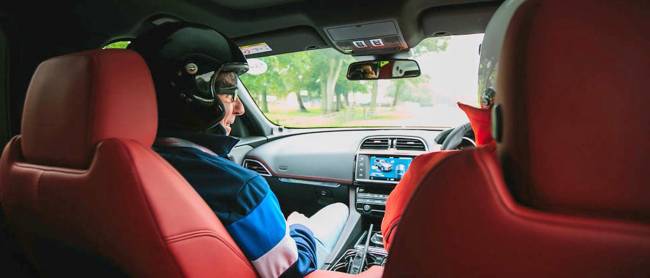 Once happily ensconced in our 2.0-litre diesel F-Pace we were given instructions (right pedal for faster, left for slower, fiddle with buttons) and set off on a route that had helpfully been pre-programmed into the sat-nav. The route took about an hour and a half shared between two drivers, with a useful stop halfway through to swap places and ask any burning questions about the car.
Taking in a mixture of single carriageway, A roads, town driving and back roads, the route gave every opportunity to check the F-Pace's handling and ride characteristics on a variety of surfaces. If you're getting misty eyed about the near-mythical ride and handling compromises of yore then look away for the next sentence or so. The ride comfort is entirely acceptable, but doesn't meet those eulogised lofty heights, not quite knocking square edges off potholes in their entirety or hammering bumps into submission. That isn't to say that it's hard enough to compromise everyday enjoyment though, and the payoff is surprising agility for a car of this size and weight, as would later be graphically demonstrated. Perhaps the only point at which the vehicle's heft made itself known was when leaning on the brakes, reminding you that this isn't a hot hatch, but still shedding speed quickly enough to avoid catching one out.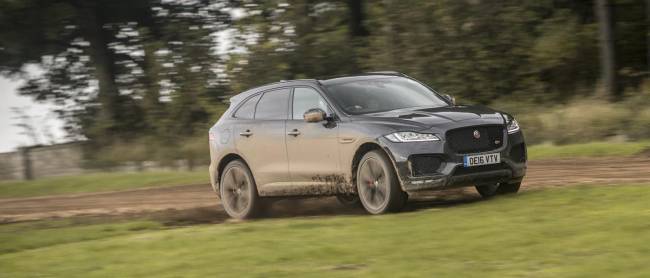 When we returned, I took the opportunity to be chauffeured across to the rally stage and get up close and personal with the V6 model. Once furnished with suitable safety equipment and confirmation that the stage was clear, my previously affable driver abandoned his soft Welsh vowels and set about trying to kill both the car and myself, giving several of those moments where you realise you're looking out the side window to see what's coming up the road next.
Sharing elements of the F-Type coupe's soundtrack, and changing direction with quite startling enthusiasm, it's quickly clear that the marketing notes playing up the F-Pace's sporting intention is more than just bluster. 5.1 seconds to 60 miles an hour wasn't going to happen on dirt and gravel, but it found enough traction to push me hard back into my seat. Impressively, I gathered that the only failures in the face of this abuse throughout the event were punctures in the standard road tyres.
Before hitting the road back to the right side of the Pennines, the F-Pace had one more trick to show off. Described as a low-speed cruise control, All Surface Progress Control allows the driver to set a suitably slow speed to tackle low grip terrain and the car will gently paw its way forward to find traction. For the purposes of this demonstration, a 3.5-metre tall ramp gave a gradient steep enough to blank off the horizon before allowing the system to regulate the speed over the hump and bring us to a controlled descent.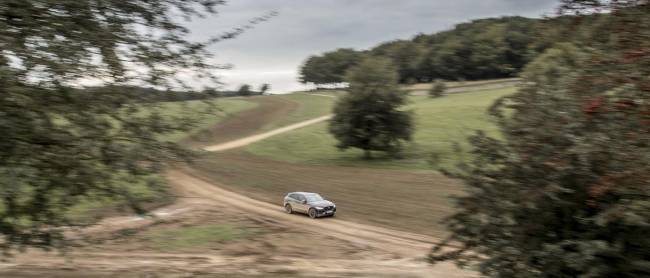 The focus of the day was very clearly maintained on demonstrating and enjoying the Jaguar products. In addition, to the F-Pace there was the opportunity to sample other vehicles, including the XF, XE and F-Type. The rigid focus on product was entirely, and consciously, at the expense of salesmanship. There was no pressure to place deposits or sign up as a lead for later pestering, the approach acknowledging that these events are all about the long game with the cars left to speak for themselves and sell themselves.
Time will tell if these events will expand the boundaries of the brand from the traditional ownership base, but the signs are very good, as is the product. I'll be sure to tell my stepfather.
---
Motoring powered by FrontSeatDriver.co.uk.