Mamma mia, una macchina calda da Italia!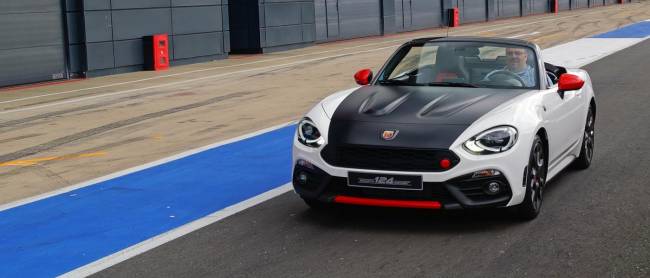 There are few cars that really excite me. It's not that I don't look forward to new models, but it takes something special to get me really eager to drive something. In a rather middle aged way, the new Volvo XC90 was one such model, but it's not one to set the pulse racing.
Since that big SUV, little has floated my boat. Until, that is, Abarth announced a version of the Fiat 124 Spider, itself based on the excellent Mazda MX-5. I expected something loud and brash, yet small and agile, and at a price that I might just be able to afford.
The Abarth arm of the huge Fiat-Chrysler group hasn't always made a great job of turning a Fioat into something special, but the 595 Competizione captivates even if it's a tad too lairy and a tad too expensive. Toyota's Aygo Crazy, a hand-built version of the Aygo with a ridiculous engine and gearbox, was clearly the inspiration for the 695 Biposto, only Abarth have put the latter into production.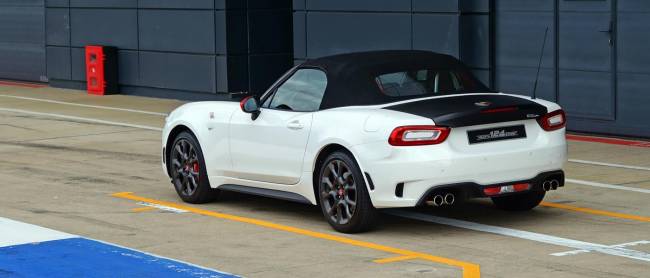 After building up Abarth's latest in my mind, it's with some trepidation that I approach the 124 Spider. Developed alongside Fiat's version, the Abarth shares the same engine, a 1.4-litre turbo unit, but the engineers have used their really big spanners to extract 170hp from it. Not earth-shattering, but sufficient.
It also gets a limited-slip differential, and not the electronic version from some smaller models, but a proper mechanical one. Combined with modified dampers, springs and anti-roll bars, all sitting on 17-inch alloy wheels with grippy Bridgestone tyres in front of Brembo brakes, it sounds every part the proper sports car.
Pulling out of the pit lane and onto the circuit at Silverstone, the gearshift paddles get used to their maximum, the gearbox obligingly shifting quickly between ratios, but seems to drop the engine out of it quite narrow power band with every change.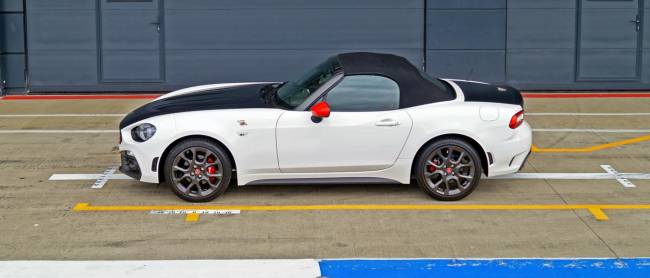 It's frustrating, but the turbo spins up quickly so you're soon bringing the horizon nearer once more, the soundtrack from the Monza exhaust accompanying your efforts. But all too soon a corner appears. Has Abarth managed to make the already excellent 124 any better, or have the changes added ketchup to a Michelin starred meal?
Some extra weight to the steering makes the Abarth feel more direct (it isn't, but it feels like it should be) as the front end grips. The dampers absorb the body roll, the car settles. It's beautifully balanced, allowing you to adjust your line with ease, and encouraging you to extract every inch of grip that's available.
This thing could be a hoot, but that gearbox lets the side down. Fortunately, there's a six-speed manual that can be specified, and that saves the day. With a stubby gearlever and a short throw, it's clicks between ratios as you desire, rather than as the car desires, allowing you to keep the turbo spinning and the power coming.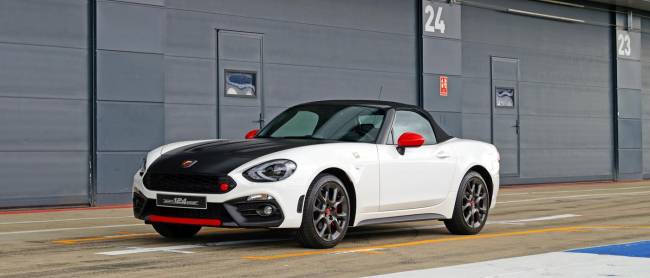 Elsewhere, there are practical shortcomings. The cabin is cramped and almost entirely lifted from the Mazda MX-5. Some Alcantara and red trim livens things up, but it lacks the soul that the car has been given. There's nowhere to put a phone, a pen, some loose change. The cupholders sit behind you, encouraging you to contort your body into impossible positions in order to splash a hot drink over your lap. Yes, one of them can be relocated to the central transmission tunnel, but then your passenger must lose on of their legs or risk kicking coffee all over the controls.
Does this matter? Abarth say no, and I'd be inclined to agree with them. The Abarth buyer is likely to let some of this go in return for a car that is so seriously talented that Lotus ought to be sending some of their engineers over to Italy to see what's going on.
The Abarth 124 Spider is so much more than the sum of its parts. Fiat, can you let them loose on the rest of the range now – I fancy an Abarth Giulia…
---
Motoring powered by FrontSeatDriver.co.uk