Last year saw 27,000 tots and infants take part in Beep Beep! Day, an initiative from the motoring charity Brake to help young children start understanding road safety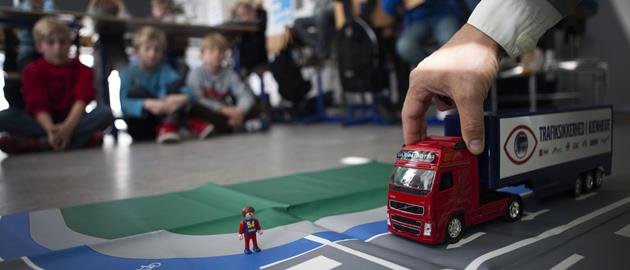 The initiative is back again for 2014, with nurseries, playgroups, children's centres and childminders all able to run their own Beep Beep! event, with most choosing to align their own day with Road Safety Week (17-23 November 2014).
Nurseries receive a pack of resources to help them run road safety activities and promote road safety to parents and the community, emphasising to parents and other adults their responsibilities in protecting children.
For the children there's activities such as creating a poster of hand prints saying 'We hold hands', experimenting with toy cars to learn the words stop and go, and singing road safety songs.
"It's vital we make our roads safer for families and people of all ages to walk and cycle, and drivers can help bring this about. Drivers acknowledge the risks families face on roads – but we also need drivers to realise the difference they personally can made, and always drive as though a child could run out unexpectedly," says Julie Townsend, deputy chief executive at Brake.
"As thousands of tots gear up to take part in a Beep Beep! Day this autumn, to start learning about dangers on roads, we're appealing to drivers everywhere to help reduce those dangers: slow down to 20mph in communities to help save little lives.
"We're also urging more pre-schools and nursery to register to be part of this important project."
If your child is venturing in to the outside world for the first time, here's some useful advice…
When your child starts to walk with you around your community, talk to them about how they must always hold your hand. If your child is likely to pull away from you, use safety reins or a wrist strap.
Hold hands until your child is at least eight, or longer depending on their development.
Make sure they understand the meaning of stop, traffic, danger, look, listen, walk don't run, and other key words.
Encourage your child's nursery or playgroup to teach road safety; your child's learning will be more effective if they are taught about road safety at school as well as at home.
Nurseries can find out more and register at www.brake.org.uk/beepbeepday.