You need to spend more than £200,000 to own a Rolls-Royce, but what is it that makes them so special? I take a look around their factory in Goodwood and find out why perfection comes with such a high price…
Few brands stir emotions like Rolls-Royce, a name that is synonymous with luxury, refinement and success. The cars are a benchmark of the automotive world, standing head and shoulders above every rival thanks to the very highest levels of craftsmanship.
But what does it take to make a Rolls-Royce? I took a trip to their custom-built factory in the grounds of Goodwood House to find out.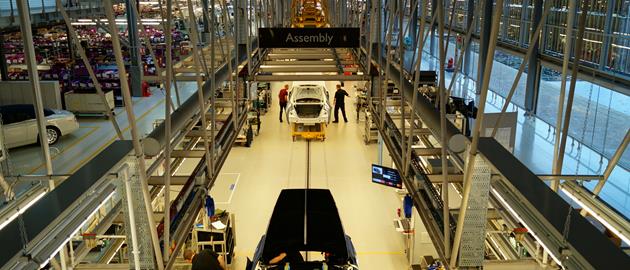 Set amongst fine and a half acres of perfectly manicured lawns and 400,000 exactingly trimmed trees and shrubs, the cedar-clad factory hides discreetly out of sight of the Earl of March and the public.
Step inside and the mental image of a dark, oily and noisy factory floor is soon discarded. What you find is a production line that is almost clinical in its cleanliness. I wasn't allowed in without a protective coat, and the coat wasn't to protect me…
The cars start off as bare shells, shipped in from Dingolfing in Germany, where the bare metal has been checked, corrosion protected and then primed for paint. They're then painted by robots at Goodwood before making their way down one of two lines – one for Wraith and Ghost, and one for Phantom.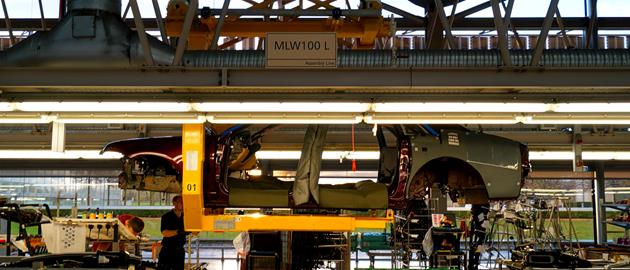 This is where the craftsmanship really starts, turning a bare hulk of metal in to an automotive artwork.
The painted shells come in one of 44,000 colours available, but that's not bespoke enough for their wealthiest customers, so an infinite number of shades can be mixed to order. Once customer's request for a very specific shade of gold meant that 19 grams of pure gold powder were mixed with each litre of paint. As there's at least 30 litres of paint on a Phantom, that's £13,500 of gold at today's price.
The production line moves slowly, stopping at each of the 16 assembly stations for precisely 49 minutes. Technicians, who have been collecting parts in the neatly laid out 'shopping' aisles, move in to fit out each unique car. Pre-assembled wiring looms are fitted, doors are prepared, and dashboards installed.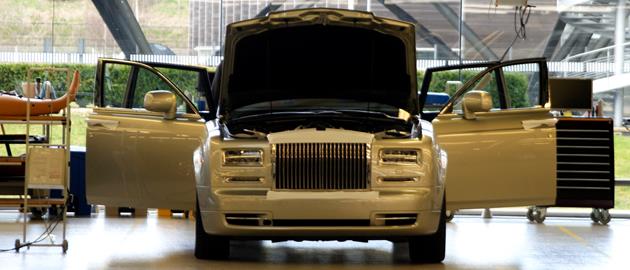 The upholstery is where quality is paramount, with Austrian bulls giving their hides for the seating and trim. There are no barbed wire fences around their fields, for fear of leaving scars in the leather. However, tiny imperfections, from mosquito bites to scratches, are highlighted and the cuts of leather required extracted from around these areas.
It's like a virtual laser-light jigsaw, the light show marking out the pieces needed, each being manoeuvred around by hand until they can make the most out of each hide. What's leftover is often turned to mouse mats for those fortunate enough to visit the facility.
The woodwork on display in each car is astonishing, with many hours spent fine tuning and matching each individual piece of wood. With Wraith though, a younger kind of buyer has arrived, eschewing the traditional walnut for new materials such as carbon fibre or brushed aluminium.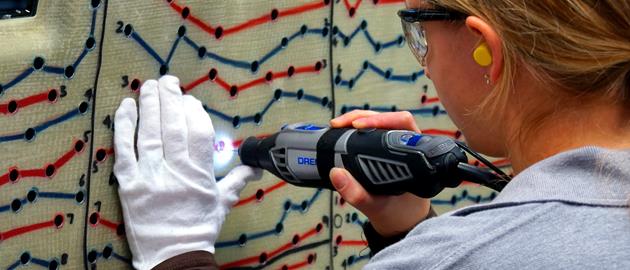 Each piece can be used to create a unique signature for your car, from incredibly intricate embroidery no a headrest to cityscapes created from different kinds of wood. Seemingly nothing is beyond the capabilities of the staff at Goodwood.
Even the discrete coachline that adorns most cars, just 3mm wide and running the length of the car, is applied by hand.
On the mechanical side, the BMW-built V12 engine and ZF gearbox are married to the chassis, while Bilstein shock absorbers combine with the bespoke suspension to create that magic carpet ride the brand is famed for.
After the 16th stop, the car is literally driven from the line before being subjected to thorough testing and the mother of all polishes.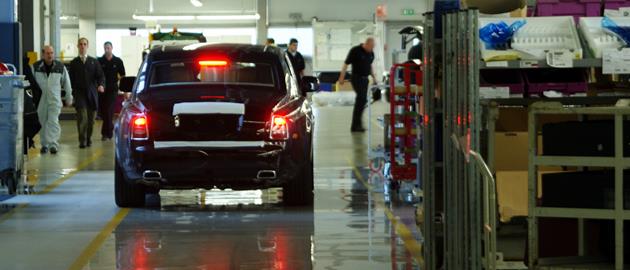 A new Rolls-Royce rolls off the line every hour or so, ensuring their exclusivity. The company isn't chasing volume, preferring to rely on high-margin bespoke design. That choice appears to be working well, with some 91% of buyers choosing to personalise their car, some more so than others.
The factory also exists as something beyond a site for construction of the cars. Buyers, and prospective buyers, are brought down to tour the factory and, inevitably, they end up spending a lot more money than originally planned, such is the level of workmanship on show.
Sir Henry Royce once said "Take the best that exists and make it better. When it does not exist, design it."
On taking a close look at how Rolls-Royce does things, they're still adhering to those words and, importantly, will continue to do so.