Becks isn't the only dad who can cause his kids to blush as Nigel Smith explains
David Beckham's doing the chat-show circuit, telling everyone he's an embarrassing dad.
Which means finally we've all got something in common with him – forget the wealth, the fame, the looks, the lifestyle, the pop star wife, the hair.
So, when I was dancing around Robert Dyas with a sink plunger on my head, being a Dalek and my ten-year-old daughter yelled: "Take it off NOW, you are the most embarrassing dad in the world!"…
…well, I was just being like Beckham.
At the time, though, I was horrified. Whatever could she mean, embarrassing? Then I started thinking about all the times I might possibly have embarrassed her.
There were loads.
And so I decided that the best thing I could do to say sorry was… to write a book about a girl – Nathalia Buttface – who really does have the most embarrassing dad in the world. I based the dad on myself and had so much material that when I took it to a publisher they fell about laughing and asked me to write THREE books. I suppose I should have been offended.
Where do I start with my embarrassing ways?
Well, there's my hilarious habit of accepting her incoming FaceTime messages by going "Boo!" right up close to the camera; my out of tune singing in supermarkets and my inability to talk to her French teacher without accidentally slipping into an 'ow you zay 'French' accent; my lack of a proper job and failure to meet basic dad DIY requirements, like being able to put up a bookshelf without nailing a copy of Bleak House to my head.
Worst of all may be the infamous revealing trousers that are far too young and far, FAR too tight for me, which I bought because the shop assistant told me there was nothing for me there "because this is a trendy shop." Quote un-flipping-quote.
I started well by giving Scarlett a nice name. Not an embarrassing modern one like Apple Cheesecake Hogwarts Balamoray Kentucky Fried Astra-Zeneca Leeds United Bilbo Fracking McGuinness.
She's the youngest of my kids by some years. And, to be fair to me, being a dad came as a surprise. My lovely missus came complete with two children: Tara and James, seventeen years ago. Instant family.
So I went from being young and single and irresponsible to being middle-aged and suburban; with kids, a bald spot, a mortgage, a garden and a mangy, farting rescue dog. The transformation took what seemed like a week.
I reckon dads have got more embarrassing over the years because my generation has constantly been told that good parenting means spending quality time with our little ones. When I was growing up in a steel town in the Midlands in the 1970s, being a proper dad just meant going to work, keeping a roof over your family's head and food on the table. And to be the threat at the end of: "wait till your father gets home."
Dads then were made of three parts steel to one part Brylcreem. All they wanted to do at the weekend was hide in the garden shed, go to the pub, or fall asleep in front of the telly. What they did NOT want to do was fun things with their kids. Which was probably a massive relief to the kids.
Modern dads are the generation who do not restrict their embarrassing dancing to an uncle's wedding, but go dancing at Glastonbury, download the video to their own Facebook page and spend hours tweeting about it for ALL THE WORLD TO SEE.
How much worse would it be to have a dad who's just about the most famous dad in the world?
I hope Goldenballs realises that our fall from grace is inevitable. We all begin dad-life as Super-dad, whether or not we're sticking them in from forty yards at Man. United. You can see Super-dads everywhere; those lucky men with little poppets gazing at them in total adoration. Super-dads are big and strong and clever and cool and KNOW EVERYTHING: "Look at my dad, he's great!"
If we're lucky, we get away with it for about ten years. Then we suddenly realise that the little face looking up at us is now saying: "OMG Dad, I can't believe you said/did/ate/wore that. Now please find a big hole for me to hide in."
So hats off to Lord David of Goldenballs, for making us dads feel a little better. And I promise that the next time I see him surrounded by screaming fans and hot and cold running Ferrari's, I'll button my cardigan up a little tighter and tell myself…You're just like me.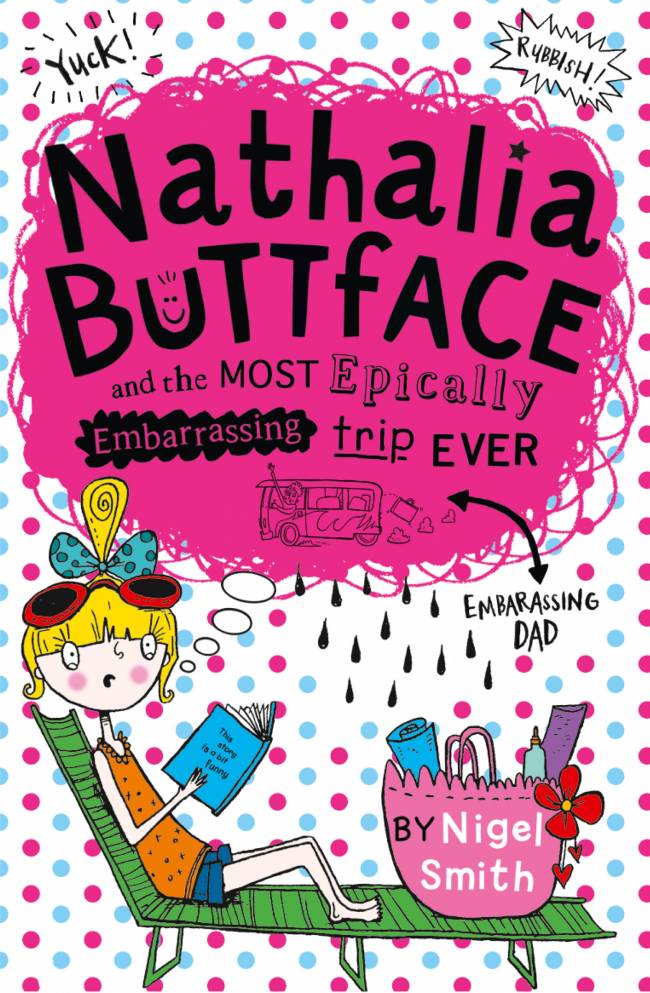 Nigel Smith's Nathalia Buttface and the Most Epically Embarrassing Trip Ever is out now, published by HarperCollins. Age: 8+