Julian Clary, one of the UK's best loved entertainers, turns his talents to children's books
From Nature Nuts to Celebrity Big Brother, Julian Clary has become something of a national trinket on television with his perfectly-timed one-liners and waspish wit. Already a best-selling author for adults, he recently turned his talents to children's fiction. His debut novel, The Bolds, is an hilarious account of a family of hyenas holed up in suburban Teddington, illustrated by Dirty Bertie creator David Roberts.
Julian, what inspired you to venture into children's writing?
Contacting my inner-child and writing The Bolds has been a source of great joy for me. I loved writing it and have just finished a sequel. It's hard to be taken seriously as a writer when you're a comedian so it made sense to write a funny book. As a comedian my inner child is perhaps better preserved than some, but it was very easy and indeed enjoyable, to slip back into being my younger, imaginative self, and the story of The Bolds tumbled out of me with hardly any effort or prodding.
Why did you decide to write about animals?
Children like and understand animals. My own childhood imagination was filled with the idea that animals are just as clever as human beings, just misunderstood. This seems an idea worth pursuing.
And why hyenas? They don't often crop up in children's books…
I like hyenas because they laugh so much – I loved the idea of laughter being their primary concern. Much like myself. There are lots of other animals in the book too, though.
…and why Teddington?
I grew up in Teddington. It is a pleasant, cheerful place, eminently middle class.
You're a big animal lover. What pets do you have and how did they inspire the way you characterised Mr and Mrs Bold?
I have dogs and chickens. I did have ducks, too, but Mr Fox paid a visit. I won't upset your readers with the grizzly details. It is quite clear to me that animals can communicate, experience emotions and express themselves with an intelligence that is different from, but equal to, ours. Human beings assume superiority and The Bolds aim is to restore the balance. The fact that animals are as smart as us is the big secret. Children will understand this because they haven't yet been conditioned.
The book is beautifully illustrated by David Roberts. How did that collaboration come about?
David is famous and much sought after in the world of children's illustration. He was my first choice for The Bolds and I was thrilled when he agreed to do the book. He understands my humour and his drawings have added a whole new dimension to the text.
As a children's author, do you worry that books will be replaced by iPads and other technology?
You can't beat holding an actual, physical book in your mitts. The advantage books have over technology is obvious: texture, smell, being able to flick pages backwards and forwards – enjoying the look of them on a shelf, being able to return to them and relive the experience once again. iPads cannot compete with this. Long live books!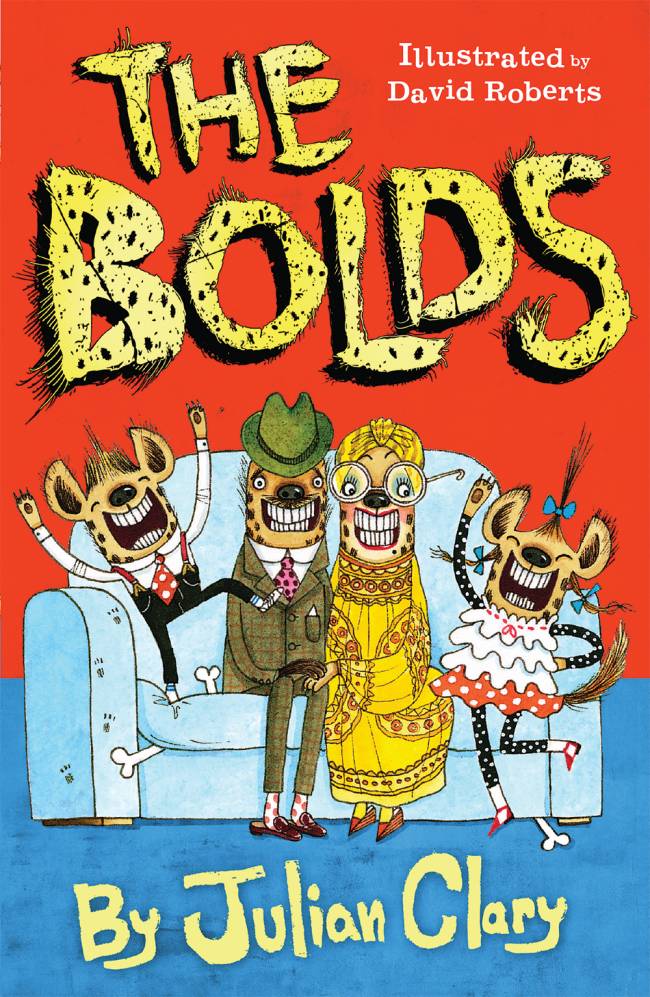 The Bolds is published by Andersen Press. Age: 8+