DAD.info's Simon Harris introduces his daughter Mary to the ultimate educational-but-fun selfie-fest, the personalised book…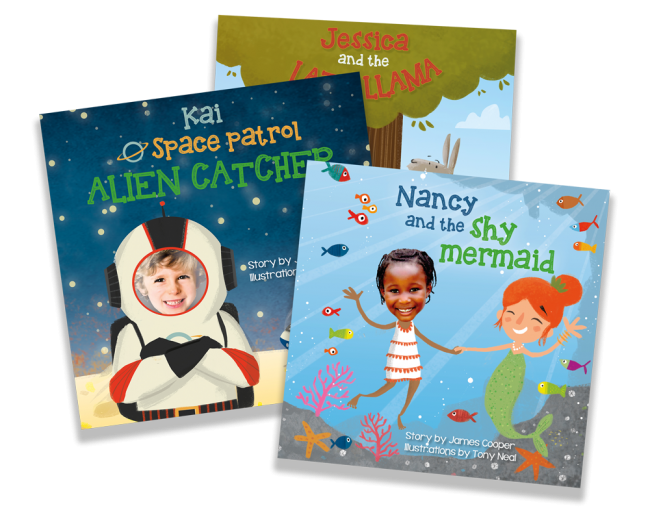 "It's not all about you, you know!" Oh, this book actually is.
We don't need to be told how important it is for our kids to not only learn to read, but to actually enjoy it. After all, how else are they going to text and tweet..? Ho, ho, ho. But on a serious note, they are growing up in a world totally saturated with things fighting for reading attention: FB, blogs, posts, tweets. And because good old-fashioned books are amongst the fight for their place on the reading pie-chart, we must ensure our kids fall in love and have a special place in their hearts for them.
That's where Amazing Pages come in.
Personalised books are just the most exciting and surprising thing. Ever. Seriously. Think about it from a kid's point of view. There's nothing more jaw-dropping than seeing your name AND FACE on the cover of a book (actually no matter how old you are, that's just brilliant!).
And it doesn't stop there. Having your name and face incorporated into the storyline and pictures really is a page-turner. My daughter Mary just couldn't believe it. That really was her lovely little face smiling back at her. She was gobsmacked. The book we chose, Mary and the Shy Mermaid, even talks about her best friend, Clemie, and her number-one monkey, Singe (yeah, my feeble attempt at being a bilingual household). "How did the book know, Daddy? About Clemie? About Singe?" I told her it's just the magic of some books, which is kinda true, isn't it?
I know personalised story books have been around for a long time, but putting your child's photo on most pages really does make it stand out and take these things to another level. The books are beautiful and the story lines are lots of fun. Parents can choose from the Mermaid adventure, along with Space Patrol: Alien Catcher or a tale about a Lazy Llama, and if these don't make a child fall in love with books, nothing will.
And I'm not exaggerating when I talk of the magic of some books, because they really make a huge influence on these little minds. My best friend had a personalised book when she was a little girl. It placed her in Africa having an exciting time with all the wild animals and a wizard called WizWam. It certainly captured her imagination and made her think this really is possible, because (wizard aside) she's now an intrepid travel writer specialising in eco and adventure. Now that's even better than, 'Reader, she married him…'
Amazing Pages produce hand-made, personalised books for children up to the age of seven, from £16.99. A simple, online video guide shows customers how to make the most of the personalisation options, and once ordered, books will be delivered within five working days.
Simon Harris is a father of two, and director of Swyhpe, a creative motion agency, based in London.