They've exhausted the DVD collection, gone goggle-eyed with Roy repeats on CBeebies and are beginning to chew the furniture.
Whatever their age, whatever the weather, reach for a really good book to battle the boredom factor
Let's Go Find A Tiger by Yasmeen Ismail
For younger kids, the beauty of an activity book is that it keeps them entertained and it feeds the imagination, all at the same time. With Let's Go Find a Tiger, Yasmeen Ismail's clever and beautifully illustrated story has already begun, but it needs a little help to make it complete. And that's where your child comes in.
As the readers make their way though the jungle, they encounter all kinds of animals and crazy adventures. Some need a splash of colour – so keep the paints and felt-tips handy – but there are also plenty of fun stickers to help bring the story to life, too. Best of all, because the kids have helped create the book, there's a lovely sense of ownership at the end of it all, and they'll want to return to it again and again. Part of Macmillan's excellent 'Draw With' series. Age: 3+, Macmillan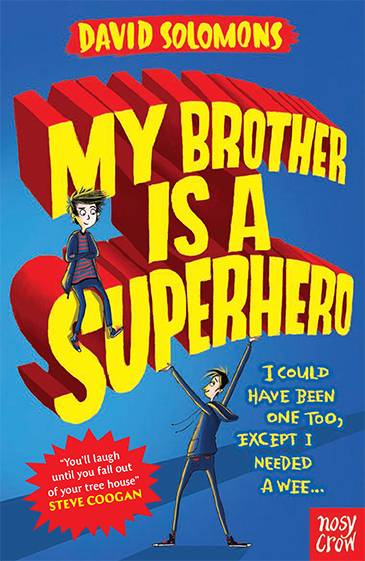 My Brother is a Superhero by David Solomons
The cinemas are bursting with superheroes, and now they're hitting the bookshelves too. Comic fan Luke is hanging out in his treehouse with swotty brother Zack, but nips off for a quick wee. When he returns, Luke discovers his brother has acquired some pretty awesome superpowers (including telekinesis) and is on a mission to save not one, but two universes (well, his brother always knew he was an overachiever).
David Solomons' fresh take on sibling rivalry heads into a new dimension when Star Lad starts flexing his superpowers (and he refuses to wear a cape). Funny, fast moving and deftly plotted, it's the best thing to hit the superhero world since sliced kryptonite. Oh, and there's even a My Brother is a Superhero app available for more universe-saving shenanigans when they've read the book cover to cover. Holy iPod Touch! Age: 8+, Nosy Crow
I'll Give You the Sun by Jandy Nelson
For teenagers, this twisting (and twisted, at times) tale of twins ripped apart by art, jealousy and the death of a parent is an absorbing diversion. Jude and Noah take turns to tell their side of the story, darting back and forth from three years ago (when they were both getting on pretty well until now when they're both hardly speaking) we find they've lost their mother and their father is crawling around in the wreckage that remains of their family life. And how did pushy Jude end up at the prestigious art college when her seemingly more talented brother missed out?
Tough and teary with some challenging moments as the revelations come thick and fast for the grand finale, you'll probably end up reading this yourself (and loving every minute) – it's the sort of book teens will want to discuss for some time after reading. And then they'll probably want to talk about it some more. Age: 12+, Walker