You've written a story. Your kids love it, and you think it's really rather good, too. The only trouble is, so far a publisher hasn't picked it up (even though you know it's going to be the next Harry Potter, right?). So, should self-publishing be the next step? Author and father of two, Nick Lloyd-Davies, shares his experience with DAD.info…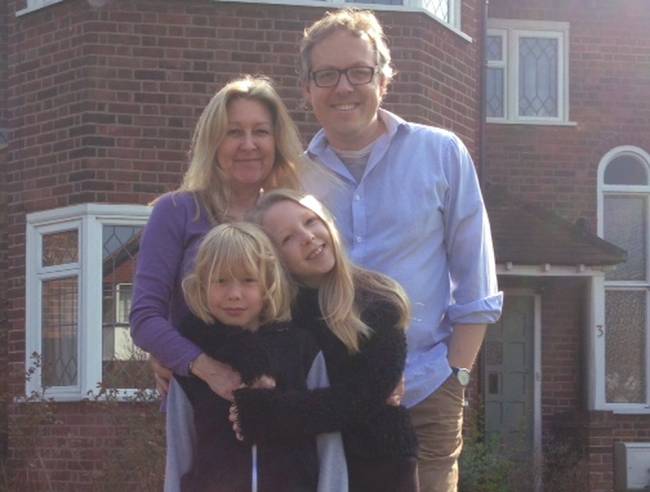 "I'm sure, like me, you've dabbled in writing a story over the years, or at least made up the odd story for your kids at bedtime? Perhaps you've browsed the kids' books section in the local bookstore and thought: I could do that – and better?
As dads, our role is more often than not about fun stuff. Simple things like rough and tumble play, throwing the kids around in the local pool, pulling faces and… making up wacky stories. My two kids expected a made-up story every night for several years, without much regard to the ever-increasing quantum of grey hairs on my head. In the end, they suggested I write the stories down. So I did.
I've written about 10 stories in recent years, and while some daddy writers may be content to keep their tales to bedtime, I want to see mine brought to life in the big, wide world. I want to see my stories sitting alongside those of established authors in the local book store. But this is where things can get very difficult.
I've found the principal barrier to becoming a published author is competition. Children's book publishers receive literally hundreds of manuscript submissions per month, and yours needs to stand out. It needs to impress in terms of both prosaic style and substance, have engaging characters, and a storyline that is different to anything else out there – and with so much brilliant stuff around, that's tough. Consequently, you need to be prepared for numerous rejection letters or emails or, in many cases, no response at all within a specified period (often around three months). The same applies to those seeking a publishing agent. From experience, I know this can all become pretty disheartening.
So, I started to explore the growing self-publishing market, figuring that if I could at least get one or two books produced, with illustrations, this would not only give me a 'product' to market, but add some clout to the submissions I was sending off to the established publishers. Some surprisingly well-known authors have started off by self-publishing, including Virginia Woolf, Beatrix Potter and James Grisham. Maybe it will work for me, too.
So where to start? Google search for 'self-publishing' was my initial route, as it would be for most of you I'm sure. If you have the time and inclination you can try and manage the whole process yourself, self-sourcing illustrators, printers and distributors but that all takes time that not all of us have. However, there are a number of established companies that offer self-publishing packages, including Matadorand and Authorhouse (US-based) which was the company I went for.
They have a 'Children's Magic Publishing Package', which typically includes 10 illustrations, 15 free copies of the finished paperback book and all the necessary UK copyright registration, ISBN assignment, uploading for sale on-line (including Amazon and Authorhouse websites), and a pretty good marketing pack, comprising book-signing posters, bookmarks and an author website. There are of course optional add-ons such as editorial assessment, which I opted for on the first book to give me some tips for the next books – this was pretty helpful.
As comprehensive and impressive as this particular self-publishing package seems, there are pitfalls to look out for:
* The retail price is a reflection of the book's length and the 'Print on Demand' status. So, if you're not careful, combined with the total illustrations, you can have a book that is way above the usual retail price for a similar-sized book – in my case, it ended up double the typical price in the stores.
* The total cost for two books with 3,500 words and 10 images was around £2,000 per book, allowing for some negotiation – by no means an insignificant sum.
* You need to buy books – albeit at an author discount which increases the more you buy – to sell them at your own price, or to send to established publishers – this added another £500 per book.
* Be careful in setting out your revisions to draft versions of the book ('the galley') – you need to pay a lot more once you use up your inclusive 'amendment allowance'.
* The illustrations may not be as modern or unique as they could be, following a fairly formulaic style – and in the kid's market, the illustrations need to be on the money.
Overall? Well, there are clearly other self-publishing companies out there that I haven't tried, but I'm happy with the finished product from Authorhouse and it's great to have a website set up for you, although it remains linked to Authorhouse sales (and prices!).
Kids that have read my books are enjoying them, one telling me they're 'better than Jacqueline Wilson!' (I paid her the fiver later). However, having books on Amazon or other websites does not mean they sell themselves – they don't. I know I need to get out there and do a lot, lot more.
I've enjoyed the self-publishing experience, but now I'm through the other side, the established authors I'm meeting have suggested it may have been better for me to focus on crafting the books, taking some writing courses, and persuading a publishing agent to get on board – and it certainly would have been cheaper!
But then again, I now have two finished books in my hands, and you can't beat that excitement. And luckily, more and more children are asking, 'when is the next one?'.
So, it's a good start – but there's a lot of hard work still to do, and it's going to be a busy year ahead. If you decide to take the leap too, good luck, and most importantly, enjoy it."
Nick Lloyd-Davies is the author of the 'Glowstone Adventure' series, which tells the story of a 10-year-old-girl called Katie who, with the benefit of her magic 'glow-stone', is taken all over the world to help animals in difficulty. "Katie Helps a Giraffe Scared of Heights!" and "Katie Helps a Lizard in a Blizzard!" are his first two self-published books.
Find out more at glowstoneadventures.com and purchase copies for just £1.99 from eBay.