"One day I shall come back, yes… I shall come back…"
After twelve weeks the Doctor has finally set the controls of his TARDIS and left our television screens once more (albeit briefly, he'll be back at Christmas). But don't worry, there are such a pile of books featuring our favourite itinerant Time Lord that you won't be left high and dry, in fact you'd probably need a TARDIS in order to find time to read them all.

Royal Blood, Deep T:me, The Big Bang Generation by Una McCormack, Trevor Baxendale and Gary Russell
For those who want their Doctor Who Capaldi and Coleman flavoured, this trilogy of (loosely) linked novels fits the bill. From McCormack's quasi-medieval sci-fi fantasy to Baxendale's purer SF and Russell's present day archaeological heist story there's plenty of variety and excitement. The regular novels from BBC Books have always managed to keep to a high standard, appealing to readers old and young (much like the show itself) and this batch are no exception.
BBC Books, available now.
The Drosten's Curse by A.L. Kennedy
Continuing the trend for high-profile authors dipping their toes into temporal waters, A.L. Kennedy follows the like of Jenny Colgan, Alasdair Reynolds and Stephen Baxter with this novel that dips into the past of the show and features Tom Baker's Doctor. It's both as full of heart, horror and fun as a Doctor Who novel should be and as perfectly written as an A. L. Kennedy novel always is.
BBC Books, hardback available now, paperback released in January.

The Time Lord Letters by Justin Richards
Few people are interesting enough to merit having their correspondence collected, being a traveller in time and space certainly helps. This fun book from Richards offers 128 letters over 256 glossy pages. From discussing his 'school report' with his lecturer Borusa to a pep talk for Winston Churchill, notes to companions, (and a milkman) and even job applications and letters of complaint (the Doctor always has many of those), it covers a wide range. Some are funny, some are more heartfelt, some whimsical, some insightful. An interesting idea, well crafted.
BBC Books, available now.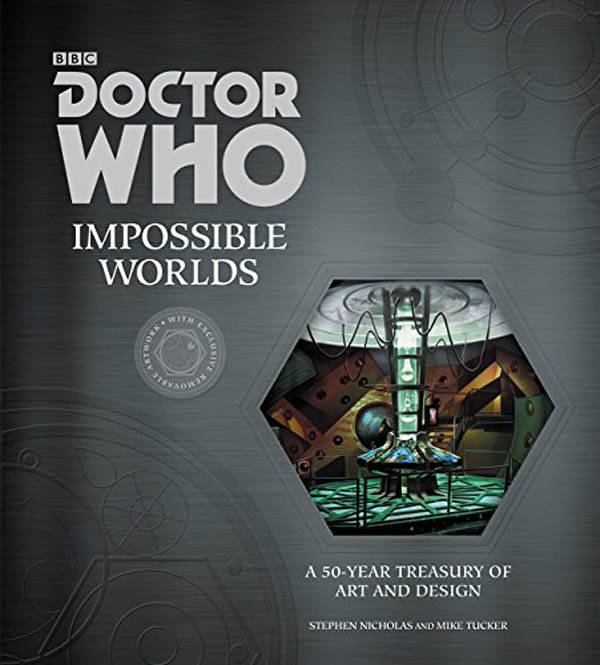 Impossible Worlds by Stephen Nicholas and Mike Tucker
When it comes to lavish, this final book is hard to beat. A look at the art and set design of Doctor Who over the last fifty years from creating alien planets (and their inhabitants) to recreating history. It's filled with beautiful concept art and behind the scenes imagery. Both authors have worked on the show (Nicholas as both supervising and chief supervising art director for the first five series of its post 2005 revival and Tucker as a visual effects assistant between 1985-1989 and, post 2005, a model unit supervisor). Their insights into the imagery and the challenges of working on the show are fascinating. What may seem a rather specialised book to some proves to be a far richer and eye-opening exercise in the flesh.
BBC Books, available now.