This week is National Careers Week, established to promote the importance of good careers education in schools and colleges. Careers consultant and author of the new book, Is Your School Lying To You? Get The Career You Want. Get The Life You Deserve, Edd Williams, shares three essential tips for helping your kids make the right career choices…
When my first child was born, I felt a lurking dread that I wasn't up to the task of being a dad. I was reasonably confident I could keep them alive, but what of the sagacious advice of sitcom dads? When my kids started to talk and ask questions some of those fears dissipated – they seemed so happy and impressed by whatever I said it became easy to cobble together something akin to knowledge. When it comes to careers and education though, I've worked hard to ensure I'm not approaching it with the same cavalier attitude as I did 'how do you make vinegar?'
The reality is that, despite assurances from schools and new guidelines, careers & education advice is rarely done at the standard you or I would want for our children. Too often it's plonked in the lap of a teacher with no more sense of how to advise the students than any other 30 year old with limited job experience beyond teaching. Schools continue to promote university as the best route for all for several reasons: their desire to elevate the school in the rankings, the perceived social mobility and often a lack of understanding of the changing careers map. So if you can't trust the schools to do everything, what can we do as parents to help ensure they are making the decisions that best serve their futures? Here are my top tips to help you navigate these choppy waters…
1. Talk
Make time to talk – and more importantly, listen – to what your child's hopes and expectations are for the future. It may be you've got very strong opinions about what your child should do, but it's important you listen to what they want to do. The prescribed routes of your youth are no longer necessarily pertinent to the current job climate. It's reductive to suggest that university is only useful if it's geared towards a career, but if your reasoning for wanting them to go is for job prospects it may be there are better routes open to them now, depending on their skills and abilities (apprenticeships, degree apprenticeships etc). Give them an opportunity to articulate what/how they see the next few years unfolding, and when you have a clearer view of an endpoint (because higher education is not an end, merely a stepping stone), explore which of the available options is likely to be the most realistic and supportive of those aspirations.
2. Be shameless
Most students don't have a fully realised plan for their futures; maybe loose ideas about where they want to live or a field of interest. By exploring that field they can refine and hone that interest and narrow it down into a potential career path which will reveal which of the educational options makes sense. When I say be shameless I mean wrack your brains: who do you know in that field that may be able to offer them work experience, answer questions, refer them to others working in the area? Ask your friends, neighbours, relatives, parents at the school gates, the school themselves, local businesses, your colleagues and so on. Don't be British about it – most people are happy to try and help if they can – and if they can't, they'll let you know. But as they say – if you don't ask, you'll never know, right?
3. Be proactive
Both your child and the school will likely assure you that everything is fine and it's all in hand, but don't take it on faith. Involve yourself as much as you can to make sure they are hitting their marks. Education is incredibly important, but the sooner a student engages with the world of work and the place they want to inhabit within it, the better. There's still a disconnect between education and careers, as if one has nothing to do with the other, but laying the right educational foundation will naturally help your child to achieve their career goals. If your children are interested in an area and they secure and enjoy work experience in that area, it immediately gives a purpose to their school work, knowing what their goals are is invaluable, as it links two previously disparate ideas.
To move things in the right direction, schools need to accept what they can and cannot do with regards to careers, and take advice from universities and employers: schools will only be compelled to act when they feel pressured to do so, and until parents start demanding better careers advice for their kids, the status quo will preside.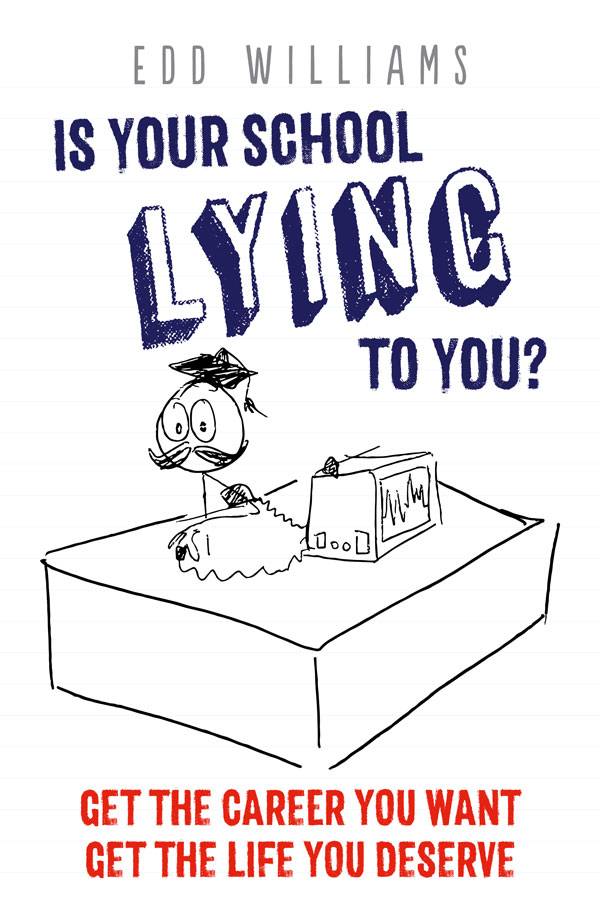 Edd Williams is the author of Is Your School Lying To You? Get The Career You Want. Get The Life You Deserve, Ortus Press, £11.99. Edd spent years as a successful recruitment consultant and now works as an academic and careers consultant (Duart Consultants), school governor, parent and writer. Find out more at edducan.com