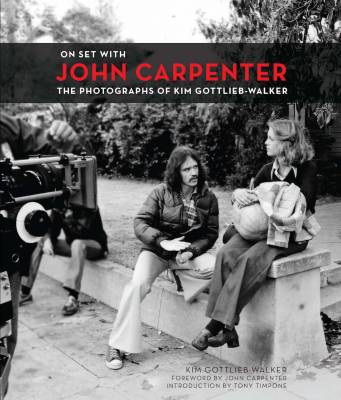 Halloween! A time of pumpkins, cheap plastic witches and giving children Gummi Bears so they don't egg your windows
Or, if you're John Carpenter, a time of nut jobs in a William Shatner mask being terribly mean to a Jamie Lee Curtis.
Halloween turned John Carpenter into cinematic gold (even if he later reverted to lead thanks to a series of nineties movie misfires) and made a star out of Curtis.
On set was Kim Gottlieb-Walker, whose job was to document the production, capturing photographic stills for press materials. Some would be action shots, others candid moments showing the crew relaxing behind the scenes. A production's set photographer might seem a tangential position but they were often vital, they were the person that would end up selling your movie.
The book features stills not only from Halloween and it's first sequel but also The Fog, Escape from New York and the Stephen King adaptation, Christine. Alongside the pictures — the best of which will always be the intimate moments, Curtis larking around with Donald Pleasance or Kurt Russell relaxing with Lee Van Clef — is commentary both from Walker herself and many others involved in the productions. A fascinating time capsule into a fondly-remembered era of filmmaking.
Titan Books, out now.