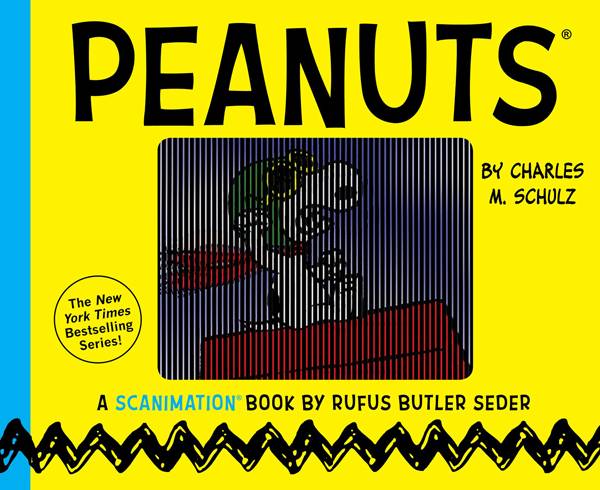 "Why can't I have a normal Peanuts book like everyone else?" As Charlie Brown might have said.
Charles Schulz's Peanuts comic strip is an amazing achievement. It ran for fifty years — totalling 17,897 strips — and has been reprinted ever since. At one point, Peanuts was running in 2,600 newspapers in seventy-five different countries, translated into twenty-one different languages, being read by 355 million people.
"Good grief," as Charlie Brown certainly did say. Many, many times.
This book takes twelve scenes from the strip and applies the Scanimation® process to them. The Scanimation®…
(Do you know what? I'm tired of having to add the registered symbol and we all know it's going to give the blogging software a conniption when I upload this… let's call it something else.)
The 'Murkification' process (unregistered by author, feel free to use widely) gives the illusion of movement to the images.
As you open the book the innards of the envelope-like right-hand page slide from right to left. When viewed through the plastic window in the page — a plastic window filled with vertical black lines — the image beyond appears to move. Thanks to the density of these black lines, the Murkification process is rather like spying on a Peanuts cartoon through blind curtains, a peeping tom straining to spot dogs pretending to be fighter pilots. Whatever turns you on.
Frankly, the Murkification process is a bit rubbish. Remember those corrugated. lenticular images people used to put on the front of cereal boxes and trading cards? It's like that but hidden behind a prison of black bars and much harder to see. It is the sort of book confused squints were invented for.
Each of these Murkification images are accompanied by a quote from the strip. The whole thing takes less than a minute to read and, sadly, about half that time to realise it's not worth bothering.
Available now, Workman Publishing.