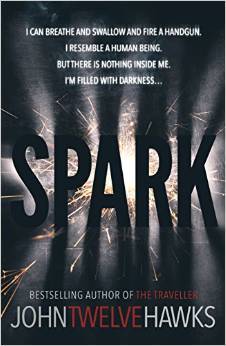 John Twelve Hawks made a name for himself with his Fourth Realm Trilogy, a made up name
The pseudonym was chosen because writing thrillers about the danger of losing one's privacy in the modern world and then putting your name on them seemed hypocritical to him. He lives 'off the grid', invisible to the prying eyes of the rest of the world. Possibly Wales then.
Spark is a futuristic thriller featuring a central character who suffers from the genuine neurological condition of Cotard's Syndrome. He believes he's dead, a fragile spark trapped in a lifeless shell of a body. He can't recognise emotions, struggles to interact with 'human units' and views existence in a calculated, soulless manner. Which makes him an excellent choice of assassin for a corrupt investment bank (indeed, an excellent choice for any role in banking).
It's a cold, tight but interesting read. An effective thriller lifted into something especially interesting thanks to the unique perspective of its hero and the recognisable — awful — world in which he operates.