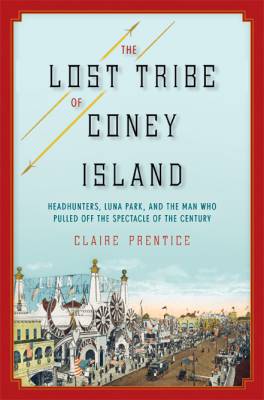 It's hard to imagine in these days of Thorpe Park and overpriced fizzy drinks that theme parks used to be wildly inventive places. They were also terrifyingly grotesque…
At the turn of the twentieth century, Luna Park, in Coney Island (recently re-opened as a vastly different park using the old name) was a feast of nightmarish spectacles. A ride that alleged to take its passengers to the moon; a huge exhibit of babies in incubators (the technology not having been embraced by medical authorities at that time); a show that offered hundreds of fire fighters defeating an engineered inferno in a four storey building. Most successful of all, a tribal village peopled by the Igorrotes, a group of Filipinos brought to America by showman and entrepreneur Truman K. Hunt.
Prentice's account of this tribe — and the rise and fall of Hunt — is an astonishing book. It reads like fiction and manages to be both shocking and yet strangely charming as we invest in the lives of these people dragged to another world.
A warning to pet owners: a great deal was made by both Hunt and the park owners of the Igorrotes penchant for dog meat, with frequent 'feasts' engineered for the pleasure of the crowds. Keep the book out of the reach of your beloved hounds or they'll be having nightmares for weeks.