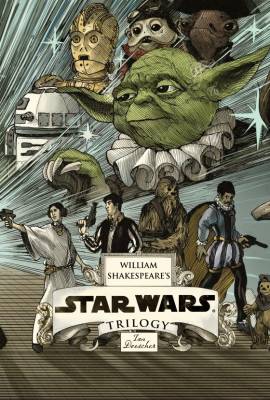 If ever a set of books were made to be stared at in confusion, it's these…
Naturally, anything with Star Wars written on it will have a market, it is one of those bizarre, content-defying cash squirters like One Direction, Great British Bake Off or Dan Brown. Still, is there a more unpredictable spin than translating the movies into Shakespearean text? What next? Samuel Beckett's Twilight?
Which is not to say that Ian Doescher hasn't done a witty and literate job of it, he has. He is clearly a terribly clever — if possibly chronically bored — man to have pulled it off with such class. Plus, there will always be something irresistibly funny about a book called The Jedi Doth Return – Star Wars Part the Sixth. They're terribly attractive little books, beautifully illustrated. The set will certainly make a delightful gift for the classic's master and sci-fi fan in your life.
But… If someone built a replica of the Titanic out of blueberry pop tarts is it enough to ogle at it in wonder? Do we actually feel the need to sail the ocean on it?