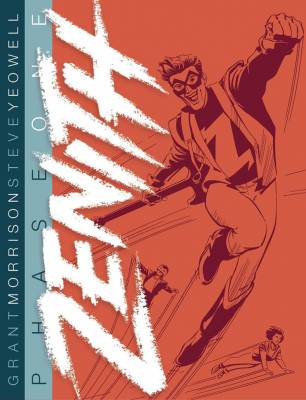 Nobody creates characters like Grant Morrison and one of his best is the author himself: a fascinating and engaging skinhead in a selection of immaculate suits. A comics guru with a mind that fizzes like sweet popping candy…
Originally written for British anthology comic, 2000AD, Zenith is a witty take on the superhero. It's central character, a self-obsessed child to flower-power parents, is determined to avoiding using his inherited superpowers for anything heroic, preferring to further his pop career. When faced with an old threat from the Second World War he — alongside Peter St. John, a hippy re-born as an ambitious Tory MP — is forced to get involved. Yes, Robin Thicke and David Cameron fighting to save the world. Imagine the joy.
It's a story about the shifting ideals of decades, a funny and exciting one to boot, with excellent art by Steve Yeowell.
For many years, attempts to collect the story were blocked by copyright issues so this is a long overdue chance for the story to reach a wider audience. Rebellion will be be releasing its three sequels over the next few months.