Avengers books assemble!…
So, you've been to see Avengers: Age of Ultron at the cinema. You've come home, determined to keep the excitement going.
Perhaps you tried to Hulk out in the back garden and have now sprained your everything from roaring.
Or did you paint a bin-lid red, white and blue and have now lodged it in a tree trying to fight the entirely imagined menace of Hydra Death Starlings?
Naturally, you've dressed up in a blonde-wig, tights and waved a rubber mallet around. You are now aware that you look like a sex pest set loose in B&Q and will never be Chris Hemsworth.
Maybe you've even tried to make an Iron Man suit out of guttering, determined to go and shout at Krishnan Guru-Murthy, and are now lying behind the sofa, having a gentle cry, unable to get up.
Or perhaps you tried to run as fast as Quicksilver and have broken your face on the wall of the bedroom.
These things happen when you've had a lovely time watching super gods do battle and want more.
If only there were a safer way to scratch your Avenger's itch. If only your DAD.info book reviewer happened to know far too much about comics to be altogether healthy and could therefore point you towards some recently released treasures for your bookshelf.
*coughs politely*
So, luckily you have a wealth to choose from. We are, after all talking about a comic that was first published back in 1963 and has set comic-store shelves alight on a monthly basis from 1964 onwards. That's a lot of comics, so let's limit ourselves to a selection of recent collections.
Avengers by Jonathan Hickman Volume 1 / New Avengers by Jonathan Hickman Volume 1
Jonathan Hickman is the current writer of both Avengers and its sister title New Avengers and, over the last few years he has been building an intricate, cerebral and truly awe-inspiring narrative that comes to a head in a few months time.
His run began with two separate stories: on one side Tony Stark and Steve Rogers expanding the Avengers team roster on a global… no, interplanetary level, on the other side a handful of the Avenger's 'big thinkers' discover the universe is facing an apocalyptic event: interdimensional Earth incursions are pending, when one Earth tries to co-exist with another both will be destroyed. Can a hero ever justify destroying countless populated planets to save their own?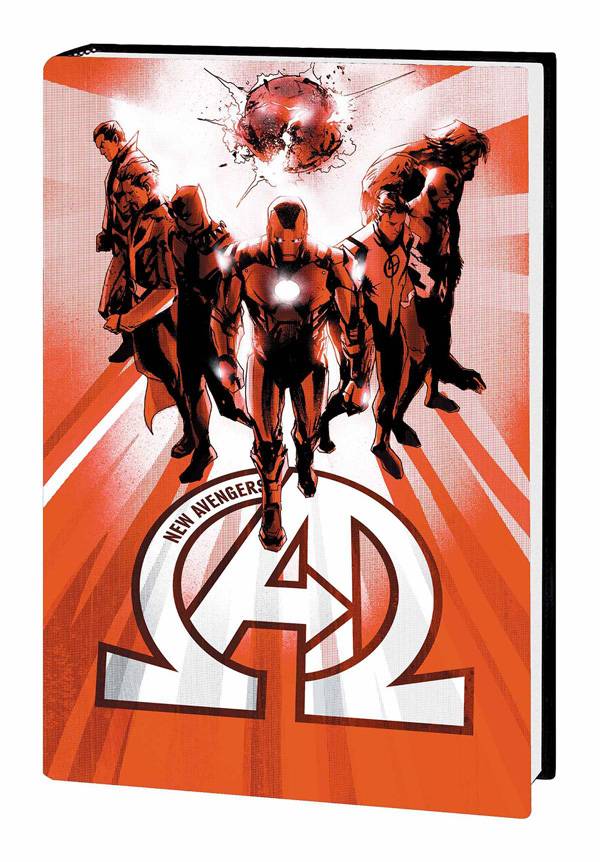 Over the months those stories have combined to form one, massive tale. You can get in on the ground level either by picking up the multiple, smaller collected editions already released or with these two larger hardbacks that cover the first step in Hickman's journey. Further volumes will complete the run.
The art, from talents such as Steve Epting, Mike Deodato, Dustin Weaver and Jerome Opena is as beautiful and awe-inspiring as Hickman's script. Big explosions, even bigger ideas.

Avengers Epic Collection : Behold… the Vision
A couple of years ago Marvel Comics launched their line of 'Epic Collections', affordable paperbacks collecting big, five-hundred page chunks of their back catalogue. Several Avengers volumes are already available but 'Behold… the Vision' has been released to coincide with the movie as it features a number of elements familiar from the big screen. This early run of comics (originally published between 1968 and 1970) is written by Roy Thomas with art from John and Sal Buscema and Gene Colan and features both the introduction of the Vision and a threat from Ultron. Bear in mind that the backstory of both is different to that in the movie.
As with any vintage comic selection the stories are more compartmentalised, none of the sprawling, long-form storytelling you'll find in the Hickman books here. The comics are wordier, the action and dialogue more on the nose, but none the worse for that and if you find you have as much of a taste for classic comics as your reviewer you may also want to try…
The Avengers Omnibus Volume 2
While Marvel's Epic Collections collect large chunks of comics in a light, paperback format, their Omnibus line reproduces even more pages in the sort of over-sized hardback binding that only the Hulk could read casually. These are the sort of books pretentious people use lecterns for, the rest of us cross our legs and switch from one to the other once blood flow gets compromised. The plus-side to such mass is the lavish reproduction found within, in this case: 832 pages of glossy, sixties gorgeousness.
This omnibus covers twenty-six issues. It can be read without the first volume but, should you wish to buy that too you will then have the entire run of Avengers comics up until issue fifty-eight. At which point you can either wait for a possible volume three or buy the 'Behold… the Vision' Epic Collection mentioned above which starts where this book finishes. You will then have the first seventy-six issues of The Avengers. You will also have a partner who is demanding to know who set you off on this ridiculously, obsessive-compulsive buying spree. You will blame me. Then my partner will hear about it and know she has finally won and my life won't be worth living. Thank you. No really, THANK YOU.
Where were we? Oh yes… As well as Roy Thomas scripts and John Buscema art, you have material from Stan Lee (the co-creator of huge chunk of characters with a Marvel logo on them and a cameo presence in most of the movies) and Don Heck and, as mentioned above, while the tone may be a culture shock for those only familiar with the Avengers onscreen, it's rich, inventive, exuberant stuff.
As a helpful hint to lessen your domestic arguments: If you're interested in the Omnibus line then shop around. They often carry high cover prices but can always be found significantly cheaper, especially if you're willing to buy from America and wait a few weeks for delivery.
Avengers by Kurt Busiek & George Perez Volume 1
Finally, If the sixties Avengers are too old-fashioned for you but you're interested in straying beyond the present-day Hickman run, then this book, also from Marvel's Omnibus line is a great compromise. It's even bigger than the above book at a frankly staggering, leg-breaking, shelf-bending 1184 pages. If this book developed sentience and went on the rampage not even the heroes contained therein could save the day, we'd all be dead from giant paper cuts and stubbed toes.
It features the beginning of a fondly-remembered run from the nineties written by Kurt Busiek (whose Astro City books are also worth your time) and illustrated by the much-lauded George Perez.
Ultron's here too, alongside time-travelling shenanigans, the mythical beasts of Morgana Le Fay and sundry other lethal threats. It's fun and beautiful to look at, nowhere near as cerebral as Hickman but more modern in tone than the classic volumes.
A second volume, completing the run, is released later in the year (see above re: enabling/arguments/"Who told you to buy all these and do you have the git's home address?"
Just wait until the new Fantastic Four movie comes out, then I'll really get you all in trouble.
All books available now, Marvel Comics.