Jeff Brazier has experienced bereavement in many forms: In his childhood; helping his two boys through the devastating death of their mother, Jade Goody; witnessing the anguish of his own mum when she lost both of her parents and hearing the stories of his coaching clients who are coming to terms with their own loss.
No one can be an expert on grief, but in his recently published book, The Grief Survival Guide: How to Navigate Loss and All That Comes With It, Jeff provides guidance from someone who has been there, offering hands-on, practical advice on everything from preparing for the eventuality of death, managing grief, how best to support family and friends, and moving forward.
Here, DAD.info shares an extract from the book, which Jeff hopes will help those experiencing grief to understand, cope and survive.
'If you're not living then you're dying, no matter your age or health' – Mary Turner, 69, died from ovarian cancer on 12 April 2017 shortly after generously sharing her wisdom and wit for the good of others in this book.
Our personal relationship with grief is unique. You as a person are different to every other human being on the planet, so it makes perfect sense that no two people would grieve identically.
You may have lost someone from your life without the opportunity to say goodbye, or at the end of a struggle with a long-term illness. You may have to deal with losing someone and feeling that you could have done more to help them. The variations of the end-of-life scenario are limitless, so bear this in mind when searching for answers and meaning behind bereavement, because nobody can decide how you cope but yourself.
The way you feel in grief is dependent upon many factors and it's impossible to second-guess how you will process those feelings. Will you give yourself permission to cry? Will you load yourself with feelings of blame and guilt? Will you hide your emotions from the kids to protect them? Will you pretend to feel nothing?
The point is, you're not alone. But what I aim to show you in this book is that there are ways to make grief less harsh and eventually become manageable, and there are almost as many ways to unwittingly make bereavement harder and let it go from being an excruciatingly tough experience to a constant source of difficulty.
Grief is bloody good at hide-and-seek and will pretty much find you each and every time, no matter how long it took you to cram yourself into the washing basket while expertly putting some dirty underwear on your head for cover. You have no choice but to sit down nicely and play Scrabble with it.
Why you, Brazier?
Because I am the teenager whose mother sat him down to tell him that the biological father he had not known about, let alone met, had drowned in a riverboat accident four years before that day. I am the 22-year-old sobbing uncontrollably outside the church after the sharp introduction to death that only your first funeral can deliver.
I am the 29-year-old receiving the phone call that made me drop to my knees and changed my world forever. I'm the same 29-year-old who had six months to prepare two young children for the inconceivable while coming to terms with an unimaginable change of reality.
'How will I cope? I still feel like a child myself. How do I compensate for the irreplaceable? How? What? Why? When?' You and I are more alike than you might think.
I've been the person who visits you and talks to you about the loss of your wife, hoping that my experience up to then might serve in some way useful. I'm the student who qualifies as a life coach and NLP practitioner, so I can accelerate the process for people coming to terms with a number of issues, including death. I am the talking therapist who learns more about bereavement through my clients than I could have ever known through personal experience.
I am a man writing a book about our relationship with grief so that I might shine a light on your path and help you find what you need – your navigational companion on life's inevitable yet thoroughly unpredictable, unwanted and uncertain adventure.
What is grief?
Before you begin, to get you started it's important that I share with you some of the perspective I have gained through this writing process. What do you think grief is? If you closed your eyes and imagined a picture of grief, what would it look like? Is it the grim reaper? A black cloud? An aggressive-looking monster?
We feel like a victim of grief sometimes. We wish it would leave us alone, let us get on with our day without dictating our weary emotions and making us cry or feel profoundly sad. Why can't we grieve at our own pace, in our own time? Why does it have to be so engulfing and downright inconvenient?
We see grief as the enemy, the reason everything is up in the air, meaning we can't think straight or see any further than what we're doing right now.
Now let me just ask you, what would happen if grief didn't exist? If we didn't look back, because it didn't hurt to see people die? What would remind us to think of that person? Would we need to set alarms on our calendar to remember them? If grief didn't exist, how would that impact on how close we got to people, seeing as it didn't emotionally come at a cost when they died? How would we show how valuable they were to us in life and after their life had ended?
I'm not trying to tell you how you should feel about grief; my main intention is to get you thinking about it.
Here's how I see grief
I see him as a man called Jeffrey, Jeffrey Grief. A short, quiet, rose-cheeked and inconspicuous middle-aged man with a little moustache, wearing braces, a pin-stripe shirt and a green tie. His trousers have a very strong crease in the front and while he is anything but fashionable he is meticulous in his appearance and wears well-shined shoes with an outfit that never alters.
He strikes me as the kind of guy who probably still lives with his mum, Mrs Grief. He is socially awkward but very into his work. He is a freelancer so he has many clients who require his services. He has no fixed office, which saves him on the overheads, and he personally likes the fact that he can work remotely, contacting his clients any place at any time.
He doesn't take a day off, he is never late and never bends the rules. His attention to detail is staggering and his thorough approach has won him many efficiency-in-the-workplace awards, which he keeps on a shelf in his bedroom, at his mum's.
His role at work is to tap you, his employer, on the shoulder. His job is to remind you of the person who has died. He doesn't take it personally when you curse his existence; he knows it's part of the job and that one day you'll have a much more amicable working relationship.
Within that working relationship he guides his clients expertly through a series of thoughts and emotions that are absolutely necessary to their overall well-being. He holds their hands through a lot of rough times, and sure, he is the one who triggers the thought that brings about the feelings, but he is a professional and always stays around long enough to ensure that his client has got exactly what they need from it.
If his job is going well, the time he spends with that client reduces until the client has accepted their working relationship and has even started to invite Jeffrey into their home and on outings, particularly on special occasions.
Mr Grief always feels happy knowing his work is appreciated by his client but he never goes beyond the protocol and maintains a dignified distance. This is business, not personal, you see. There comes a time when Jeffrey shakes hands with his client and leaves them with their memories. He sends cards and the odd email from time to time, just to ensure that relationship is never forgotten, but the end of one client's journey heralds the beginning of another's.
Jeffrey loves the variation in his clients, remarking that 'You never really know what you're going to get.' Some clients learn that they have to work with him a lot sooner than others; either way, he loves the challenge.
Some clients make a very bad habit of running from him, but little do they know, he won the Sussex School Inter-district Cross-country
Championship five years in a row. Although he's in his early forties, Jeffrey is one of those wiry-looking runners who don't look fit, but boy does he have an engine on him!
He is a regular attendant at the Hove Park Run, for which he regularly chalks up 5k in a time of 16 minutes and 38 seconds. Very competitive!
There really is no hope of outwitting or outmanoeuvring this fellow, so until his clients realise this he just sees it as extra fitness for him. Jeffrey once had a date through Plenty of Fish and on his profile he put that his biggest quality was his patience. He needed to have lots – living with his mother wasn't easy and also many of his clients were very skilled at denying his existence.
Work policy states that although he can tap someone on the shoulder an unlimited number of times every day, a tap on the shoulder is all that he can administer, so if that isn't enough to grab their attention he simply has to persist, over and over again, until he is acknowledged.
Jeffrey also added on his application that he liked playing Scrabble, baking cakes and collects rare birds' eggs as his listed hobbies. Grief isn't really scary in this context, is he? Just a guy doing his job. I could carry on the description forever, but for the sake of your sanity and before you change your mind about reading the rest of this book, I'll leave it there.
The point of sharing my elaborate metaphor for the actual role that grief plays in our life is that reducing something that we could potentially be scared of to something that we understand and do not fear is of great benefit. We can't understand something that we are not willing to observe, and only those who face grief, whatever shape and size it is for you, can actually start to understand what it looks like and how it works.
Scary as it might be, you wouldn't walk down a dark alley with your eyes closed, would you? Well, the same applies to grief. You'd be taking a common yet unnecessary risk by refusing to watch where you were going.
The biggest lie we are told in grief
There's no better place to start this book than by tackling the biggest misconception I hear in grief. So often people are told to 'be strong', a phrase or decision that can be taken two ways. Sadly, the typical interpretation of what it is to be strong in grief is the complete opposite to the actual truth.
The root of this sentiment – being strong in the face of adversity – may well have become popular since it chimed with what our parents or grandparents experienced in their childhoods during and after the Second World War. In the forties and fifties there were so many imminent dangers to actual life and real concerns about keeping safe, or worrying about loved ones fighting for the country, that you had to set aside what could be seen as 'petty or selfish worries' when so much physical suffering was going on around you. These ingrained sensibilities may well have contributed to the repression of some of our true feelings.
I'm always interested to know what my clients think strength is in the context of suffering or grief – 'Putting everyone else first, keeping it together, carrying on' would represent a typical response, often followed by a list of reasons they felt they had to stay strong. One client told me: 'My younger sister needs me, she lost her husband. I have to be strong for my mum because I don't want to add to her problems. I've got two teenagers who are going through a tough time and I can't crumble in front of them.' Like many of us, she had compiled a long list of reasons not to grieve openly.
Weakness in the face of suffering or grief can often be perceived as crying, burdening others or not getting as much done because you're too upset. And if you do allow yourself to be weak? Some feel that they would 'probably sob all day'. Another suggestion is that you might store your unspent tears in boxes that you can't open because you're scared it will flood out and you will drown in them.
Boxing up your tears or emotions is never helpful in the long run, and if you find yourself doing this or something similar you will be in danger of storing up so many boxes that you will risk damaging your health and mental well-being. Piling new boxes on top of existing ones doesn't mean the tears in the older boxes aren't still there.
Your family can all see that you're boxing things up and it's only really you who thinks it's a secret. Your partner and family won't think it's a secret because they have to deal with the floods of tears when you break down at night. The kids know you have boxes whenever they see how stressed they make you. Some secret!
By 'being strong' you may be reducing your ability to support your family effectively. In harbouring such a stack of negativity and sadness, the boxes will inevitably fall over, spilling all the contents everywhere. Which your family, who you're trying to protect in the first place, will have to mop up.
Suppressing all your emotions is perceived by some as the strong thing to do. But it isn't, and nowadays we recognise that sharing our feelings and distress is a sign of strength. Of course we have the right to hold on to our baggage, or boxes created by the suppression of grief. There is, however, another option, and it is better to give the contents of those boxes to the 'charity shop' than it is to hang on to them all in storage, which is very costly. (Yes, we are still talking about emotional baggage!)
If you 'hoard' grief, one day you will not be able to move. Every room and available space in your front and back garden will be occupied with 'worthless toot'. Instead, keep your memories in the loft and on your walls, put your emotions out with the trash once a week, and see how they're recycled into the fuel that inspires an honest journey through grief. Can you picture your house of grief? Is it clean and tidy, or cluttered and unkept?
Strength is allowing yourself to be vulnerable, to be real and to answer honestly any questions you are posed on a daily basis on your emotional state. To be able to live in the moment, no matter how unappealing that truth is, is to show great courage and kindness to yourself. Even if your physical appearance may suggest you are going through tremendous stress, tiredness and great upset, that's exactly how we should feel after a big loss, isn't it? Grief is meant to hurt. It would be unrealistic to expect anything else. That's the overriding point here. If you continue fostering an outdated approach by hiding the reality, keeping it all locked away, showing the world a very different story to the emotional rollercoaster rocketing around within you, you are being weak. Strength is the ability to do what's best for you, to allow what is natural and to keep expressing your emotions, no matter how ugly, challenging or desperate that becomes.
This is the guide that nobody wants but that everybody needs. I hope – in some small way – it helps you.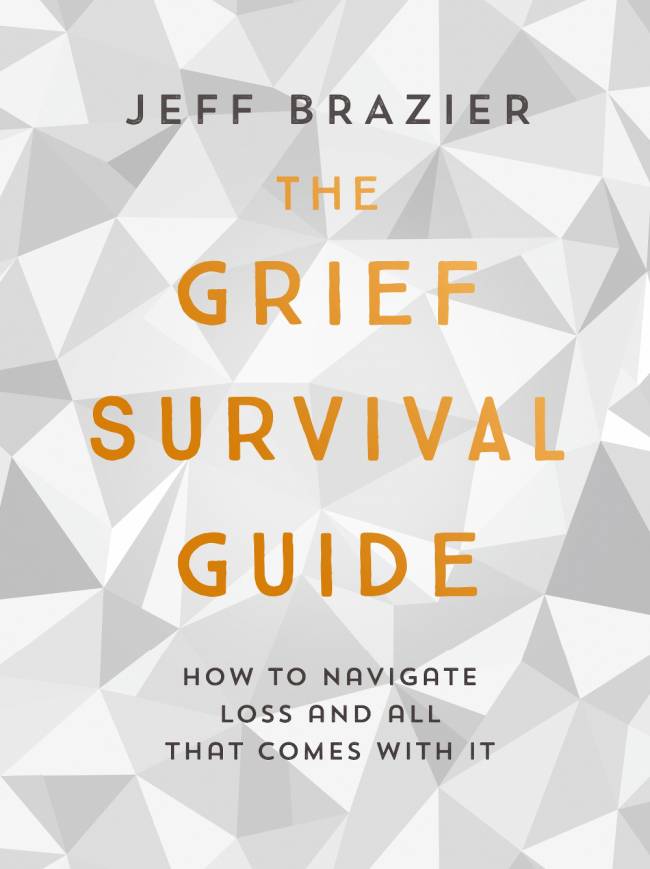 Jeff Brazier is a qualified life coach and ambassador for the children's bereavement charity, Grief Encounter. He is a TV presenter and a regular part of the ITV This Morning team.
The Grief Survival Guide: How to Navigate Loss and All That Comes With It is out now, published by Hodder & Stoughton.