It's Qatar 2022 and England have made it to the World Cup Final, with a team of extraordinarily talented footballers. But football journalist Alfie has smelled a rat…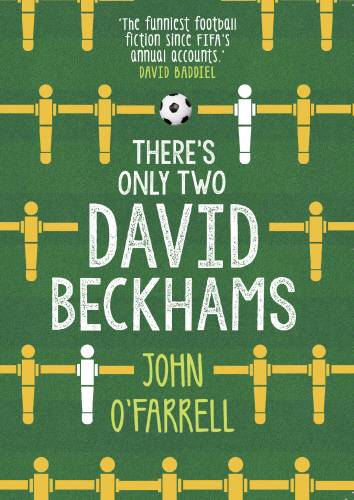 Should he reveal the truth and risk sending the team home… and, in so doing, break the heart of his 11-year-old football-loving son? Or should he keep quiet for the country's good?
This is the premise for John O'Farrell's latest novel and, in some ways, it's his love letter to football. But, actually, it's much more than that.
Yes, it's very funny but then you'd expect that from a writer who has published four best-selling comic novels, co-written a hit Broadway musical and been a regular contributor to such shows as Have I Got News For You and Spitting Image.
What ties this really enjoyable novel together is the light it throws on football as an unseen force that binds people (mostly men, admittedly) together – best friends from the playground days, complete strangers in the pub, or fathers and sons seeking common ground.
And it's the latter that is really the beating heart of the novel. Alfie's marriage has broken down and, although he's on good terms with his ex, his relationship with his son Tom has football as its foundation. It's their special thing and it's through football that Alfie teaches Tom vital lessons of life: not just about winning and losing but also the importance of trust, honesty and fair play.
By using football as a backdrop, John O'Farrell creates some great set pieces that many men will recognise: Alfie hopelessly managing his son's football team in the park as they get trounced yet again by bigger and better boys; or, the best friend who will always find a way to bring a conversation back to football but only to take the mickey out of you.
But the scene that I loved above all others was when Alfie takes his son to his first big evening kick off, in a floodlit stadium packed with fans singing at the top of their voices. It reminded me of taking my own boy to his first big game and genuinely bought a tear to my eye.
Of course, being a humorous book, John O'Farrell throws in gags every few sentences: such as the fan who tries to get raucous fans to tone their language down by shouting, "Oi! There's kids here, c***s"; or the grammatical pedant who corrects teammates by shouting it's not "Who's marking who?" but "Who's marking whom?"
This book is a great, funny read but if you're a football-loving dad, it's 110% guaranteed to make you laugh. That boy O'Farrell, he's done good.
There's Only Two David Beckhams by John O'Farrell, Black Swan, £7.99
Other novels by John O'Farrell include The Man Who Forgot His Wife, May Contain Nuts, This Is Your Life and The Best a Man Can Get.
For your chance to win a signed copy of There's Only Two David Beckhams, click here.