Great days out for foodie families and cookery-mad kids
All the leaves are brown… but your cakes look positively anaemic and Mary Berry is disgusted with them. While you may never be crowned Britain's Biggest Master Baker, autumn does bring with it a raft of great food festivals and gourmet getaways.
If your family are fans of The Great British Bake Off, you consider yourselves MasterChefs, or simply require sustenance in the form of food which you can convert into energy, and would prefer it to be tasty stuff, then you're going to love our selection of foodie festivals, many of them including the word 'Great' in their titles. How curious…
The Great Bath Feast – Somerset
1 – 31 October 2015
A highlight of the UK food calendar, this festival runs throughout the entire month of October, during which there are over 100 events, including workshops, book signings and cookery demonstrations.
Hosted across Bath's array of restaurants, cafes and hotels, celebrity chefs and industry experts will present the very best of British food to the many visitors who will descend upon the city.
For more information, visit: greatbathfeast.co.uk
Broadstairs Food Festival 2015 – Kent
2 – 4 October 2015
In its seventh year – Broadstairs Food Festival continues to be East Kent's leading food and drink festival, attracting 53,000 visitors in 2014.
Admission to the scenic cliff-top site is free, and from here visitors can explore over 100 stalls – 95% of these producers being from Kent – and sample a vast array of food and drink options.
The festival features a vintage tea parlour, a bar stocked with beer from Britain's smallest brewhouse, book signings, their ever-popular Chefs' Theatre, and a Prosecco tasting evening.
Further events include a gala supper at East Kent College, promising six fantastic courses for just £40; and a champagne afternoon, which includes a glass of bubbly, complimentary bar, and a wide selection of hot and cold food for £75.
For more information, visit: www.broadstairsfoodfestival.org.uk
Polesden Lacey Food Festival – Dorking, Surry
2 – 4 October 2015
Designed to entertain and educate the whole family, this fun festival will house the best in local and regional produce with a wide range of stalls including artisan bakers, micro-breweries and pulled pork barbecues.
Food and drink theatres will feature cookery demonstrations, children's cookery workshops, and talks from food and drink experts.
There will even be a children's activity village to keep little ones entertained!
For more information, visit: www.eventbrite.co.uk/e/polesden-lacey-food-festival
Melton Mowbray Food Festival – Leicestershire
3 – 4 October 2015
The Melton Mowbray Food Festival is one of the largest regional food festivals in the country, set in the heart of the town promoted as the UK's Rural Capital of Food. In its 12th year, the festival will be held in the town's Cattle Market with over 150 of the country's finest producers showcasing their food and drink products.
Visitors to this year's Festival can sample not only the local, traditional Melton Mowbray Pork Pies and Stilton Cheese, but also a range of delicious foods such as stunning new alcoholic ice creams (perhaps not one for the kids then), artisan cheeses, steamed puddings, British game, locally-brewed ales and much more from the region and beyond.
Celebrity chefs, regional cooks, bakers and bread makers – including Rachel Green, Linda Hewett, Stephen Hallam and Jo Pratt – will be demonstrating a range of recipes in the festival theatre. A family food and fun area will keep the kids entertained as well as teaching them about food in a – erm – fun and interactive way.
Tickets are £6 on the day or £5 in advance from www.goleicestershire.com/foodfestival online, or in person from Ye Olde Pork Pie Shoppe (yeah, they really called it that) in Melton Mowbray. Children under 16 go free.
For more information, visit: meltonmowbrayfoodfestival.co.uk
Forest Showcase Food & Drink Festival – Speech House Hotel, Coleford, Gloucestershire
4 October 2015
MasterChef presenter Greg Wallace will be opening this year's festival, which promises 80 local and artisan producers, hot food stalls, real ale and wine stands, chef demonstrations, live music, arts & crafts, and – most importantly – lots of activities for the children, including kids' cookery lessons.
For more information, visit: forestshowcase.org
Monmouthshire Food Festival – Caldicot Castle
10 – 11 October 2015
Plumbing the depths for haute cuisine comes the Monmouthshire Food Festival, which – along with celebrating chefs from Monmouthshire's hotels and restaurants, who boast many top awards including AA Rosettes and Good Food Guide plaudits between them – will play host to submarine chefs. Visitors can watch Royal Navy chefs prepare and cook a variety of the dishes they would serve on board ship or 20,000 leagues under the sea.
The Children's Quarter will keep your young foodies busy with lots of yummy workshops too.
For more information, visit: monmouthshirefoodfestival.co.uk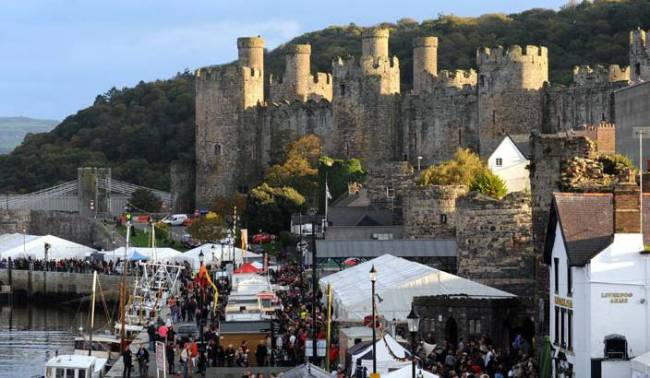 Gwledd Conwy Feast – Conwy town, North Wales
24 – 25 Oct 2015
The medieval walled town of Conwy and its spectacular quayside, plays host to the largest food festival in North Wales.
A celebration of Welsh food, drink, art and music, makes for a great blend of tastes sights and sounds for the whole family to enjoy.
For more information, visit: www.conwyfeast.co.uk
Dartmouth Food Festival – Devon
23 – 25 October 2015
In its 12th year, Dartmouth Food Festival has a reputation as being among the biggest and best in the UK and boasts a wide selection of cooking demonstrations, educational talks, and hands-on workshops to help hone your own budding cookery talents.
The festival attracts the best chefs from the local Dartmouth area, the southwest, and across the UK.
Top this off with wine seminars, free food tastings, great shopping opportunities from regional retailers, and all kinds of family activities to keep both kids and parents occupied, and you're looking at another great family day out.
For more information, visit: www.dartmouthfoodfestival.com