Take your nippers to see Wicked for free this August…
I'm not a musical lover. I'm not a fan of hot weather either. Yet last week I found myself sitting in Apollo Victoria on the hottest day of the year, watching one of London's biggest hit musicals and being thoroughly enraptured. I lay the blame at my seven-year-old's diddy feet. She'd been begging to see Wicked for months, ever since her bestie had seen it (three times) and sang lyrical about it. Turns out, with good reason…
Wicked isn't a remake of The Wizard of Oz, but a prequel to it – so forget what you think you know about the who's, why's and when's of this famous story of goodies vs baddies, as it all gets turned on its pointy hat.
For starters, rather than showing Elphaba, the Wicked Witch of the West, as a born bad girl, she's actually quite a nice little thing who happened to be born with green skin. Glinda, the Good Witch of the North, on the other hand, isn't nearly as goody-two-shoes as she likes to make out, behaving more like a spoilt air head, with very little witchy talent. When the girls meet at uni and are made to share a room, it's loathing at first sight – cue one of my favourite songs in the musical, What is this Feeling (Loathing)? However, as time goes on, both wannabe witches see qualities in one another and end up becoming quite pally. Until, that is, a dishy love interest and the Wizard of Oz himself muck things up. And that's when the story gets really interesting!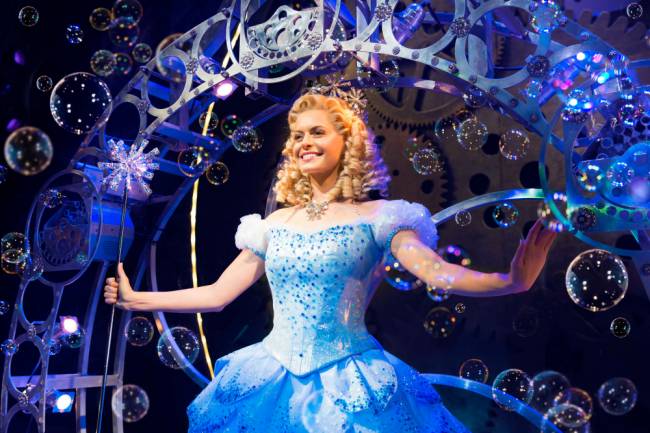 Visually, Wicked is an absolute treat. The whole production is faultless, from the stunning stage sets and atmospheric lighting to the exquisite costumes – though how the cast danced and sang in these multi-layered outfits without swooning in the heat, I just don't know.
So, if like me, you don't 'do' musicals, try leaving your doubting Thomas hat at the door and allow yourself to be swept away by the magic and mayhem of this Wicked musical.
For more information about Wicked, head to Apollo Victoria.
Take the kids to see Wicked for free!
Summer heralds the return of Kids Week – the annual London theatre initiative run by Society of London Theatre. This August, there will be free children's tickets to more than 40 hit shows throughout the month, including Wicked.
The scheme, which aims to encourage more young people and their families to experience the magic of live theatre, offers a free ticket to every child aged 16 or under when they're accompanied by a paying adult, and half-price tickets for two additional children in the same group. There are no booking, postage or transaction fees either.
To find out more, head to Official London Theatre.