Great works of art fetch jaw-droppingly huge sums at the auction houses of London, Paris and New York, and always seem to be heading into the hands of a "private" collector. But that's not to say that the world of fine art is just the preserve of the stratospherically wealthy…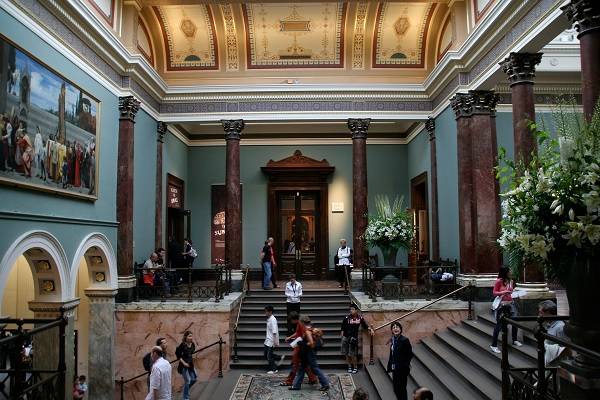 In the art galleries of the UK we're very lucky to have many of the world's greatest masterpieces ranging from the medieval to the renaissance and from the age of impressionism to the modern day.
Of course, these are just the most expensive masterpieces on display and there are literally thousands of beautiful works of art waiting to inspire and amaze you when you see them. Best of all, as the permanent collections at the great majority of art galleries are completely free to visit, a list can be found here, all it will cost to feast your eyes is a little of your time.
Art galleries are a fantastic summer or winter activity with your children. Not only will they learn a bit more about art, but most galleries have fantastic child's areas that can be extremely educational from toddlers all the way to pre-teens. So why not head down to see your local gallery when you have a chance.
Here are five of the most valuable paintings on display in Britain today:
Nude, Green Leaves and Bust by Pablo Picasso, 1932
The painting was sold in New York in May 2010 for $106.5 million to a private collector who has given it on a long-term loan to Tate Modern in London. The picture is one of a series of portraits by Picasso of Marie-Thérèse Walter. The picture, which is over 5 feet high, had only ever been on public display once before in 1961 to celebrate the artist's 80th birthday.
Sunflowers by Vincent Van Gogh, 1888
This painting is one of a collection of sunflower paintings by Van Gogh, the most expensive of which fetched $53.9 million at auction in 1987. The example on display at the National Gallery in London is the fourth of a series of five known to exist. It was painted for Paul Gauguin by Van Gogh as a gift to decorate his bedroom.
Diana and Actaeon and Diana and Callisto by Titian, 1556-1559
These two paintings were sold for £50 million and £45 million respectively to the National Gallery and the Scottish National Gallery. They form part a sequence of paintings by Titian called the "poesies" showing mythical scenes from the writings of Ovid. On purchase it was agreed that the paintings would be alternated between the two galleries every five years.
Salisbury Cathedral from the Meadows by John Constable, 1831
In 2013 there was a danger that this painting was going to fall into foreign hands until the Tate Gallery ran a successful campaign to raise £23.1 million to buy the painting and keep it in the country. It is estimated that it could have raised as much as £40 million on the open market. The dramatic painting, which features stormy skies over England's highest cathedral spire, tours round a number of UK galleries in Wales, Scotland, Colchester, Ipswich and Salisbury.
As you can see, there a variety of massively famous and expensive paintings on display all around the UK. So wherever you live, and whatever you decide to do with your kids this summer, you know you're never going to be further than a few miles from some of the most beautiful art in the world.