We thought we'd let the kids do the talking this half-term, so we asked Goosebumps fan, 10-year-old Leila Fur, to tell us all about the new Goosebumps KIDS extravaganza running at Waterloo Vaults until June 5th. Hurry, there's still time to get your spook on. Mwa-ha-ha-ha-haaaa….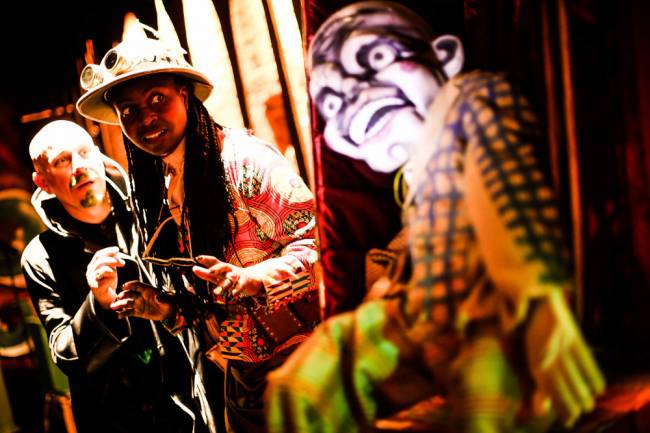 Goosebumps Alive is a scary and spectacular book series written by R.L. Stine and now it's been brought to life in London at the new Goosebumps KIDS show, which is in The Vaults by the cool, artistic graffiti tunnel at Waterloo.
This spooky live-action experience is guaranteed to make children aged from five to 11 very scared and it will probably give them goosebumps of their own!
Visitors start by going into The Vault, where a hostess asks you to choose a category, depending on how scared you'd like to be during the show: Heavy (which is mainly for adults), Medium (which is the one I went for, only a little bit scary) and Light – which is mainly for little kids.
Everyone is given a different-coloured top, depending on your chosen group, and lead into a waiting room full of freaky masks from the Goosebumps book, The Haunted Mask. Then you're let into Professor Molloy's Museum of the Weird where you begin your spooky journey with the museum's very strange staff. It's great!
My favourite part was when we went into the basement from R.L. Stine's book Stay Out of the Basement! I was actually quite scared of the plants because in the book it says that they come to life – eek!
If you like Goosebumps, then I'm sure you'll love this freakishly fun-filled show as much as I did.
But remember… visitors beware, you're in for a scare!
Goosebumps KIDS, a live and interactive show for children (aged five to 11) is on at The Vaults, Leake Street, London SE1 7NN until 5th June.
Goosebumps Alive, an immersive theatrical experience for adults (and children aged 12+), also runs at The Vaults until 5th June.
To book tickets for either show, go to goosebumpsalive.com