War Horse author's 2005 book follows its famous forebear and trots onto the stage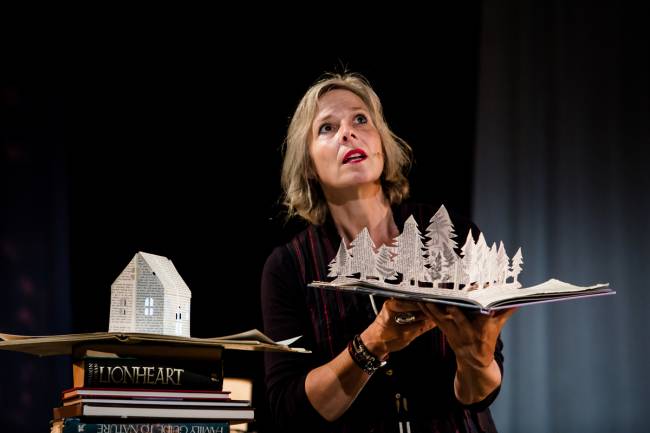 'I Believe In Unicorns' starring Danyah Miller, opens at the Vaudeville Theatre from 1 – 31 August, bringing this magical adaption of Michael Morpurgo's book of the same name to life. A national tour will follow in autumn.
A celebration of books, reading, and the power of reading, audiences young & old will be delighted by this tale: set in a library, Tomas would much rather play in the mountains than read books or go to school, but when he meets the Unicorn Lady he finds that books hold a lot more than stories within their pages.
With a stunning set by Kate Bunce, lighting by Will Exams, projection by Arnim Freiss, Music & sound by Martin Thompson and direction from Dani Parr, Danyah expertly intertwines spontaneous storytelling and wondrous wordplay with this heartfelt, exciting tale that will leave you truly believing in unicorns.
Morpurgo said of the show, "Danyah's performance is a tour de force. The show is moving and memorable, a glorious example of the magic of storytelling. I didn't like it, I loved it."
Anyone who can't make it to the London run can catch Danyah as she travels the UK this autumn, bringing her show to a theatre or arts space near you. The full tour dates are below…


Vaudeville Theatre, 404 The Strand, London – Tickets from £17.50
 / Groups 10+ from £12.50
. Performance times
: Monday – Sunday (no performance Wednesday)
 11:30am / 2:00pm / 2:30pm / 4:30pm (times may vary)
.
Suitable for everyone over six years of age. 
Running time 60 minutes. 

Box Office 0844 412 4663
 www.nimaxtheatres.com
National Tour Dates
Monday 28th September – Windsor, Theatre Royal Windsor – 14:00 / 16:30
Tuesday 29th September – Windsor, Theatre Royal Windsor – 11:00 / 14:00
Wednesday 30th September – DARTFORD, The Orchard – 13:00 / 17:00
Friday 02nd October – HERTFORD Theatre – 13:30
Saturday 03rd October – HERTFORD Theatre – 10:30 / 13:30
Sunday 04th October – TUNBRIDGE WELLS, Trinity Theatre – 14:30
Tuesday 06th October – JERSEY, Opera House – 18:30
Wednesday 07th October – JERSEY, Opera House – 10:00
Friday 09th October – SWANSEA, Taliesin Arts – 13:00 / 17:00
Tuesday 13th October – HEMEL HEMPSTEAD, Old Town Hall – 11:00
Friday 16th October – GREAT TORRINGTON, Plough Arts Centre – 13:15
Saturday 17th October – ABERGAVENNY, Borough Theatre – 13:30 / 16:00
Sunday 18th October – STOURPORT, The Civic – 13:00
Tuesday 20th October – BARKING, The Broadway – 14:00
Wednesday 21st October – LOUGHBOROUGH, Victoria Room – 14:00
Friday 23rd October – COLNE, The Muni Theatre – 17:30
Saturday 24th October – PERSHORE, Number 8 – 14:30
Sunday 25th October – SUDBURY, The Quay Theatre – 14:30
Monday 26th October – NORTH FINCHLEY, Arts Depot – 13:00 / 16:00
Tuesday 27th October – SOUTHEND, Palace Theatre – 13:30 / 15:30
Wednesday 28th October – SHEPHERDS BUSH, The Bush – 11:30 / 14:30
Thursday 29th October – CARDIGAN, Theatre Mwldan – 14:00
Friday 30th October – CARDIFF, WMC – 13:00 / 15:00
Saturday 31st October – POTTERS BAR, Wyllyotts Theatre – 13:30 / 15:30
Sunday 01st November – SWINDON, Arts Centre – 13:30
Tuesday 03rd November – REDBRIDGE, Drama Centre – 13:30 / 17:00
Wednesday 04th November – REDBRIDGE, Drama Centre – 13:30 / 17:00
Thursday 05th November – UPPINGHAM, School Theatre – 13:30 / 16:00
Saturday 07th November – SHOREHAM-BY-SEA, Ropetackle Arts Centre – 13:00 / 15:00
Sunday 08th November – HOUNSLOW, Arts Centre – 14:00
Wednesday 11th November – OLDHAM, Library – 13:00 / 16:00
Saturday 14th November – SHEFFIELD, The Montgomery – 11:00 / 14;00
Sunday 15th November – SOUTHPORT, The Atkinson – 14:30
Wednesday 18th November – LEATHERHEAD Theatre – 13:30 / 16:30
Friday 20th November – LUTON, Library Theatre – 16:30
Saturday 21st November – SALISBURY, Arts Centre – 14:00
Sunday 22nd November – BISHOPS STORTFORD, Rhodes Arts Centre – 14:00
For more information, visit: www.ibelieveinunicorns.co.uk