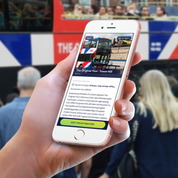 Running out of ideas for weekends out? Not sure where to take the kids next..?
Well don't panic, Keetoo has got you covered.
Keetoo is a brand-new exciting London travel app, which allows you and your family to explore some of London's best attractions for a discounted price.
No need to worry about printing out tickets, emails etc., everything you need is stored on the app and you even get discounts in selected restaurants too!
To help you decide what to do with the kids this Easter, we have pulled together five of the best attractions Keetoo has to offer that would be a perfect day out for you and the family. Simply swipe and go!
TOWER OF LONDON
The Tower of London, founded by William the Conqueror in 1066-7 is one of the best places for you and your family to dive into some British culture this Easter.
Home to the world famous Crown Jewels, you and your family can find out about what lives within these ancient stones, whilst enjoying some quality family time.
The Crown Jewels at the Tower of London are a unique collection of royal regalia as they are still regularly used by the Queen for important national ceremonies.
Additionally, this attraction is one of the world's most famous fortresses where there are many stories waiting to be told…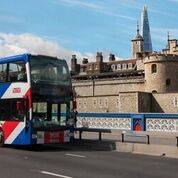 BUS TOUR
If you fancy taking in a large dose of London with family without having to walk around everywhere, then why not try a bus tour?
Keetoo offers a range of different London bus tours so you can chose one to suit you and your family.
There are four different 'Original' open top bus tours with different routes;
Coventry Street
Marble Arch
Tower Hill
Victoria
OR you can take the 'London by Night' tour where you will see the spectacular city lit up at night.

WEMBLEY STADIUM
Are your kids into football? How about going behind the scenes of the UK's biggest sporting and music, Wembley Stadium?
This award winning 60-minute tour will take you and your family deep inside the heart of the stadium. You and your kids and you can enjoy Wembley's luxurious Club area, the Royal Wembley Suite, press rooms, dressing rooms and last but not least the pitch itself.
This family experience will definitely be one for the photo album as you will have the chance to have your photo taken in the iconic Royal Box, with one of football's oldest cup competition trophies, the FA cup.

HAMPTON COURT
Enjoy the rest of Easter the right way with a Lindt Bunny Hunt trail at Hampton Court, following clues to find hidden bunny statues around the beautiful palace and gardens of Hampton Court.
Today you can visit as one of Henry's courtiers, adorn a Tudor cloak to discover his State Apartments and sneak below stairs to indulge in his vast Tudor Kitchens where banquets were prepared for 1,000 people at any one time.
A great one for the history fans in the family!

KENSINGTON PALACE
Enjoy the beautiful interior and landscaped gardens of Kensington Palace this Easter.
You and your family can learn how to behave and succeed in the heady atmosphere of the 18th century court. Or play dress up and wear the clothes suitable for the Hanoverian court.
Kensington Palace is the perfect attraction to educate your children as they can discover the lives of Queen Mary and Queen Anne and then run free in the magnificent gardens.
Download the Keetoo App for your visit to London this Easter. One credit gets you entry to two attractions and restaurant benefits. £35 Adult / £20 Child.
Full list of attractions here: Here
Enjoy!