Kid-friendly comedian, James Campbell, has children rolling in the aisles with his hilarious routines. DAD.info's James Marsh checks out his latest stand-up show…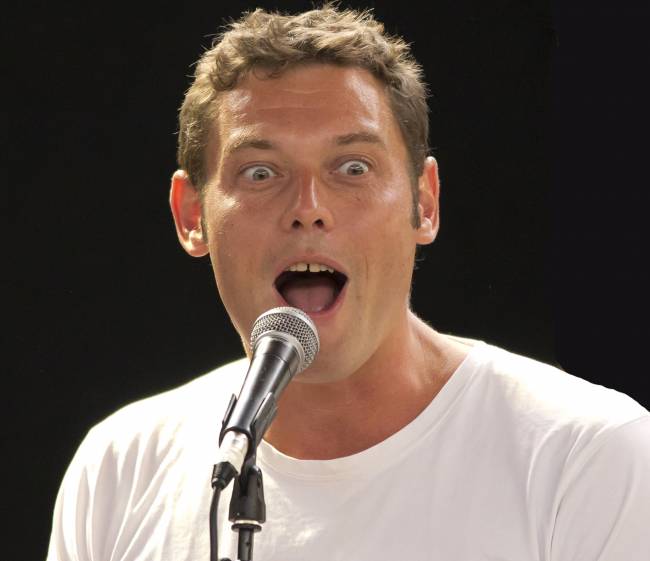 We're big fans of James Campbell in my house. He's a stand-up who performs exclusively for children (six to 11-year-olds) and their families – and he's been doing it for over a decade.
We've been a few times with my older two and I'm really looking forward to taking our youngest (six) to his latest show at London's Leicester Square Theatre. Called "James Campbell: The Funny Thing About…", it'll be her first time at a comedy gig, and I know she will love it.
James' style is gentle, observational comedy with a bit of gentle "poo" and "wee" humour thrown in. But it never feels out of place and when you see your children weeping with laughter, it brings a special kind of joy.
James' routines are now the stuff of legend in our household. Just mention couscous ("Why did they name it twice? You don't say, 'Can I have a potato-potato?' ") the giggles start and my children relive the shows all over again.
"The best thing about my job is being able to make people laugh," says James. "But making children laugh is even better."
The latest show will, says James, have a loose theme of pets. "Everyone seems to have a pet or a story about pets, so people should come with their funny pet stories," suggests James.
James is aiming to make the Leicester Square shows a regular event – with guests coming along to give a different feel to every show. "So, we will have an illustrator drawing the things we are talking about – and someone gets to win one of those drawings at the end of the show."
In the past, the Children's Laureate, Chris Riddle, has provided the illustrations and Mark Weighton (who illustrates James' Boyface book series) is set to join him on stage this time.
"I'm very fortunate that my audience naturally replenishes itself as they move on to other things," laughs James, "but I always make sure at least 50 per cent of any show is new stuff. Even then, some children come up to me at the end and complain I didn't have their favourite bit in."
Don't worry, James, we'll be happy. But if you can make sure you keep the couscous joke in, that will be great-great…
Catch James on tour around the country at the following venues…
3 December 2106: Salisbury Comedy Festival
17 and 18 December 2016: Leicester Square Theatre
leicestersquaretheatre.ticketsolve.com
11 and 12 February 2017: Leicester Square Theatre
leicestersquaretheatre.ticketsolve.com
18 March 2017: Glasgow International Comedy Festival
8 April 2017: Royal Spa Centre, Leamington Spa
Find out more about James at thejamescampbell.com
Want to win tickets to the show? Enter our competition here!